How to calculate the ROAS of a Snapchat filter campaign?
Many companies are moving into Snapchat filters but some are still puzzled by the performance due to lack of visibility. Indeed, the analysis of the ROAS of a filter is done thanks to different KPIs than other digital campaigns.
To help brands understand how this works, Snapchat has made a study by Nielsen on fifteen or so brands that have already produced a sponsored Snapchat filter.
Before we talk about ROAS, we will address a more practical aspect. First of all, we need to understand what the keys to a successful filter are.
For each brand the objectives of such a campaign are different. Some brands seek to increase awareness or community engagement, while others seek to increase product awareness through try-on.
To answer this, here are some questions to ask yourself in order to make a filter that meets your objectives: 

Do you have a fun way to increase your brand awareness?

Are there any cultural moments in which you can participate?

Are you planning a specific campaign with a new way of communicating?

Are parts of the shopping journey physical (augmented reality fitting)
Nielsen based its research on 15 brands that had over 1 billion impressions and spent over $20 million on Snapchat advertising. The 3 questions the firm's teams looked at were:

Is augmented reality a good way to improve consumers' perception of the brand?

How effective is the investment in AR on the buying journey?

What are the KPIs to look at when evaluating the performance of an investment in augmented reality?
Consumer perception of the brand

According to the study, Snapchat filter experiences outperform other communication channels. Indeed, it is possible to make different varieties of filters, which allows brands to offer original and unique content. For example you have the practical aspect thanks to AR fitting but also the playful aspect thanks to augmented reality games.
Faster and more efficient shopping with augmented reality
In the digital age, it is essential to convert visitors very quickly in order to limit the length of the buying process. 
As explained above, a Snapchat filter serves different purposes, including conversion. Thus, to encourage a user to buy, it is possible to put call to actions in the sponsored filters of Snapchat. This makes it possible to capture the consumer in a moment when they are strongly engaged with the brand as they are using the filter.
For example, Snapchat filters are 6 times more effective for conversion compared to TV advertising. Moreover, in terms of ROAS, its effectiveness exceeds the return on investment of a simple social media ad.
KPIs to consider when analysing ROAS
The final question was how to calculate the ROAS of sponsored Snapchat filters.
To do this, it is necessary to list the different KPIs that exist to analyse the performance of the filters:

Impressions

Paid impressions

Earned impressions

Attachment play time

Play Time

Saves

Save rate

Share rate

Shares

Unique shares

Impressions x Playtime

Paid impressions / Share rate
According to Nielsen, the best metrics to consider for Snapchat filters are:
Impressions / (Paid impressions + Earned impressions)

Save rate

Paid impressions / Share rate
Thanks to these three metrics, you will be able to analyse the ROAS efficiently and know the relevance of your digital communication campaign.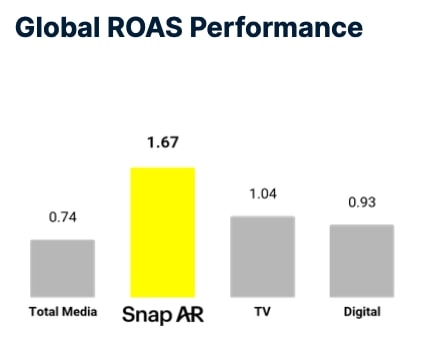 To return to the Nielsen study, the ROAS performance of a Snapchat filter is far superior to that of other media, at 1.67, compared with 1.04 for television and 0.93 for digital.