What is a TikTok filter? Definition?
A TikTok filter allows you to add content when you record a video with 2D and 3D elements using augmented reality. This way, you can integrate elements into your real environment before you make your video or photo, as they are added to your camera interface directly in the TikTok application.
What is Augmented Reality?
The augmented reality is a new technology that allows virtual elements (2D and 3D) to be integrated into the real world through different media. On TikTok, the medium used is the TikTok mobile application itself, which allows the use of numerous filters and effects.
The Types of TikTok Filters
Face Animation filters are TikTok filters that rely on facial and head movements or actions to activate animations.
Roulette filters on TikTok allow you to scroll through many responses and display one randomly. This is a very popular filter.
3D visualisation offers many possibilities for brands that sell online. It allows users to try a product virtually directly on the TikTok application.
Immersive packaging is a filter on TikTok that animates the packaging or products through image recognition or QR code scanning.
AR Game filters are very popular and invite users on TikTok to interact through augmented reality. It is widely used for challenges and challenges.
Virtual fitting on feet and wrists is available ? What's new?
Tracking is the technology that recognises and tracks users' body parts. This feature will therefore allow products to be tried on the feet and wrists. Foot tracking is already available on Instagram and Snapchat and has already proved its worth for brands that want to increase their conversion rate through try-on on social networks. For example, a brand will be able to offer users to try on their shoe collection directly on the application. Similarly for wrists, it will be possible to try on bracelets or watches directly on oneself. For the moment, Effect House has not yet announced an official release date, but this could happen soon.
Where to find TikTok Filters? Search?
In order to offer original content to the users of the application, TikTok has a very large library of TikTok filters. It is sometimes difficult to find a specific filter or to explore all the effects you might like. So the giant TikTok has decided to help content creators find their way around. Here are the different ways to find a TikTok filter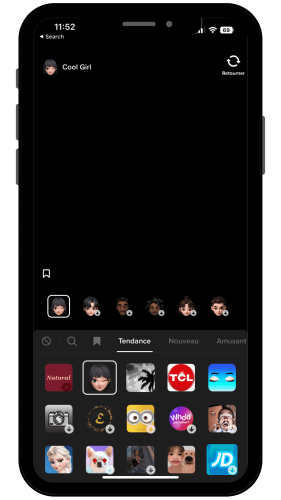 1. Find TikTok filters by creating a TikTok
The first way to find a TikTok filter is simply in the video creation tools. Indeed, when you press the button to create a video, at the bottom left is the gallery of TikTok filters.
Once in the effects catalogue, you can simply browse through the filters which are categorised and discover all the possibilities. There are 12 different categories which are : 
TikTok filters in trends
The new TikTok filters
Fun TikTok filters
Interactive TikTok filters
TikTok ambient filters
TikTok beauty filters
AR universe filters
TikTok filters with green screen
TikTok filters that offer accessories
TikTok filters with animals
TikTok editing filters
TikTok filters for events
In this library of filters, you also have the "Favourites" category, which groups together all the filters that you like. As soon as you find a TikTok filter that interests you, you just have to click on the "Save to my favourites" button. This way, as soon as you make a video, you will easily find the filters you have saved before.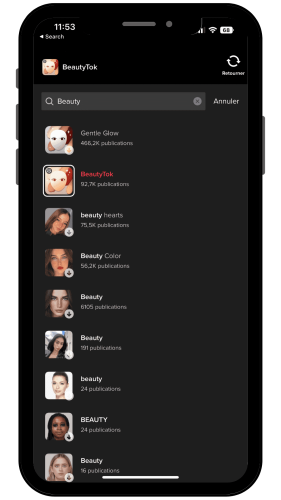 2. Explore TikTok filters
To search for a TikTok filter, there is an "explorer" page that lists all TikTok filters. To do this, simply go to the "Effect" tab next to the video recording button. Click on the search icon and type in a keyword that might represent the filter you want to find. To try out TikTok filters you simply need to click on the name or thumbnail of the filter in question.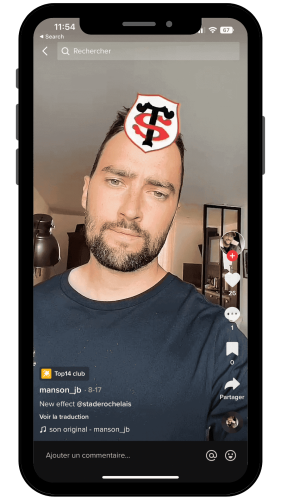 3. On the videos in your feed
The second way to find TikTok filters is to browse your feed "For you" or your "Follow-up" feed and when you find a filter you like, just click on the yellow button on the video and then on the filter name.
A page with all the videos made with this filter appears and it allows you to get inspired. At this point, you can try it out right away and create your own TikTok video or you can save it to your TikTok filters to use later. To do this, you need to click on the little "Save to my favourites" icon, you can then find it in the "Filters" option when you want to create a video!
4. On the profile of the creator of the TikTok filter
When a creator publishes a new filter on TikTok, a gallery is created on their profile. This gallery is symbolized by a little magic wand that gives you access to the gallery tab. For example, if you like a designer's style, you can subscribe to them and receive notifications when they post a new filter.
So there are 4 ways to find TikTok filters on the app. This makes it easy for creators to make content with TikTok filters that suit their desires. In this way, TikTok highlights its filters throughout the app in order to encourage users to create content with them.
Using a TikTok Filter? How?
First of all you need to have selected your TikTok filter. For this you need to have it wanted. Once on the filter, the TikTok application will open either the front or back camera, depending on the augmented reality experience in your TikTok filter. For example, if the filter's premise is to display 3D elements in the user's environment, generally the phone's camera selected by default will be the rear camera. In the case where the experience is a filter wheelThe front camera of the phone will be selected. 
Generally, TikTok filters can be launched using triggers. There are different types of triggers on the TikTok application: 
The user's finger touches a specific point on the screen

 

The finger remains pressed on the screen

Finger touches the screen anywhere

The user starts recording the video
These different types of triggers can trigger an augmented reality experience. For example, the TikTok filter can change the colour of the user's hair.
Typically, TikTok filter creators include an instruction at the beginning of the augmented reality experience that allows the user to understand the action they need to take to trigger the filter. 
What is a TikTok challenge/trend? Definition?
TikTok is the social network that allows you to create content that can quickly go viral. TikTok challenges and trends are the formats that are most popular with users and generate the most engagement. Indeed, these can be music challenges, sports challenges, dance challenges or playback challenges. Because TikTok trends are picked up by so many users, it is very easy for users to see challenge videos appear in their "For You".
Top 3 of the best TikTok 2023 challenges
You're It challenge is proposed by the Nike brand. The campaign aims to highlight young girls who play sports. The challenge is as follows: perform a sports action in a video with the TikTok filter and share it with the hashtag #YoureIt.
Max Factor is a make-up challenge. The goal is to reproduce the same eye makeup that is displayed on top of the head. This TikTok filter is a roulette filter and therefore allows to display a random make-up.
In order to promote his new album, Kulosa released a TikTok filter that uses the codes of the famous Youtube series "Colors". This effect was then used by many users in a trend.
TikTok filters allow brands and users to easily move up the trends and challenges. They are tools that can inspire creators and give free rein to their imagination. When creating a TikTok filter, it is important to make sure that your effect can be widely used and that it does not limit users.
Why are TikTok effects an advantage for brands? Benefits?
TikTok has become the most used social network for young people and creativity is at the heart of the application. This means always being more imaginative than others and finding new ways to stand out and promote your brand. For example, there are hundreds of TikTok filters that allow you to personalise your videos and make them unique. These filters are a way for brands to convey their values and promote their product, while developing their presence on the social network and not becoming intrusive in users' lives. TikTok filters have therefore become a must for all those who wish to create their own identity and communicate in a fun way.
Why work with our agency specialising in TikTok filters?
Our agency specializes in the creation of TikTok filters and will accompany you throughout your projects! Our tech teams have already created hundreds of filters for social networks and have acquired a strong expertise. With more than 700 filters made Since the creation of Filter Maker, TikTok filters are no longer a secret for our developers.
Today, brands need to create a real connection with their community. That's why integrating TikTok filters is essential as they offer content that allows interaction. Working through our agency is a solution that will make the process of creating a TikTok filter quick and easy. Our expertise will allow you to propose a filter that corresponds to your community and your needs.
How much does a TikTok filter cost? Price ?
The price of a TikTok filter varies according to several parameters defined beforehand as well as the interlocutors. Here we will only talk about the prices set up by our agency Filter Maker. The minimum price is 1000€. in our agency. Here is the list of parameters to be taken into account.
Imagination and creation of elements to be integrated into the TikTok filter
The content of a TikTok filter must be tailor-made according to the company's needs. Indeed, some customers provide us directly with the graphic elements (2D and 3D) to be integrated into the filter. And sometimes, companies contact us to be guided in the creation of a filter without having any graphic content to provide us. Thus, the price of a TikTok filter depends on the design and graphic creation of the elements to be integrated in the effect. This parameter can vary from 100€ to 10 000€ depending on the assets to be created.
Integration and optimisation of AR graphic elements
The second parameter to take into account is to integrate the graphic assets into the filter and to optimise them for high quality rendering. Thus, depending on the choice of scene (front or rear camera), the optimization of the texturing and rendering, the management of lights and the specificities of the filter (hand tracking, segmentation...), the price of a TikTok filter will fluctuate. This parameter will then to increase the tariff between 200€ and 7000€..
Creation and organisation of interactions to make the filter more dynamic
In order to make the filter more dynamic, there are many possible interactions. These interactions will allow the user toinitiate actions. For example, when a user smiles, an element or animation will appear.
The interactions in a filter can make the price of a TikTok filter fluctuate and depends on their complexity and the number of interactions to integrate. For example, some filters integrate several animations to create a whole process in the filter. This can be illustrated with an AR game filter that requires a lot of interactions.
Other parameters that can affect the price of a TikTok filter
Other parameters should be taken into account when evaluating the price of a TikTok filter
Deadline: Our agency defines a production schedule in order to optimise project management. So if the deadline is short enough, we will have to modify the schedule and therefore modify the programme of our creative teams and developers.

Project management: for each TikTok filter project, we draw up a backlog to manage the back and forth. We define detailed specifications to ensure that specific elements are in place from the outset so as not to increase costs during the creation of the TikTok filter.
We'll get back to you in a few minutes ✔
Making a TikTok filter? How?
Since 2022, TikTok has made the TikTok filter creation software available to creators. This software is called Effect House and is an open source software. It works with patches and JavaScript react and requires some knowledge of augmented reality. Before anything else, it is important to create your creative elements (images, videos, 3D) using other tools. Indeed, Effect house only allows you to create the assembly and the functioning of a filter but is not a software for creating elements (also called assets). Thus, for your 2D elements you can use Photoshop, Canva or Illustrator and for 3D objects Blender. After all your assets are made, you can follow this tutorial to help you make a TikTok filter.
How to make a TikTok filter on Effect House :
Download Effect House and install it on your computer by following the software instructions. To make sure it is the right software, go directly to theEffect House. After installing it, login to your TikTok account from within the software.
Choose a template from the gallery depending on the type of filter you want to make. These templates are a great help if you are new to Effect House as they give you the basic structure of a TikTok filter. Here are the different templates:
Hand Gesture: it will allow you to make a filter in which it is possible to track the movements of the hand and fingers.

Cloth Try On: thanks to this template, you can offer a virtual fitting of clothes thanks to the recognition of body parts.

3D Face Mask: This template uses face recognition and gives you the ability to overlay 2D assets on the face.

Head Tracker : if you want to make a filter with 3D accessories (hat, cap...) this template will help you to track the user's head.

Face Morph: it allows you to modify the morphology of the face (eyes, nose, mouth...).

Character Drive: this type of filter allows a 3D character to be superimposed and made dynamic by recognising the user's body movements.

Face Inset: allows you to insert the user's face into a 2D or 3D element

Music Band: this template allows the creation of a filter where the user can create music using interactive elements.

2D Randomizer: This is the most commonly used type of filter. It allows you to randomly display an answer according to a given question.
However, if you want to make your filter from scratch, you can choose to create a new project and start from scratch.
Include any graphics you wish to add to your filter. As explained above, these elements must be made outside of Effect House. In addition, you should be careful with the size and format of your files as the total file size of the TikTok filter should not exceed 5MB.
Create animations and interactions in your TikTok filter. Indeed, you can decide not to animate your elements but this will not make your filter dynamic. There are many nodes and patches that allow you to make a unique TikTok filter.
Nodes allow you to make a TikTok filter with scenarios triggered by actions the user can take. Here is the list of all available nodes:
Audio Resource

Audio Resource Controller

Audio Player Controller

Beats Detection

Detection Output

Mixer

Onset Detection

Pitch Detection

Speaker

Spectrum Detection

Volume

TikTok Sound

Volume Detection
Do N
Do Once
Flip-Flop
Gate
If
Sequence
Switch
Finger Touch 1-Point
Screen Hold
Screen Pan
Screen Tap
Start
Update
Video Record
Gesture Detection
Hand Gesture examples
Hand Detection
Face Info
Pet Face Info
Head Movement Detection
Face Avatar Result
Face Detection
Facial Movement Detection
Face Avatar Drive
Facial expression detection
Pet Face Detection
And
Equal
Greater or equal
Greater than
Loss or equal
Less than
Logic select
Gold
Cross
Dot
Lerp
Normalize
Normalize to Range
Remap
Get system time
Get time
Timer
Wait for seconds
Set Transform
Reflect
Angle Between
Local Transform Info
Look At 
Rotate Around
Screen to World
World to Screen
World Transform Info
3D Animation Controller
Animation Sequence Controller 
Color Space Converter
Combine
Continuous Snapshot
Counter
Data Convert
Effect Rosolution Info
Get Enabled
Get Item from Array
Get Visibility
Image Tap
Make Array
Peek
Point in Rect
Rect Overlap
Set Enabled
Set Visibility
Select
Snapshot
Spin
Split
Transit by Time
Vertex to Rect
The nodes require a certain logic in their connection (input, output). For example, if you want to launch an animation as soon as a user starts recording a video, you will have to connect "Recording Exec" with the "Video record" action to launch the animation with a "sequence controller" node.
When you are satisfied with your TikTok filter, you just have to publish on Effect House. You will still have to check that the file is not too big and does not exceed 5Mb.
Publishing a TikTok? filter How?
To publish a TikTok filter, you need a computer, the Effect House software and this tutorial.
Step 1: Download Effect House
To get started, visit Effect House and download the software that allows you to create and publish TikTok effects. Click on "Donwload" and follow the instructions.
Step 2: Create your vignette
When you publish a filter on TikTok, you must have a thumbnail that visually represents your effect. You can create it from scratch or use a frame from your demo video. If you want to create the thumbnail, you can start from scratch or use the templates provided by Effect House.
Format: PNG
Safe area: 144 x 144 px
Export size: 162 x 162 px
Click here to go to the templates page. The templates are accessible through Photoshop or Illustrator. Download the file and follow the instructions.
Step 3: Create your demo video
The demo video is necessary to publish a TikTok filter. Indeed, it is a file that will be analysed by TikTok moderators to see if your filter respects TikTok rules and policies. The video must therefore show all the characteristics of your filter so that the TikTok teams can judge its compliance.
Recommendations: 
Ratio : Portrait (9:16)
Format: MOV or MP4
File size : Max 32 MB
Duration of the video : Max 15 seconds
There are two ways to make your demo video.
As explained above, the demo video will not be public. So you can simply make your video with the Effect House video templates. You can choose between different profiles that reproduce specific movements or actions to simulate the animations present in your TikTok filter. For example, if in your effect the person has to tilt their head to activate an animation, you can choose a video template where the person tilts their head.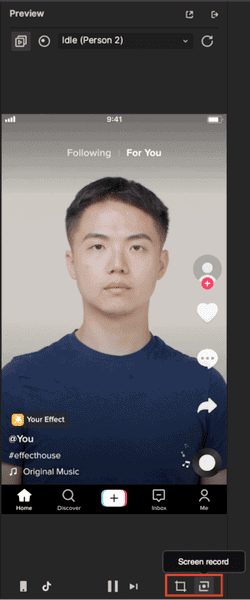 Open Effect House and click on "Open Project".

Open your TikTok filter file

Click on "Screen record" and upload your video
Creating your own demo video with your smartphone allows you to show animations that are complicated to illustrate from the software's template videos. This way, you can really show the logic of an effect so that moderators can understand the mechanics.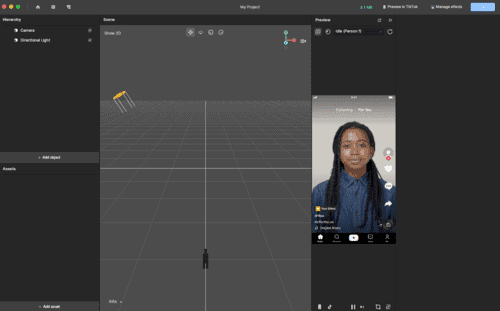 Go back to your project on Effect House and click on "Submit"in the upper right-hand corner
Step 4: Publish your TikTok filter
After you have prepared all the assets. You can now publish your filter. Creating your publishing elements in advance allows you to publish your TikTok filter more efficiently. Here are the detailed steps.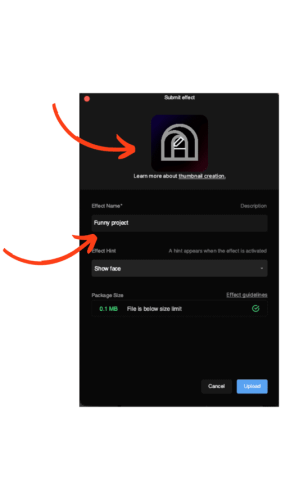 Upload your thumbnail and give your filter a name
Choose a filter name that describes the theme of your TikTok filter to help users understand the mechanism. It will appear wherever your filter is present and can be changed after it is published.
Your TikTok filter name must be a maximum of 20 characters including spaces and must not be the same as any other filter in your TikTok account. 
Choose the "Effect Hint" corresponding to your filter and click on "Upload".
Effect Hint is a small hint sentence that appears briefly when a user tries a TikTok filter. This hint is to help understand how to interact with the effect and thus make it easier to use. For example, if the filter's animations are triggered by tapping the screen, choose the Effect Hint "Tap Screen". On the other hand, if the filter does not require any action, choose "None".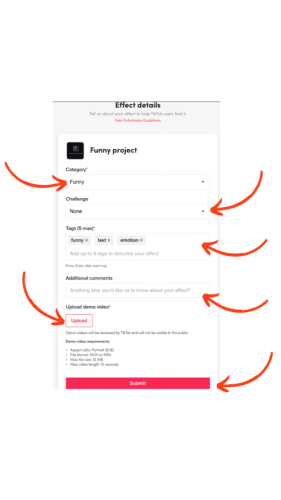 Choose a category

Select "None" in "Challenge".

Choose tags that describe your filter

Add comments if necessary

Import your demo video and click on "Submit".
Step 5: Validation by the moderators
Once you have published your effect, the moderators will analyse the content of your filter. Indeed, like all social networks, creators and users must respect the policies and rules of the platform. Thus, the validation time of your publication request may take a few days. After that, you will receive a notification explaining whether the filter is validated and published or not. When the answer is negative, the reasons for the refusal will be detailed so that you can modify your filter and make a new request for publication.
How to promote your TikTok filter? Strategy?
Promoting your TikTok filter is necessary to ensure that your campaign objectives are met. You can choose between two types of activations: organic and paid activations.
Promote your TikTok filter organically
Post regular content featuring your TikTok filter to ensure its visibility.

Videos explaining the filter mechanism.
Videos with examples to inspire users.

Create a trend or challenge around your effect to increase its use.

Create hashtags and a challenge around your filter.

Create content for other digital touch points to spread the word about the filter release (other social networks, website).

Share content that highlights the use of your TikTok filter. Don't forget to include a call to action to facilitate access to the TikTok filter.

Print the QR code of your TikTok filter to promote it in your shops or on flyers.

Use specially designed displays to encourage visitors to use the filter.
Promote your TikTok filter in a paid way
Run an influencer campaign about your filter to widen the audience.

 Influencers use the TikTok filter and invite users to do the same.
The influencer campaign can be done on TikTok and on Instagram to increase the audience.

Create TikTok ads to announce the release of your new filter

Post videos and tutorials to invite users to try the filter.
If you have done an influencer campaign, reuse his videos.
The promotion of your TikTok filter is very important and should not be neglected. It is therefore necessary to use all available levers, both organic and paid, to ensure that you achieve your best objectives. Paid promotion is not a must but it can be very effective in the short term.
What are the statistics of a TikTok filter? Commitment?
Statistics on content published on social networks are very important to measure the impact of your campaign. With these you can analyse and understand what worked and what didn't.
TikTok filters have separate statistics from other content because they are used differently. Therefore, it is important to understand them in order not to confuse them with other statistics. 

On the left you can see the dashboard available on Effect House which shows statistics for each TikTok filter but also as a whole. The data available is quite limited on TikTok and does not show demographic statistics. Here are the 5 themes available on Effect House: 
Views :

Number of views of videos on TikTok that use the effect

Publications :

Number of videos on TikTok that use the filter

Readings :

Number of times the filter has been opened (i.e. clicked) in the effects gallery

I like :

Number of times videos with the effect have been liked on TikTok

Sharing :

Number of times videos with this filter have been shared on TikTok.