DEVELOP THE AUDIENCE OF YOUR FILTERS THANKS TO QR CODES
Boost the number of uses and shares of your filters on social networks by integrating physical QR codes.
QR CODES: AN EFFECTIVE CALL TO ACTION FOR AUGMENTED REALITY FILTERS
Our agency assists our clients in the integration of QR codes on physical media linked to augmented reality effects (Instagram, Snapchat, Facebook or even Tiktok filters). The integration of QR codes can be done on magazines, website (web version), shopping area or even POS. Imagine, you scan a QR code in a magazine on a car advertisement and the car appears in augmented reality in front of you (Scan & play).
Ça m'intéresse is a magazine belonging to the prisma media group, dealing with various subjects. We can categorize it as a magazine of curiosities. The idea is to create an Instagram filter like a quiz, with a timer and a number of points to challenge the user on questions related to the theme of the magazine, thus general culture. The instagram filter includes a call to action at the end of the experience to challenge friends. 
Prior to the campaign, we set up 1 QR code integrated in the magazine on the fourth page directly linked to the Instagram filter. Once the QR code was scanned, users could directly play the game in augmented reality.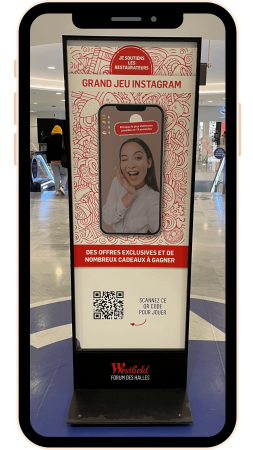 Unibail is a worldwide shopping centre group. In France, the largest shopping centres belong to the Unibail group, Forum des Halles, Les 4 temps, Polygone Riviera, Confluence, etc. For a national campaign, we created an activation linked to an Instagram filter to promote the restaurants in the shopping centres. All you had to do was use the effect on Instagram and go to the shop reception desk to get a discount in the partner restaurants.
In each shopping centre we have integrated totems, strategically placed in the places where people pass through so that they can scan the QR code present on the totem. The QR code takes them to the Instagram filter to play the competition.