Snapchat Filters / Lenses: Definition and Explanation
What is a Snapchat filter/lens? Definition?
A Snapchat filter, also known as Lens, is content that allows you to integrate 2D and 3D elements into your environment using augmented reality. This content is added to your camera in the Snapchat app when you want to take a photo or video. Snapchat lenses can be used for stories or to send to followers.
Augmented reality is a recent technology that offers a multitude of possibilities for integrating virtual elements into the real world. Snapchat Lenses are one of the main ways to take advantage of this technology, thanks to the Snapchat mobile application that has developed augmented reality features specifically for these Snapchat filters. These features allow users to have amazing experiences, such as the ability to see virtual objects appear in the real world, play augmented reality games. In addition to this, augmented reality is also a very useful technology for businesses, as it allows consumers to see how a product or service might work in the real world before they buy it. The possibilities of augmented reality are limitless and offer users a whole new way of seeing the world.<
Snapchat Filter Possibilities
Snapchat Face Animation filters are effects that integrate and animate graphic elements around or on the user's face. It is also possible to animate these elements using actions that the user performs using Snapchat Lens.
Roller filters on Snapchat allow users to display items above their heads in a random fashion. Roller filters generally display a question first, followed by a random answer. These lenses are very popular.
Snapchat's 3D Lenses allow users to project and integrate 3D objects into their environment. This type of Snapchat filter is often used in e-commerce to offer a try-on experience for the products that the brand offers.
Immersive packaging is a type of Snapchat filter that brings packaging and products to life using image recognition or a QR code. Using these lenses, animations are triggered to bring the product or packaging to life.
AR games are Snapchat filters that can be used to gamify an experience. All types of Game Lenses are possible, offering users immersive, playful content on Snapchat that they can share with other users.
Where to find Snapchat filters? Search
There are millions of
filters on Snapchat
and it can be difficult to find a specific one or discover filters that you might like. That's why Snapchat has made it easy to find filters all over its app. Here are 5 ways to find them!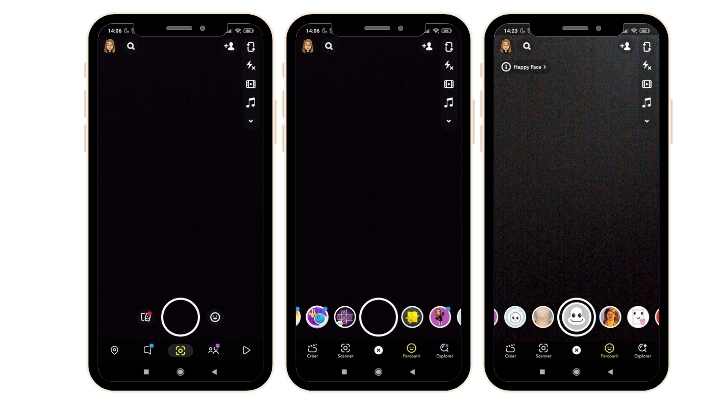 1. Browse Snapchat filters
The easiest way to find Snapchat filters is to go directly to the app's camera. The small icon located to the right of the button to take a snap represents the filters.
By clicking on it, several new sponsored or non-sponsored effects appear on the right and left, and you can find AR games offered by Snapchat.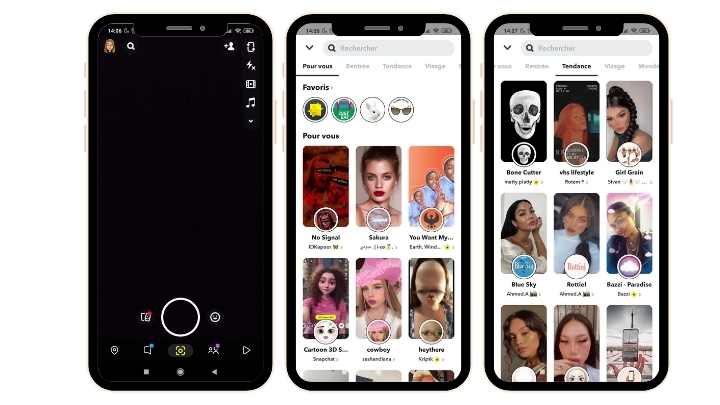 2. In the effects gallery
If you can't find a filter that meets your needs among the effects in the "Browse" option, there is the Lenses gallery where all available and old effects are listed. It's the small button next to "Browse" that gives access to this library. By clicking on this button, you will be directed to a homepage with your filters that you have saved as favorites and the "For You" filters.
Several options are available to you. You can browse through the existing categories that group together Snapchat filters of the same type, or type in a keyword in the search bar if you have a specific idea of what you are looking for.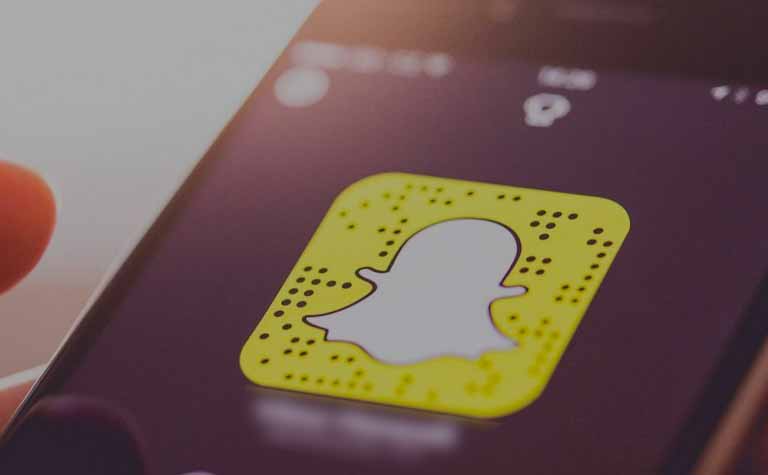 3. Find Snapchat lenses using a Snapcode
Snapchat has created a very simple way to share a filter without having to remember its name or creator. Indeed, there are QR codes that, when scanned from the Snapchat app, will directly activate the filter in question. Snapcodes look like a yellow square with the filter visual inside.
To scan them, simply press and hold on the screen when viewing the Snapcode on the Snapchat camera. Once the app detects the code, the filter will automatically start.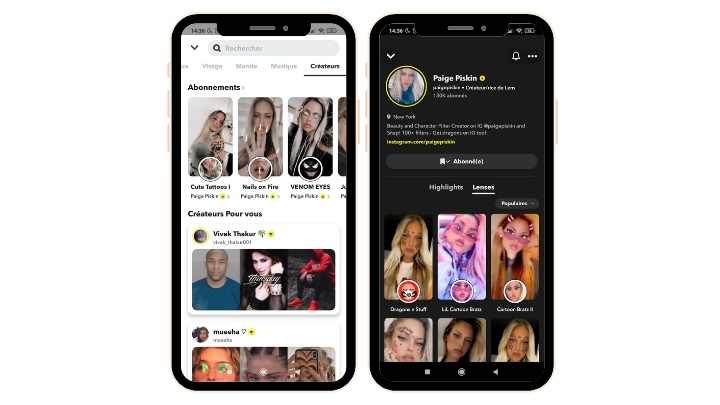 4. Follow creators you love
Another way to find Snapchat filters is by subscribing to creators that interest you. To do this, when you're in the "Explore" option, you can find filter creators and subscribe to them to receive notifications when they release new lenses.
If you know a creator, you can search for their name directly in the search bar and subscribe to them.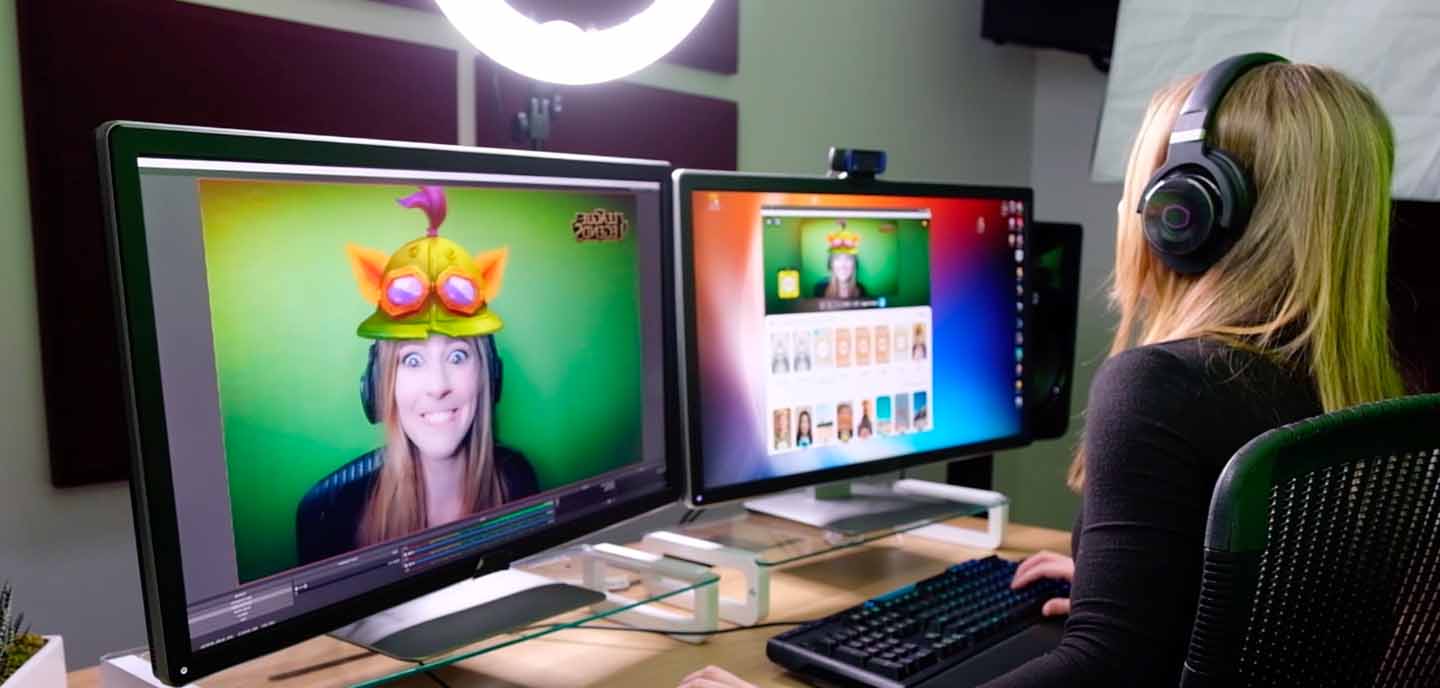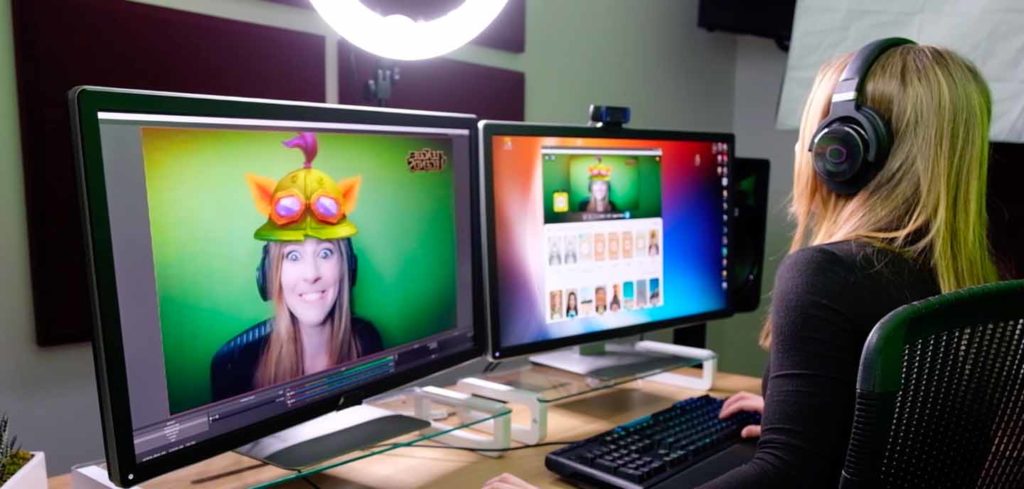 Snapcamera
is Snapchat's software to integrate filters onto your camera to animate your video conferences or online streaming. To do this, you need to download the Snapcamera software, which is free, and connect your webcam to it. After that, you will find all the available Snapchat filters for your webcam. To learn more, here is an article that explains
how to connect Snapcamera to a webcam
.
Top 3 best Snapchat filters of the month
This trendy filter allows users to make their face look sad. This Snapchat filter that makes you cry is widely used to parody situations.
The Snapchat filter: Disney
The Cartoon filter transforms users' faces into cartoon and animated faces. Additionally, this Snapchat filter also works great on dogs.
The Snapchat filter : Gender
This Snapchat filter allows male users to transform their face into a female face. There is also the same filter for women to have a male face.
Why are Snapchat filters a lever for brands? Benefits?
Snapchat has heavily invested in augmented reality and is the social network with the biggest improvements in AR usage. 70% of snaps sent include the use of a Snapchat filter. It is a great way for brands to increase their visibility on this social network by offering content that boosts UGC. Snapchat is the instant messaging app with millions of users, targeting young people who do not use other social networks. Billions of snaps are sent each day (trillions each month) and new augmented reality features are added to the app to encourage a large number of global users to share photos with Snapchat filters or emojis.
Why work with our agency specialized in Snapchat filters?
Our agency specialized in creating Snapchat filters accompanies you from start to finish on your wildest projects! The expertise of our teams and the project management we provide allows us to deliver projects that match your brand image and quality. With over 700 filters created since the creation of Filter Maker, Snapchat filters no longer hold any secrets for our developers.
Promote your Snapchat filter? How?
The famous social network Snapchat offers the most choices of Snapchat filters. To stand out and ensure good performance of your filter, it is necessary to plan a digital communication strategy to promote your Snapchat filter. For this, you have two ways: organic or paid.
Promoting your filter organically
Create a social media calendar around your Snapchat effect campaign (posting different content on various social media platforms)

Create a contest where participants have to share a story using the filter

Spread the snapcode of your Snapchat filter on in-store posters or flyers to reach a wider audience.
Promote your lens through paid advertising
Create an influencer campaign to promote your Snapchat filters.

Sponsor your filter to make it more easily visible as an advertiser.
Insights for Snapchat filters? Engagement?
Snapchat provides a number of KPIs for tracking the performance of your lens.
Plays : Number of times your Lens was activated on Snap Camera
Total Views : Total number of times your filter has been viewed on Snapchat, in direct Snaps, Stories, and in the preview in the Effect Gallery.
Total Shares: Number of photo shares of your Snapchat filter.
Total Favorites: Total number of people who have added the filter to their favorites.
Session per UU: Average number of unique uses of your Lens.
Play time per session :

Average time spent using the filter per session in Snapchat. 

Play time per UU : Average time an unique active user spends playing with the filter in Snapchat.
DAU / WAU : The proportion of weekly active users who use your lens within a one-day period.
DAU / MAU: The proportion of Monthly Active Users who use your Lens within a one-day period.
This data is based on information recorded during the creation of your Instagram and Facebook account.
Audience Insights are based on user information when they create an account on Snapchat.
Demographics: Age and gender of the audience reached
Top countries
Top Interests: Top categories of interests of the targeted audience.