Where can you find Snapchat filters?
There are millions of filters on Snapchat and sometimes it's hard to find a specific filter or discover filters you might like. That's why Snapchat has made it easy to find Snapchat filters all over their app. Here are 5 ways to find them!
The easiest way to find Snapchat filters is to go directly to the camera in the application. The little icon that is positioned to the right of the button to take a snap represents the effects.
By clicking on it, several new sponsored and unsponsored effects appear on the right and on the left you can find the connected AR games offered by Snapchat.
If you can't find a filter that suits your needs in the "Browse" option, there is the Lenses library where all available and old effects are listed. The small button next to "Browse" gives access to this library. Clicking on this button will take you to a home page with your filters that you have put in the favourites and "For You" filters.
There are several choices. You can browse through the existing themes of similar Snapchat filters or type a keyword into the search bar if you have a specific idea of what you want.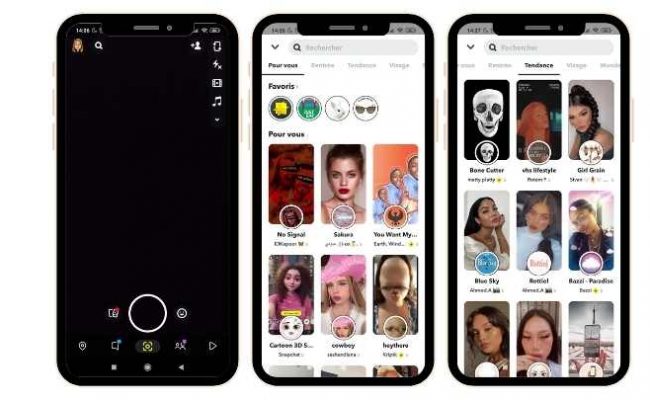 Find Snapchat filters using a Snapcode
Snapchat has created a very simple way to share a filter without having to remember the name or the creator. Indeed, there are some kind of QR codes that, when you scan it from the Snapchat application, will directly activate the filter in question. Snapcodes look like a yellow square with the visual of the filter inside.
To scan them, simply long-press the screen when viewing the snapcode on the Snapchat camera. When the app detects the code, the filter will start automatically.
The other way to find Snapchat filters is to subscribe to creators that interest you. To do this, when you are in the "Explore" option, you can find filter creators and subscribe to them to receive notifications when they release new filters.
If you know a creator, you can search for their name directly in the search bar and subscribe to them.
Snapcamera is Snapchat's software for integrating filters on your camera to animate your video conferences or online streaming. You need to download the free Snapcamera software and connect your webcam to it. After that, you will find all the Snapchat filters available for the webcam. To learn more, here is an article explaining how to link Snapcam to a webcam.
WANT TO CREATE A SNAPCHAT FILTER?
You have a project in mind or you want to create a Snapchat filter? We offer two services, Filter Maker allowing you to create an ultra-customized filter (dedicated to companies) and Lookaar allowing any user to choose his Template and customize it directly on our platform for a price defying all competition!
Best Price
Upload of the filter in 2 hours