What is an Instagram filter? Definition?
An Instagram filter is content that projects 2D/3D elements into a real environment using augmented reality. It is an effect that is added to your camera before you take a photo or video story. Instagram Filters can also be integrated into the new format present on the application: Reels.
Instagram Filters work through Augmented Reality. It is the fact of integrating virtual elements into the real world and this through different media. In this case for the Instagram filters it works with the mobile application Instagram and therefore on a smartphone. (IOS/Android).
Types of Instagram Filters
Where to find Instagram Filters? Search?
A Instagram filter can be found in various places on the application. In order to help you know all the possibilities we will present them to you one by one. You should know that 6 methods are available to you: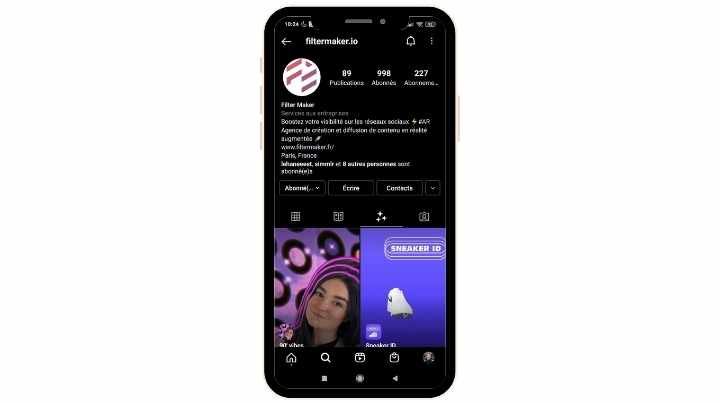 1. On the account profile
Instagram filters have become very popular content among the IG community. They allow you to reach your target easily by proposing a fun and out of the ordinary content. Moreover, integrating an effect into your communication strategy allows you to respond to different objectives marketing quickly and with a very satisfactory ROI.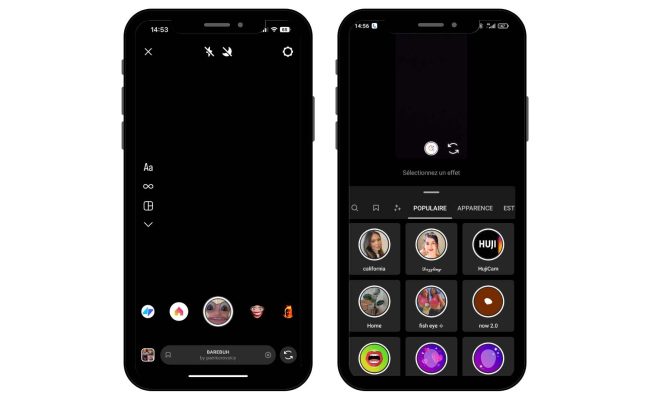 2. In the effects gallery
In the location where all the filters are grouped, you can easily find yours. 
Just pretend you want to take a selfie
Then click once on the screen to see a banner appear at the bottom of the screen with the filter bubbles
Drag all the way to the right
To click on the 'magnifying glass' icon
Enter the name of the filter in the search bar
Click on the desired filter
Click on 'Try it'.
You can test and share the filter as you like now!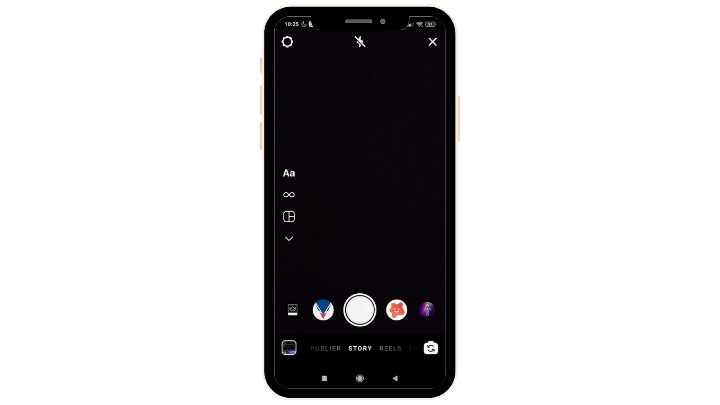 You can simply find the filters in your camera. However, it should be noted that if you search for a particular filter that has not been used previously, it will not be presented. It is therefore better to use this technique to search for a trendy filter or to "go on an adventure" of what Instagram offers. To do this:
Open your camera space
Press the screen once
A banner with different bubbles representing each of the filters appeared
Make your choice!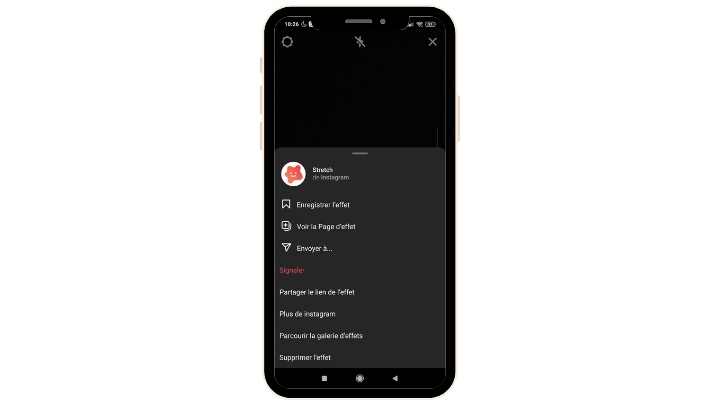 Recently, Instagram offered its users the possibility to share the effects links.
A much anticipated feature because of its ease of sharing and high potential.
Thanks to this one you just have to :
As a sender :
Press the name of the effect and click on the icon: "More".
And "Share the effect link".
Finally, you need to decide how you want to transfer
As a receiver, it is very simple!
Click on the link received
You will be automatically redirected to the effect
When viewing a story with an effect, the identity of the filter appears under the name of the posting account. Simply click on the filter identity and choose the "Try" or "Save" option that appears.
Sometimes a "swipe up" is used to redirect more easily to the filter. In this case you will simply have to slide your finger down to the top of the screen.
Effects can be used in Reel content. To find a filter seen in a real it is sufficient to follow the following procedure:
Click on the effect visible when you go to the Reell: stars icon (see images below)
Visit the profile of the effect, you can see all the Reels made with
Click on "Use effect" at the bottom of the screen
Top 3 best Instagram filters of the month
This filter became trendy quickly because it transforms the expression of the person's face and makes them sad. The sad filter can be used to create humorous Reels.
The Instagram cartoon filter
Originally, the cartoon filter came from a Snapchat Lens which was very powerful. Later Instagram filter creators tried to reproduce the same. You can find several in the Instagram filter gallery.
The filter for coloured hair
You may wonder what you would look like with a different hair colour? Thanks to Instagram filters of coloured hair, you can try out different shades. Very handy before you go to the hairdresser and regret the colour!
How to do it an Instagram filter?
Create an Instagram filter is possible thanks to the Meta Spark Studio software which is specially designed for Instagram filters. This augmented reality software looks like a 3D creation software and requires some knowledge and skills to handle it.
Before you start using the software, you must create the elements you want to include in your effect. These elements can be images, videos, GIFs or 3D objects. For your images and visuals, you can use Photoshop, Illustrator and Canva, for your 3D elements you can use Blender.
On Meta Spark Studioyou can create an Instagram filter with several types of patches that allow you to make triggerss, the animations and interactions for your 2D and 3D elements in your filter. These patches can be connected together and allow to make your filter dynamic and alive.
When you are happy with your Instagram filter, you can move on to the final step: publish your Instagram effect. To do this, you need to go to Meta Spark Hub which is the platform for managing Instagram filters. You will then have to fill in the description of your effect and upload your filter file. A moderator will then validate the publication of the item according to the criteria and the respect of the Meta policy.
Why are Instagram effects an advantage for brands? Benefits?
Instagram filters have become very popular content among the IG community. They allow you to reach your target easily by proposing a fun and out of the ordinary content. Moreover, integrating an effect into your communication strategy allows you to respond to different objectives marketing quickly and with a very satisfactory ROI.
Why go through our agency specialising in Instagram filters?
Our agency specializes in the creation of Instagram filters and will accompany you from start to finish in your wildest projects! Expertise of our teams and the project management carried out allow us to achieve quality projects. With more than 700 filters made Since the creation of our agency, Instagram filters no longer hold any secrets for our developers.
Price of an Instagram filter? How much?
The price of an Instagram filter depends on a number of variables and factors to be taken into account when we create your quote. Indeed, it is very difficult to give the exact price of an Instagram filter at the beginning when the characteristics of the filter are not yet specified. We can only give you a price range, which is often very wide. To help you think about your budget, here is a list of variables and factors to consider.
Creation of assets and illustrations to be integrated into the Instagram filter
The price of an Instagram filter will depend on the content you wish to integrate into it. Indeed, some clients have already created their assets and elements (2D and 3D) and others do not have custom assets to provide us with. For the second situation, you will have to add a part for the creation of the assets to the price of the Instagram filter. This price range can vary between €100 and €10,000 depending on the type of assets to be created (3D, art, videos, copyrights etc.).
Integration and optimisation of assets in the Instagram filter
The second factor that can vary the price of an Instagram filter is the difficulty of integrating and optimising the elements in the Instagram filter creation software. Indeed, depending on the type of graphic elements to be integrated, optimization is important to create an optimal and qualitative rendering. In addition, several tracking systems exist on this software and they must be set up to ensure the correct process of making the Instagram filter. This factor can therefore make change the price of an Instagram filter between €200 and €7,000.
Realization and organization of the Instagram filter interactions
Interactions in an Instagram filter are essential to make it dynamic and fluid. Thus, a user can trigger different actions with through the interactions to trigger a predefined scenario. For example, in an AR game, many interactions are possible and trigger different scenarios.
Interactions can make the price of an Instagram filter fluctuate and depends on the complexity of the interactions. It is very difficult to give a price range for this factor as it depends on the characteristics of the interactions.
Other variables to consider for an Instagram filter
Two other variables are important to know in order to understand our pricing structure for an Instagram filter: 
Production times :

In each agency, the production schedule is important. Teams have defined and optimised schedules to publish each filter on time. So, if a project deadline is very short, the schedule of the teams involved will have to be modified and reorganised to create the filter in time.

Project management :

A retro-planning is carried out for each project in order to manage production times and round-trips. In addition, specifications are defined and detailed beforehand to ensure that the concept of the Instagram filter is well understood. This same specification allows us to know the client's request before production so as not to increase the price during creation.
We'll get back to you in a few minutes ✔
Promote your Instagram filter? How?
There are two ways to promote your Instagram effect: organic promotion and paid promotion. One is to promote your filter naturally, the other is to use paid content to promote your Instagram filter.
Promote your filter organically
Create a social media campaign (regular publication of stories, posts, Reels) around the Insta filter

Organise a competition (to take part, the user must post a photo or video with the filter)

Print QR codes (display the QR code in your shops, on leaflets etc.)
Promote your filter in a paid way
Create an influencer campaign (the influencer posts a story in which they use the Instagram filter)

Sponsor its Instagram filter with the "Immersive Experience" feature (in posts, stories and Reels)
Instagram filter statistics? Commitment?
Instagram filters also have KPIs that allow their performance to be analysed. There are two groups of insights: engagement data and demographic data.
Impressions :

Number of times your filter has been seen/displayed on the screens (Story, Reel, Post)

Uses :

Number of times your effect was opened and used for a few seconds

Openings :

Number of times your filter has been opened in the Instagram camera

Captures :

Number of times users have used the effect and made a video or photo with the filter

Sharing :

Number of times a photo and/or video is shared with the Instagram effect in a story or private message

Average opening time :

Average opening time of the Instagram filter
This data is based on the information recorded when the Instagram and Facebook account was created.
Type
Age range
Country

(Top 5 countries where filter use was highest)

Cities

(Top 5 cities where filter use was highest)

Languages

(Top 5 languages of your filter audience)
Posting an Instagram filter? How?
The publication of an Instagram filter can be done from the Meta Spark software or from the Instagram filter management platform, Meta Spark Hub. In this tutorial we will take the second option as it is easier to do. Before starting the first step, please make sure that your Instagram and Facebook accounts are linked and are professional accounts.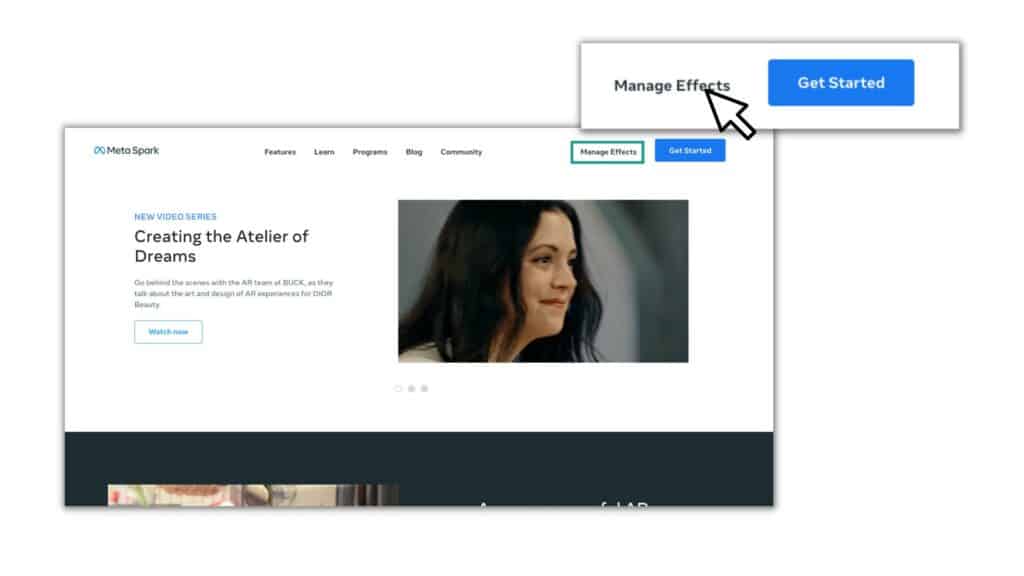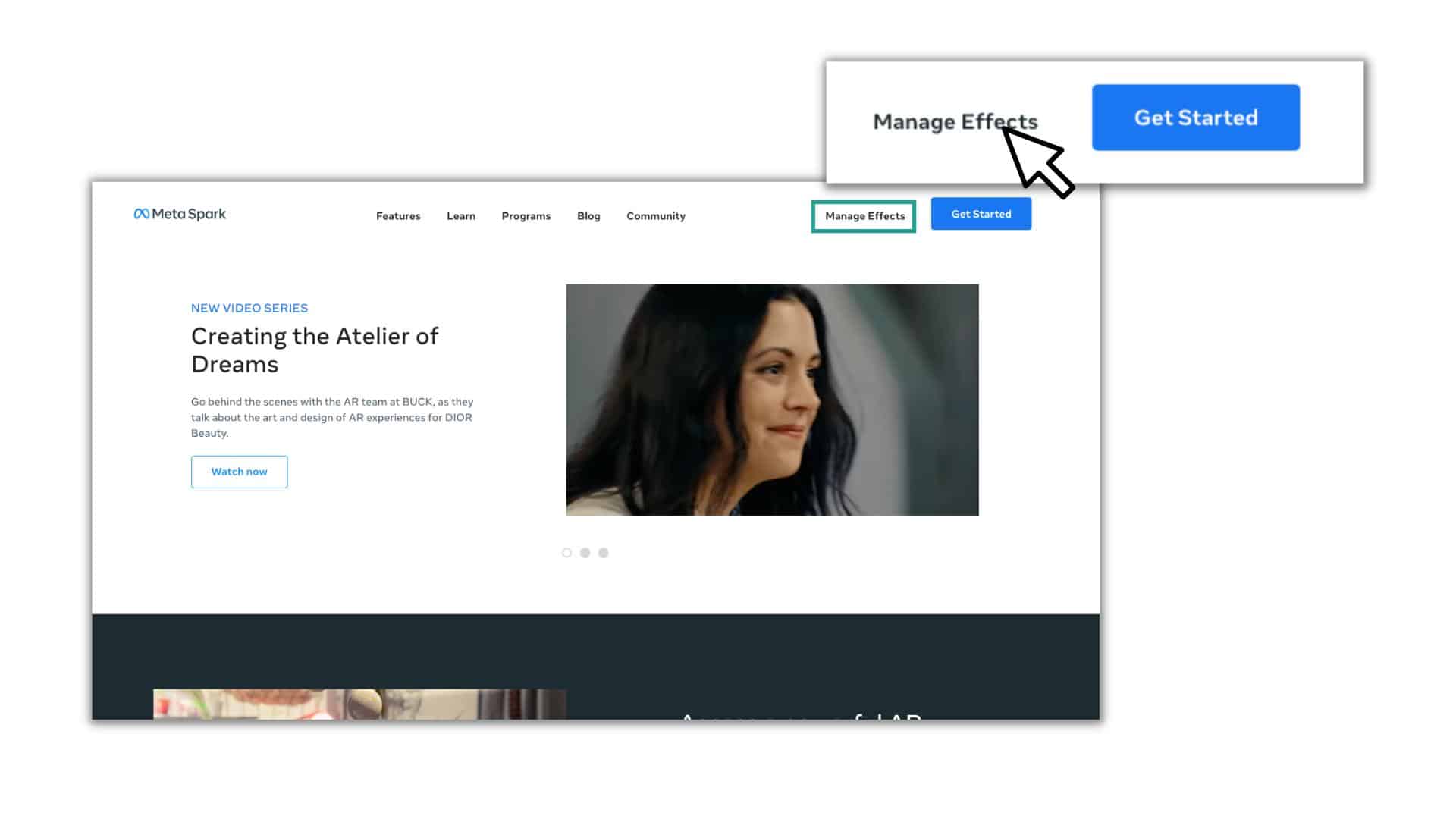 Go to Meta Spar Hub and click on "Manage Effect" in the top right corner. Then log in with your Facebook account. This platform is accessible on mobile and computer but we recommend you use a computer to facilitate the publication of your Instagram filter.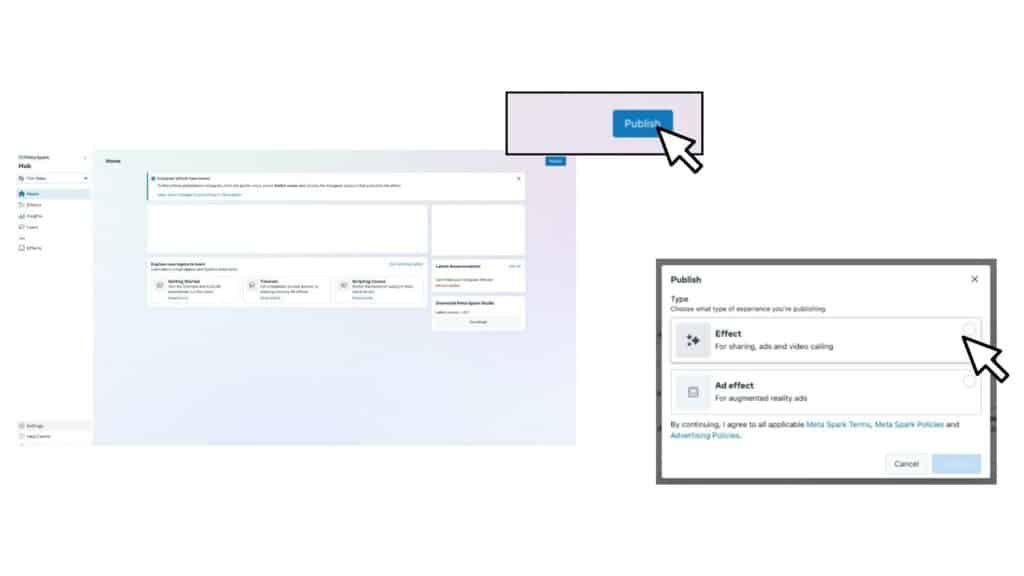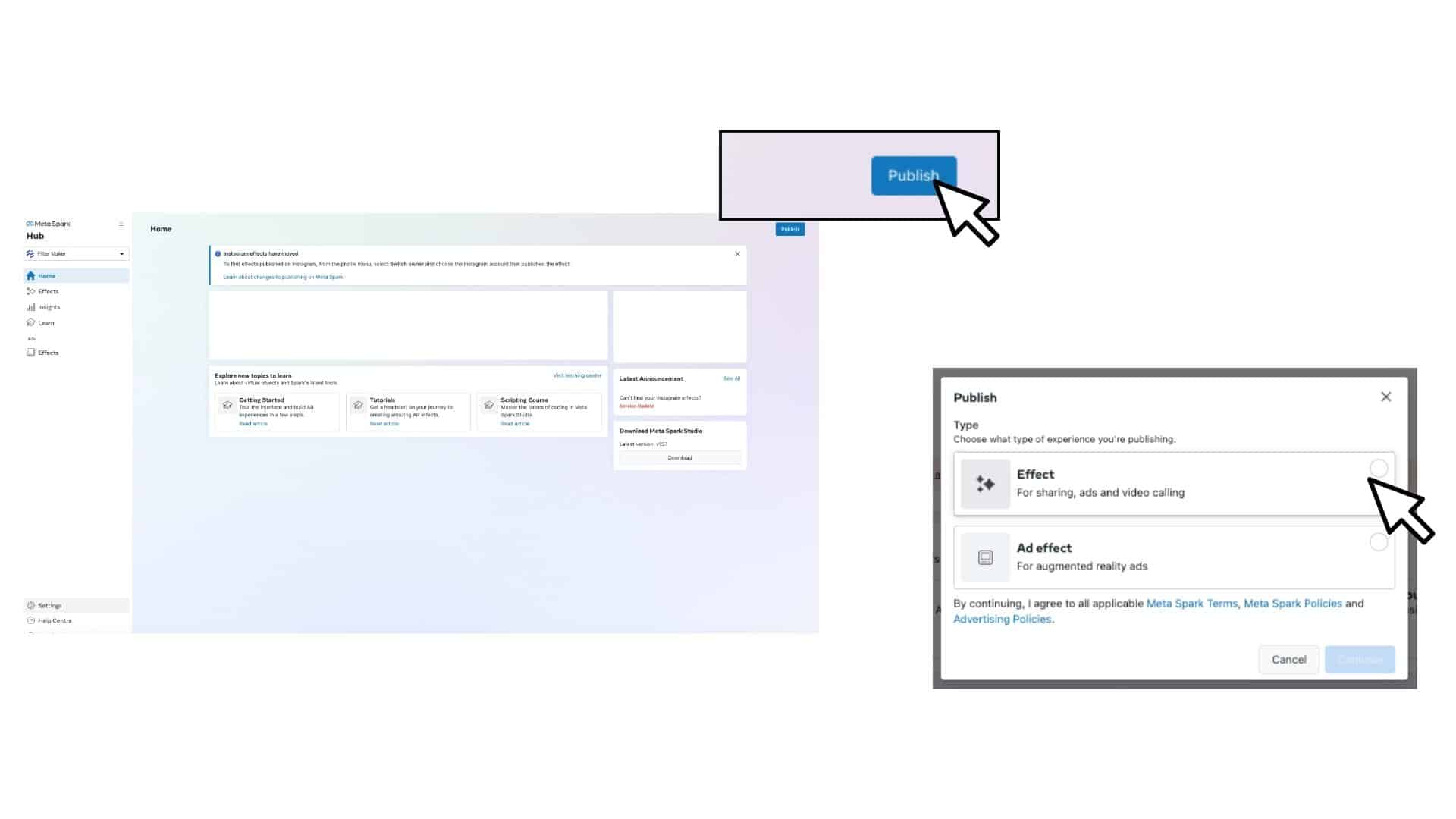 When you are logged in, the home page appears. Click on "Publish" at the top right of the screen, then select "Effect" and click on "Continue".
Fill in the necessary information. Here are the important terms that you need to complete correctly.
This is the name of your effect that will appear publicly when users see or search for your filter.
Recommendations:
The name of the effect must be 20 characters long (including spaces).

The name of the effect must not include your account name and must be the same as another Instagram filter published on your account

It is best to give a name related to your filter

The name can be changed after the filter is published
Keywords are terms that characterise your filter. They allow users to find a filter according to a theme.
Recommendations:
Minimum 8 keywords

Use words that represent elements of your Instagram filter

You can compose keywords with several words in them
This is the little thumbnail (icon) that represents your filter. It is visible in the save button of your stories and in the effects gallery. This thumbnail is a visual that should attract the curiosity of users.
Recommendations:
The format must be 400x400px

Don't put too much detail as the sticker is small

Use brightly coloured images and icons to attract the eye

Create a vignette that can help users understand the mechanism of your filter
The demo video is a short video of your effect. It serves to show users how the Instagram filter works. In addition, it helps moderators to analyse your filter and find out if it complies with all the rules of the social network.
Recommendations:
The video must be no longer than 15 seconds

Its format must be vertical and with a 9:16 ratio

The video should show the whole mechanism of your Instagram filter

The demonstration video will be public: smile 🙂
When all the information has been completed, you can click on "Submit" to publish your Instagram filter. A moderator will then analyse your filter and all the information to validate (or not) the publication of your filter.
The regulation of Instagram filters? Political?
Instagram filters are just like any other content on the app and therefore must follow the same rules. Here is an overview of what you need to do to get your filter published on Instagram.
Instagram filters must be created from images, videos, or code written by the user. Filters must not include violent, hateful, sexual content, or promote illegal products.
Filters must not use trademarks, logos, celebrity names or other copyrighted material unless you have obtained prior written permission from the rights owners.
Respect for the community :
Filters should not contain discriminatory, racist, sexist, homophobic or any other language that might offend a community or group of people.
Filters must be created using Instagram's Spark AR Studio platform. Filters must be tested and verified before publication to ensure that they work and that the file is no larger than 4MB.
It is important to note that Instagram's rules and policies may change over time. It is therefore recommended that you regularly consult official documentation of the platform to ensure that your filters comply with the rules.