Art and augmented reality: a promising duo
Augmented reality arrived in the art world around the 1970s. This new dimension challenged the creative process of artists, but also the vision of the public. Thus, the entire artistic ecosystem has learned and evolved little by little with digital technology. This new era really allows artists to put their works into action by giving them a "behaviour". Art is no longer fixed as it used to be, but becomes comparable to a process, something that sets itself in motion. But how does the digital manifest itself in art and how do these two entities complement each other? We tell you more!
Animating posters with augmented reality
Rigved Sathe is an American graphic designer specialising in branding, the technology space and the Internet. He recently created posters to explain the basic principles of design. One of the ways he has done this is by using augmented reality. 
A collection of 6 posters highlights the concepts of graphic design: simplicity, unity, proportion, emphasis, rhythm and balance. To animate these posters, to give them more impact while explaining each concept, visitors simply need to take their smartphone. The posters, shapes and colours come to life under the eye of the camera. An ideal combo to make the most of theeveloping the graphic and visual identity by putting the posters into action.
Using an application and the world of video games with Fortnite
The company Acute Art uses augmented reality to enable contemporary artists to "translate their creative vision into multiple digital media", namely augmented, virtual and mixed realities. To achieve this, Acute Art uses its application to bridge the gap between the virtual and the real world. 
The latest collaboration with KawsThe American artist and designer known worldwide for his pop art paintings, sculptures and toys combines real and virtual exhibitions. The artist's works were exhibited at the Serpentine Gallerya London art gallery, from January to February 2022 in the exhibition New Fiction. It presented works based on both physical and augmented reality. Visitors could then use the application developed by Acute Art to bring the exhibition to life. The application can be used worldwide, making the exhibition accessible to a wide range of people. The creations could also be shared on social networks: an additional opportunity to make the exhibition visible worldwide. 
On the other hand, the art exhibition has been integrated into Fortnite. This is the first ever contemporary art experience set up in the world of video games. The New Fiction exhibition is therefore hosted by an online game, in this case the Fortnite platform managed by Epic Games. This new experience makes it possible to multiply the distribution channels, in particular by entering the virtual universe of Fortnite players, i.e. over 400 million player accounts. The fact of integrating one universe with another, in this case contemporary art with video games, allows people unfamiliar with the art world to discover a new universe while remaining in a universe in which they are comfortable.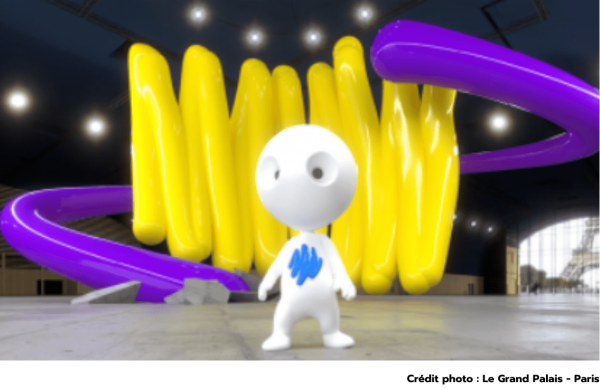 Palais Garnier - an exhibition dedicated to augmented reality
The Grand Palais set up an exhibition around augmented reality in June 2021. It was the first festival totally dedicated to artistic creation in augmented reality. 5 works in AR by international artists were exhibited (Mélanie Courtinat, Lauren Moffatt, Mélodie Mousset, Manuel Rossner and Theo Triantafyllidis) and two schools (GOBELIN - école de l'image, ECAL) also presented a work by their students.
All visitors have to do is download the "Palais Augmentée" application on their smartphones to see the works appear. Different creations were intended to make visitors think about art, the place of technology, the way it is used, the place of man, the different virtual worlds that exist and the way they are set up; an opportunity for the artists to express their perception of reality through augmented reality and for visitors to discover and immerse themselves in their universe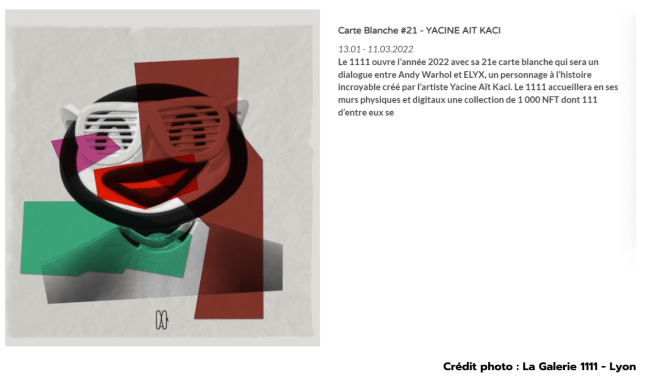 Works that interact with each other and augmented reality
The gallery 1111 in Lyon exhibited the works of Yacine until 11 March 2022 Aït Kaci, a pioneer in digital art. He is notably the creator of the Elyx silhouette, a very simple character that can be found in real landscapes. This character, created in 2011, has become a star on social networks since 2015, even becoming the digital ambassador of the United Nations!
In this exhibition, visitors will find portraits of Elyx in dialogue with creations by Andy Warhol. To complete this physical exhibition, a virtual version is proposed. It allows visitors to walk around using a computer, a smartphone or a virtual reality headset: a way of discovering the works on display from a new angle.
According to a study by Art Gallery of Ontario (AGO) conducted in Canada, it was found that visitors spend 2.31 seconds in front of a so-called "classical" work. With the introduction of a augmented reality application, The attention span of each work has increased, which is evidence of the growing public appeal of digital art. Indeed, the public will spend more time in front of the work in order to rethink it in a new way. The augmented reality experience offers a new vision to both artists and the public. We can think in particular of the fact that a certain dialogue can be set up between the work and the visitor. This approach to discovery, which is more playful and attractive, makes it possible to introduce one's own vision and subjectivity into the work: a good way of stimulating one's imagination too. 
Digital art and NFTs are a hot topic right now: "NFT-based art is poised to become the next truly disruptive force in the art market," says contemporary and post-war art specialist Noah Davis. Indeed, more and more art purchases are being made in NFT. Buying in NFT ("non-fungible tokens") means owning a material work that will only be available online, and is therefore immaterial. A forgery-proof certificate of digital authenticity proves that the buyer is the owner of the digital work. These proofs of ownership are found on a blockchain, the basic technology of crypto-currencies. 
It is a format that allows artists to stimulate their creativity (shapes, movements, etc.). Thus, real possibilities can be envisaged by artists. One can hear talk of a sort of renaissance of art via digital technology. Indeed, collectors can have access to works from all over the world on platforms where anyone can sell. 
Art and digital technology have thus become two dimensions that evolve together. It is an alliance that allows new, innovative and spectacular things to be proposed. We can't wait to see what's next! 
If you would like more information on augmented reality, please contact us contact !