Fast food brands using augmented reality
Augmented reality is increasingly proving its worth on social networks, and fast food brands such as KFC, Pizza Hut, McDonald's, Burger King and Subway are taking advantage of it to boost their marketing strategy and make it more innovative in the eyes of their consumers. 
Augmented reality enables fast food chains to create unique and immersive experiences for their customers on social networks or in their advertising campaigns. In this way, they can differentiate themselves from the competition and attract new customers.
McDonald's for a successful immersion
1. McDonald's products in augmented reality
McDonald's Australia began a transparency initiative for its customers in 2014. With the launch of the mobile app, it was possible to find out where the products making up a burger or salad came from.
This original idea was made possible thanks to the Australian application TrackMyMacca's. Macca is the nickname given by Australians to the chain. McDonald's. By scanning the barcode on each box, customers could find out where the products came from, giving the products a real history.
2. Augmented reality in Chips!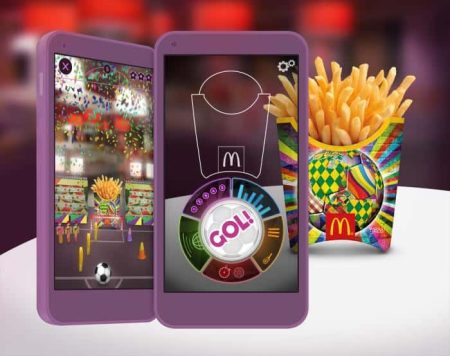 As an official partner of the 2014 World Cup, McDonald's has launched a marketing campaign called Gol! The traditional red boxes were replaced by special packaging that required 12 artists. Developed in collaboration with Qualcomm Connected Experiences Inc. and Trigger, users had to scan using their application McDonald's Gol! this new box to reveal an augmented reality game.
3. McDonald's bets on augmented reality monopoly
In 2022, McDonald's is launching an augmented reality Monopoly game available throughout France for 4 weeks. The principle is simple: when ordering, customers receive stickers on their drinks which they then have to collect to take part in the game. By scanning the stickers with the McDo+ application, they could access the augmented reality game on their smartphone and win incredible prizes. It is important to note that the stickers were 100% winners, so customers could win: 
an electric bike

a week in a gîte

table football

a DJI Mini SE drone

Bose headphones

10€ on la redoute 
And many other incredible prizes.
Burger King and its marketing strategies at the heart of augmented reality
It's impossible to mention McDonald's without mentioning Burger King, as the two rivals come up with more and more stratagems to try and outdo each other.
1. Burn out the competition? It's easy with augmented reality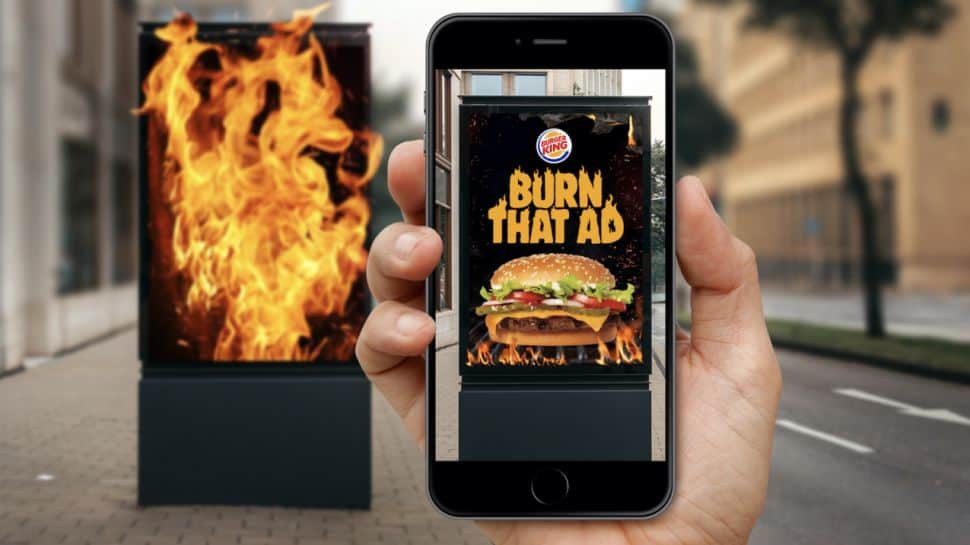 Burger King is going all out and setting its competitors on fire with augmented reality. Available on the Burger King app, a new button enabled consumers to set the competition on fire. All they had to do was point their smartphone at the rival ad, and the magic of augmented reality would begin. In no time at all, gigantic flames engulfed the poster, finally giving way to Burger King's. In return, Burger King offered its users a voucher for a free Whopper.
Only available in Brazil, this marketing operation was a success! Not only did it promote Burger King Express, a tool enabling customers to pre-order their meal without queuing, but it also diverted competitors' advertising spend. 
2. Burger King celebrates deconfinement
It's been hated by everyone, but especially by fast-food chains: we call it containment! To remedy the budget hole it left behind, Burger King came up with an augmented reality filter quiz on Instagram. It allowed users to find out in advance which burger was right for them.
To test the filter, followers of Burger King Belgium's Instagram account will be able to take advantage of the filter quiz available on the account. The aim? Keep up with the latest trends on Instagram by adding a quiz filter to your profile. Long Fish, Whopper, Double Whopper or Double Steakhouse, all the burgers were brought together in this filter to make users salivate.
Subway: a digital campaign on several fronts
1. An augmented reality filter for Subway
To mark its 20th anniversary, Subway France is launching an augmented reality filter on Instagram. The aim was to win a discount voucher valid on Deliveroo for your next Subway order. To promote this filter and to get closer to generation Z, Subway also set up a competition encouraging users to play with the filter and then post it on social networks.
Produced by our agency, the AR game filter from Subway was a huge success, with over 230,000 impressions and 15,200 shares on Instagram. It was a real boon for the fast-food chain, which was hoping to revitalise its digital strategy and attract a younger target audience.
2. Subway launches an augmented reality game with Braaxe
In 2018, Subway is launching a brand new gourmet sandwich featuring barbecued meat. To promote it on social networks, the sandwich chain called on advertising agency Braaxe. Understanding the high stakes behind this campaign, Braaxe came up with an augmented reality game that lets users become the grill's chef and cook the meat through the screen. This fun augmented reality game was available on FaceBook, where the best virtual chefs could win a Nintendo Switch, a recipe book or a barbecue kit!
Pizza Hut pizza boxes come to life!
1. Pizza Hut and Bosh, an immersive campaign using augmented reality
The American brand Pizza Hut is launching a an unprecedented collaboration with French rapper Bosh. The campaign, devised by SpökaThe new pizza box, which will be available in the next few weeks, offers an immersive augmented reality experience to all users who scan the QR code on each pizza box. Once scanned, rapper Bosh appeared in augmented reality on their smartphone screen, performing the track Gringa from his latest album.
2. Augmented reality games on pizza boxes
Also with pizza boxes, in 2021 the American brand offered a variation of the Pac-Man game in augmented reality. Available as a limited edition, all you had to do was scan the QR Code on the box to access the game and be in with a chance of winning a cabinet of Arcade1Up Pac-Person devices.
KFC: augmented reality filters on Snapchat
1. New KFC clothing capsule in augmented reality
A new collection means a new marketing campaign! In October 2022, KFC launched its first capsule collection of clothing. To promote the collection on social networks, KFC is launching its own campaign KFC Origins on social networks using Snapchat's augmented reality. The filter allowed Snapchatters and fans of the brand to virtually try on the outfits as a preview, all from the comfort of their own homes and on their smartphones. Two outfits were offered in augmented reality: a bright red bomber and a baseball shirt with a bob. As you can see, KFC has done everything it can to immerse users in its world and boost its profile on social networks.
2. Promoting KFC Cheeseburger on Snapchat
Launched by KFC France on Snapchat, this augmented reality filter would allow users to promote KFC's very first Cheeseburger. Once the filter is launched, a countdown begins, asking the user to say "".Cheeeese". A memory photo of the user with his or her best smile is taken at the end of the video with the sentence: "Smile, the 1st Cheeseburger by KFC is already available".
We will get back to you in few minutes ✔