The immersive catalogue: a more than beneficial strategy
The immersive catalogue integrating the augmented reality is a sure bet for brands, especially for Christmas catalogues. 
Indeed, because of its magical and immersive nature, augmented reality allows children to travel to a magical world and to see the products from all their angles.
The benefits of an immersive catalogue
Delivering a unique product experience
Augmented reality allows many things and transforms a traditional experience into an interactive and immersive one. In a catalogue you can introduce AR in different ways:
Create a brand universe using augmented reality animations
Plunge the reader into the world of toys (the world of Barbie, nature, etc.)
3D visualisation of products
Send users back to toy videos or animations.
The possibilities are numerous and will take children on a journey to different worlds that are specific to your brand. Thanks to this, consumers will feel closer to your brand and will be attached to its values.
Increase your chances of internet and physical sales
In addition to the immersive aspect of augmented reality, this technology allows you to reinforce the purchase decision. Indeed, augmented reality also allows you to make the transition between your paper catalogue and your website. Thanks to this, the consumer can find out about a product he has seen in your catalogue thanks to image recognition. Thus, they can read the complete product sheet and add it directly to their basket while continuing to browse the catalogue.
The reader of the catalogue will therefore be more inclined to buy the product if he or she finds all the answers and if the buying process is quick and efficient.
Augmented reality can also increase physical sales. Indeed, if catalogues are distributed at the entrance of the shop or QR codes are placed next to the products, customers will be able to enjoy the immersive experience inside the shop and will be more easily seduced by the product.
Carrefour and Jouéclub: two major retailers that have taken the plunge
With its catalogue released in 2019, Jouéclub has been able to innovate and stand out from its competitors by offering both an immersive universe and animations for certain products and a direct link to the product sheets on their website. All this is possible thanks to their mobile application jouéclub available on smartphone and tablet.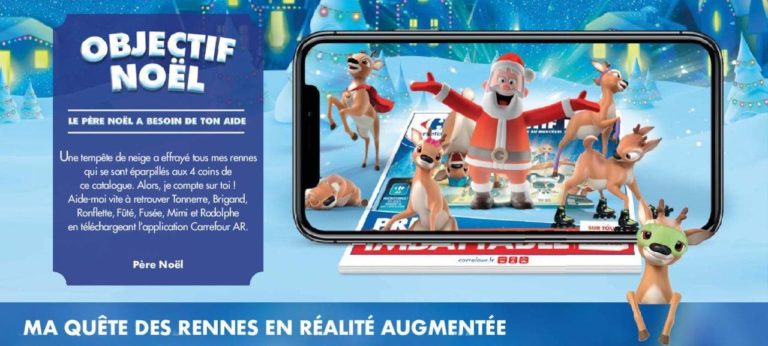 Carrefour opted for an even more advanced experience. 100% of the products in the Christmas catalogues were in augmented reality in 2020 and a game was even organised throughout the catalogue. To help Santa, children had to flip through the entire catalogue to find Santa's reindeer. In addition, thanks to the application, children could put products directly on their Christmas list and parents could then order toys directly in an account dedicated to parents. What a great way to delight children and facilitate the shopping process for parents!
The immersive catalogue is therefore an important element in a marketing strategy. Despite the fact that its implementation requires a good organization, augmented reality in your catalogue allows you to increase the number of sales and create an immersive experience for the readers.