Brand content: brands invest in augmented reality
Augmented reality is gradually becoming an integral part of companies' marketing strategies. A real asset and more weight for the digital development of brands, many original and impactful contents can be created thanks to this technology. But what are the main advantages of augmented reality for companies? What can be put in place? And what are the prospects for development? We tell you more.
The question was whether branded augmented reality influences consumers to buy more quickly than another marketing action.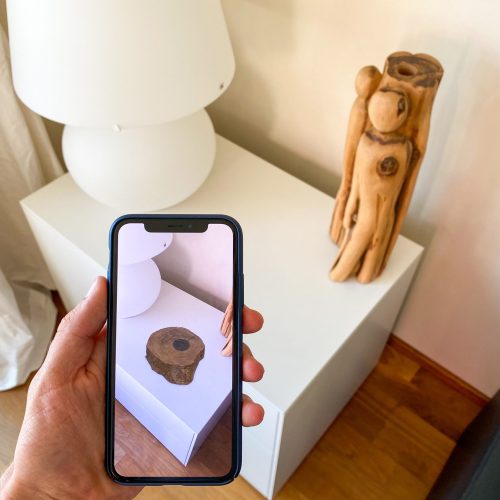 Augmented reality, also known as AR, is a technology that integrates 2D/3D elements with reality. By combining the physical and virtual worlds, immersive, rich and rare experiences are offered to Internet users. AR can be used in many different ways: to virtually try on clothes, to see an effect appear on your face, to integrate an object into your furniture and see the final result, to try on accessories or even to have effects integrated during video conferences, the possibilities are numerous! All these options allow users to project themselves and thus help them in their purchasing decisions. Numerous social networks are using AR such as Instagram, Tik Tok, Snapchat, Facebook... In order to offer a real experience beyond the features already available such as photo sharing, video, stories...
Moreover, according to the Snapchat study, this behaviour will continue to grow as 3 out of 4 consumers believe that augmented reality will play an important role in the consumer buying process over the next 5 years.
The benefits of augmented reality are multiple. Firstly, it is a way of getting closer to Internet users. Indeed, through the use of a filter, Internet users themselves become prescribers by wearing the filter and sharing it. Putting a filter online therefore directly contributes to the gain in visibility and brand awareness.
The creation of a filter also makes it possible to create a universe specific to its brand and to affirm its positioning. Indeed, a brand can work through a filter on its brand image, what it wants to send out and put forward. Consequently, Internet users will keep certain messages and elements in mind more than others.
Augmented reality, especially social media filters, is a good strategic choice for a product launch. Indeed, via the filter, Internet users will be able to try the product in question, discover it, test it and therefore easily see if the product could suit them. Through the proposal of a unique and immersive experience, the product will be highlighted, valued and therefore will seduce Internet users more quickly. 
Depending on your objectives, you can use AR in different forms. These multiple forms offer the possibility of choosing the most suitable one that corresponds to your expectations both in terms of visual rendering and reaching your objectives.
AR games 

Animation side 

3D visualization 

Immersive packaging
Agencies specialising in augmented reality
The creation of filters requires in-depth knowledge, skills and the mastery of specific software. Calling on an agency specialising in augmented reality, and in particular social networking filtersis therefore very useful. Indeed, the support from A to Z, the project management and the expertise provided will enable you to achieve a quality result for Internet users: ideal! In addition, the creative teams will complete your ideas in order to produce a complete brief. These services will enable you to achieve a creative and qualitative filter. Finally, the monitoring and analysis of your filter data is a real plus, allowing you to see what works and what doesn't, and therefore to adapt your actions afterwards. At Filter Maker, we put our customers first by offering you all these services.
Prospects for development
Augmented reality is evolving and new technologies are emerging. This is particularly the case for metaverse and NFT. In full development, these non-fungible tokens and this shared virtual universe are shaking up digital trends and creating new opportunities. Indeed, NFTs are elements that can be sold within the metaverse for avatars, for one's plot of land... A virtual commerce is then set up. On the other hand, NFTs can also be modelled in augmented reality and integrated into an Instagram filter for example; an interesting way to highlight an NFT.