Pinterest unveils its new AR makeup filter
Pinterest's technological breakthrough with its virtual make-up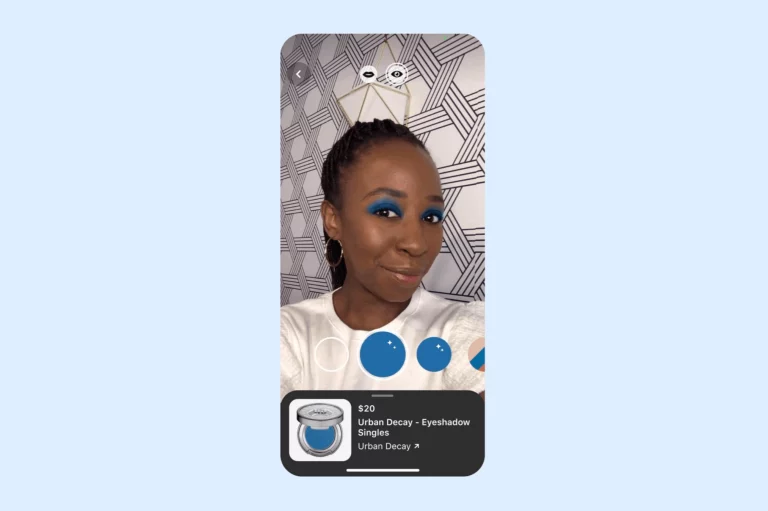 In times of pandemic, the market has become virtual. Companies have taken this into account by adapting their communication strategies. 
This is what Pinterest has done by partnering with brands such as Lancôme, YSL Beauty, Urban Decay, Nars, or NYX. 
The idea for its brands was to integrate a AR make-up filter in the form of a try on. From a technical point of view, this is made possible by augmented reality, which uses the smartphone's front camera to recognise the position of your eyes and apply the shade of eyeshadow. 
This has allowed many people to try out the brands' eyeshadows directly without having to go to their website. 
An easy to use feature, with over 4000 accessible shades that can be adapted to any face, allowing the customer to visualise the result.
"Try on" in augmented reality: a business challenge for companies
Pinterest has emphasised the commercial side of this tool as the application will suggest other products and recommend looks that match the basic search. In this way, Pinterest will suggest to the user more products that may suit their needs and thus push them to purchase.
It should also be noted that in the past, Pinterest had already offered this type of service, but this time for lipstick fitting.
The social network wanted to continue this trend by expanding the choice of possibilities by offering eyeshadow fitting.
For the coming years, Pinterest also plans to improve the performance of its in-camera anti-reflection products through Lidar technology.
With more attractive features, Pinterest has become a virtual marketplace where people can try on and buy products directly from the camera. Taking advantage of the increase in online shopping by facilitating e-commerce is what Pinterest is aiming for in the coming years.
We will get back to you in few minutes ✔