OpenAI chatbots: a revolution in many sectors
They're not new, but they're revolutionising the way we consume and communicate: we're talking about chatbots, of course. Based onartificial intelligenceChatbots, such as ChatGPT, are capable of responding to any need, from complex issues to everyday questions.
Chatbots and social networks: the perfect alliance for greater innovation
Chatbots have become indispensable tools for today's users. By combining artificial intelligence and social networks, the result is a satisfying blend of innovation and adaptation to ever-changing demand. Recently, Snapchat integrated its brand new chatbot called MyAI, based on OpenAI's cutting-edge technology. More and more sectors are now using artificial intelligence. There are, of course, social networks, but also the restaurant industry, education and even medicine, with operations assisted by artificial intelligence. 
Carrefour uses artificial intelligence to simplify customer shopping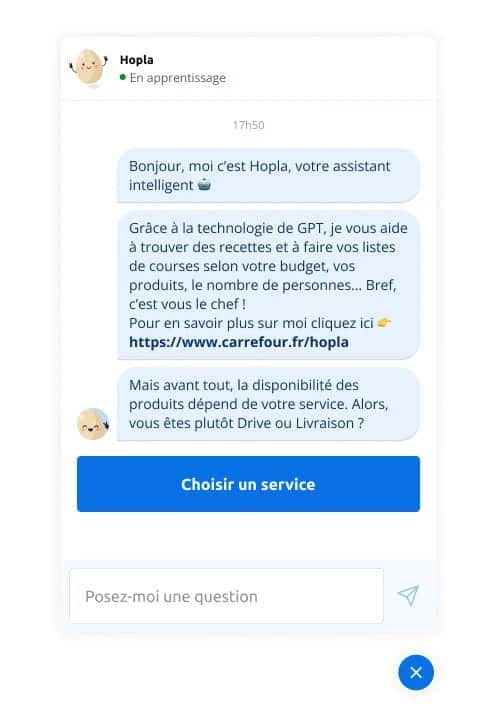 HoplaCarrefour's chatbot, based on ChatGPT, marks a major step forward in the use of artificial intelligence. Designed to make the chore of shopping easier for its customers, Carrefour has decided to go one step further with this conversational chatbot available on its application. In just a few seconds, customers can obtain a shopping list, detailed recipes and even the complete composition of their shopping basket, depending on their budget, the number of people they have to feed or their dietary restrictions. For example, Hopla can provide a balanced basket for a week, suitable for a family of four and a budget of €70. It can also adapt to the ingredients already present in customers' homes and suggest other ingredients to buy for complete recipes.
It is important to note, however, that through Hopla, Carrefour is highlighting the products that are most frequently purchased or consulted. The AI has also been limited to answering only food-related questions. Otherwise, it will simply respond with "I am not authorised to answer". Even though the functionality is still being tested with consumers, it is already set to undergo a number of improvements in the future, in order to better meet consumer expectations and continually adapt to their consumption habits.
Alexandre Bompard, CEO of the Carrefour Group, says that Carrefour is the first to use this technology in France and sees the adoption of OpenAI technologies as an exceptional opportunity. By pioneering the use of generative AI, Carrefour wants to be one step ahead and shape the retail world of tomorrow - and so far, it's succeeded!
We will get back to you in few minutes ✔