What are the new Instagram features ?
Launched in 2010, Instagram is the 3rd most popular social network in the world, excluding messaging networks. It has 1.2 billion active users worldwide: an impressive figure! Specific algorithm, timeline, short format for videos... Numerous features and updates are proposed by the network to constantly improve the application. These new features aim at facing the other social networks, especially the rise of TikTokBut also to adapt to the new expectations of Internet users. But what are the changes and what are their strengths? Let's go for a recap!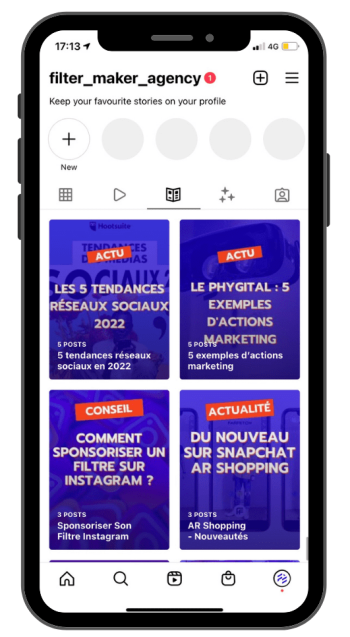 Instagram offers guides, a type of content that makes it easy to share products, places and publications from your favourites. Guides bring together products, places or publications around a main theme in 1 post. This format allows you to produce a quality post with relevant and interesting content for your customers. It is a good way to gain visibility by publishing advice, opinions, to answer problems faced by Internet users, to propose tutorials, or even to do storytelling!
Videos are a must-have content on social networks. Brands use it both to engage their customers, to conquer new leads and to boost their visibility. Indeed, Internet users prefer to watch audiovisual content rather than text. More fun and entertaining, videos have become a key content in the social media strategy of brands. 
Instagram announced in October 2021 the end of long-form videos, IGTVs. In effect, the network merged IGTVs with permanent feed videos to create the new Instagram video format: "IGTV and Feed videos will now be a single format, explains the network in a press release. The new format makes it easier to download, while encouraging video discovery. The video preview in the feed is 60 seconds when there are no ads. In addition, new features are offered such as cropping, tagging people or using Instagram filters. Stories and reels remain in place, as they are very popular formats used by Internet users. 
One of the aims of this change to videos is to compete with TikTok and Youtube on the video format. Instagram wants to become the leader in entertainment, particularly through videos and the development of e.commerce via the application.
The network wishes to develop the e.commerce aspect of its interface. Indeed, online commerce is increasingly developing on the application. This can be seen in particular through the shopping tab, which aims to respond to the new consumer needs and expectations. 
To this end, the network will launch a new feature in the US in the coming months that will allow all users to tag brands and products on their posts; a feature previously reserved for certified accounts. Instagram wants users to be able to "support their favourite small businesses".. This option is totally in line with the very concept of the application, i.e. sharing inspiration and discovering new trends. It could eventually be extended to other countries: an opportunity to benefit from free advertising for brands.
Features to meet the expectations of Internet users
Instagram is going backwards and offering a chronological feed again: an option eagerly awaited by Internet users. Simply select the Instagram icon at the top left of the app to choose between the default view or the timeline view. 
You will find two additional windows distributed as follows:
Subscription" tab: you will find the publications of your subscribers sorted according to their recency.

Favourites" tab: 50 accounts can be selected and bookmarked for priority viewing.
These new options complement the usual Instagram feed based on user preferences and interactions, but also on suggestions from the network.  
A new feature is also being developed: responding to stories with voice! This new option is intended to encourage interaction. We're already sure that it will be appreciated by fans of vocals. It will also complement the likes of stories implemented on the network recently.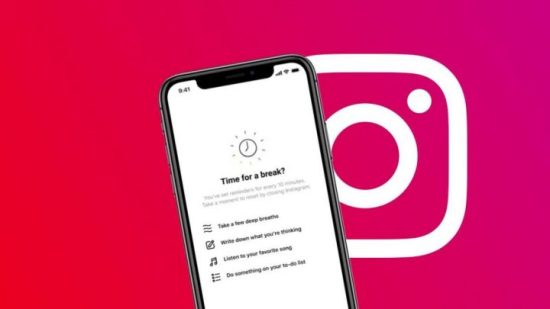 Regulate the use of the application
To help users and especially parents better manage their children's screen time, Instagram has developed the "Take a break" option. The network is introducing this feature in response to accusations and reports that Instagram use is harmful to teenagers. Thus, "Take a break" sends notifications and reminders not to exceed a certain amount of usage per day. It is also possible to mute the notifications to avoid being disturbed. These tips have been validated by experts and help to better manage time so as not to overuse screens: "Take A Break is designed to empower users to make more informed decisions about how they spend their time on Instagram." says the network.
The Instagram network continues its development by constantly offering new options and features in accordance with the demands of Internet users. If you would like more information on augmented reality, filter creation and more, please contact us contact our experts ! 
We will get back to you in few minutes ✔