Augmented reality in the world of cosmetics
Augmented reality continues to develop and is becoming more and more attractive to cosmetic brands. This technology is even becoming the best friend of many brands. But what are the benefits? And what are brands putting in place? We tell you more! 
What does augmented reality in cosmetics mean?
It is necessary in the cosmetics industry to see and test products. Indeed, the texture, the shades, the use and even the container are elements taken into account by the buyers. Digital presence is also very important, so it is interesting for brands to offer equally immersive and interactive experiences via digital. The aim is to offer equally rich and complete product experiences and propositions even without physical contact. For this, it is interesting to use augmented reality to offer and immerse Internet users in a unique experience. 
The use of digital and augmented reality has accelerated with the health crisis and the health restrictions that no longer allow people to go to the shops. Already topical, this is where technologies revolving around augmented reality became even more developed and started to be used by more and more users. Brands such as Benefit, Lancôme, Make up For Ever, Urban Decay and many others have adapted directly by offering digital solutions to customers. This proposal is possible thanks to virtual try-ons, an effect consisting of integrating 2D/3D elements into reality. In concrete terms, it is possible for a person to try on the new range of lipsticks that a brand has just released simply by using their smartphone, a very practical feature. This is for example what is proposed by Yves-Saint Laurent with a Instagram filter featuring different shades of lipstick. With the effect, users can then see which shade suits them best. The filter then becomes a real help in the purchasing process. 
In addition to digital, it is also possible to link physical and digital: this is the phygital. Customers can then find tools in physical outlets that allow them to continue using digital, which offers many functionalities and is therefore very practical, while keeping the link and physical contact in the shop if necessary. The use of these major themes really allows us to meet everyone's needs and enrich the customer experience from start to finish.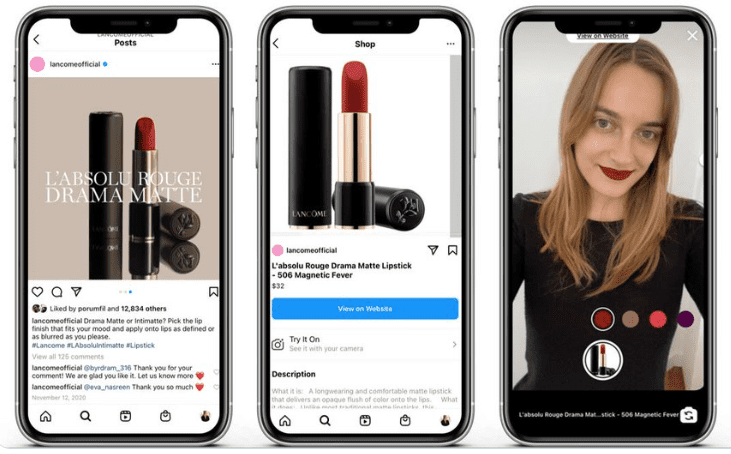 Actions implemented by the brands
The French cosmetics group is anchoring itself in a digitalization strategy via various actions. In particular, in 2018 the group bought the start-up ModiFacea Canadian company specialising in augmented reality. By making this acquisition, the group can offer 3D virtual make-up fittings, colouring and even make skin diagnoses thanks to face tracking. The ModiFace AR technology is accessible via Amazon, Google and Youtube. Internet users simply use the front camera of their smartphone to virtually try on the products of their choice: the ideal way to project themselves and choose the product that perfectly matches their needs. L'oréal is therefore continuing to develop its digital strategy and is refining its proposals over the years.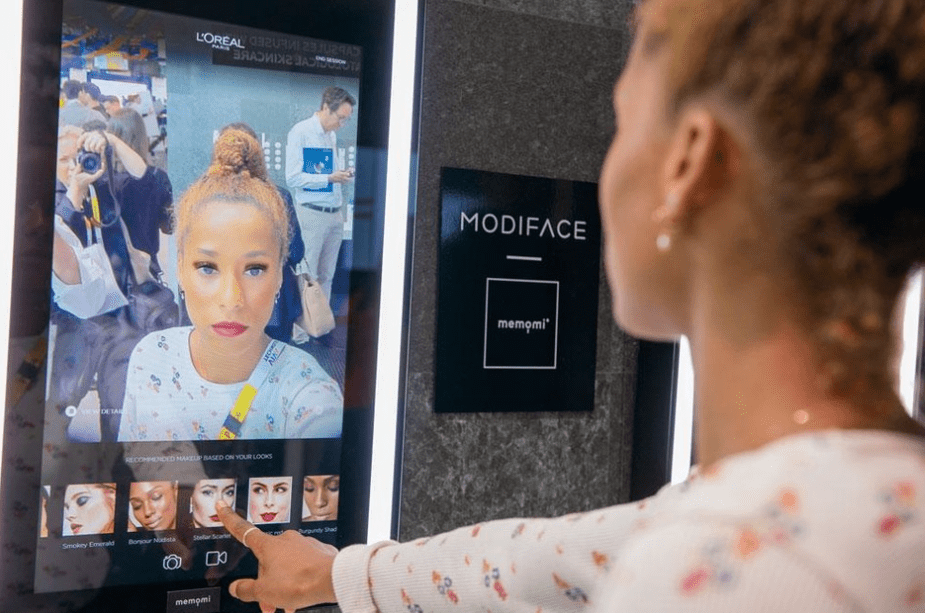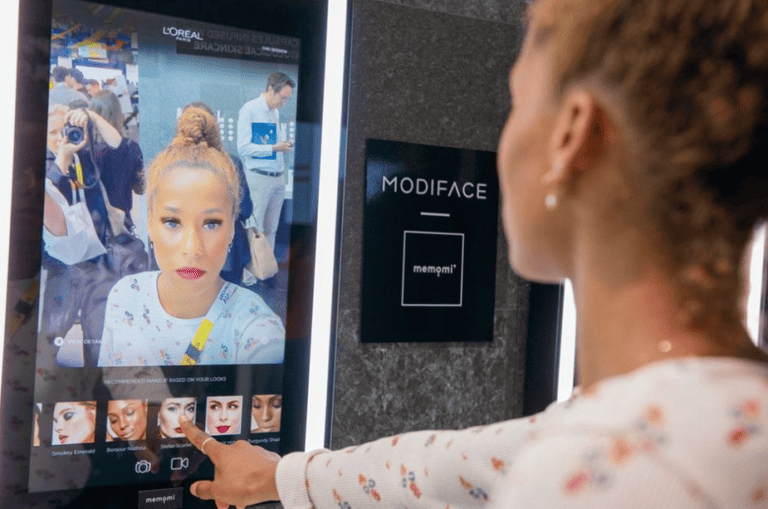 Sephora has also launched an augmented reality campaign. The brand wanted to invest in this technology and offer its customers a unique and fun experience by helping them to project themselves. Consumers can then try on face masks from the Sephora Collection. This option was launched in 2018 on various sites such as Au Féminin, Grazia, Vanity Faire and Marie Claire.
Augmented reality is a very interesting tool for a product launch. This is what the brand Nuxe has recently put in place for its 3-in-1 fresh cream. This cream is promoted via Snapchat to make them discover the product and its different benefits. The effect presents the 3 uses of the cream: moisturising, make-up remover and mask. To show the benefits of the product, a before and after filter appears on the users' screen to see how the product looks virtually. With the launch of its Lens Snapchat, Nuxe wants to rely on a totally digital communication with innovative and impactful activations. 
Augmented reality continues to develop, particularly in the cosmetics sector. By digitalising their strategy, the brands in the sector are offering new and innovative functionalities, each more interesting than the last, to accompany and help internet users in their decision-making. 
If you have any questions or need advice, please do not hesitate to contact our experts !