Snapchat partners with Sony Music Entertainment to create augmented reality sound lenses
Snapchat and Sony Music Entertainment have announced a partnership that will allow for the creation of soundtrack lenses with Sony Music music.
Sound lenses arrive to compete with Instagram and TikTok
The aim of this partnership is to develop sound lenses to encourage users to share musical content in the same way as on other social networks such as TikTok and Instagram. Short videos have become a very popular and widely-shared form of content, and Snapchat has not yet come up with a format to position itself around them. Snapchat therefore wants to offer sound lenses with a song selected with augmented reality effects, as well as Cameo sound lenses for inserting visual effects.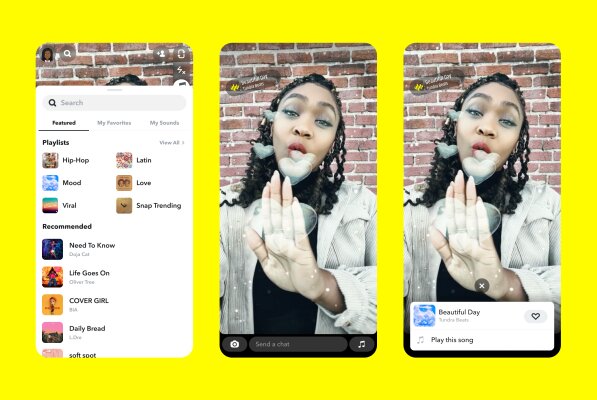 For Snapchat, sound lenses will be heavily used in light of the traditional lenses that already have over 200 million users each day. In addition, the social network claims that these sound lenses will allow for even more immersive experiences.
Thanks to this partnership with Sony Music Entertainment, Snapchat will have a real advantage over its competitors, as it is the only company to hold the licences for this music. Users will then be able to share licensed sound lenses with other users and also on Spotlight.
Other partnerships that have been established before
NBCUniversal is an American media conglomerate. This will allow Snapchat to offer a library of licensed audio clips from TV shows and movies. This partnership allows Snapchat to expand audio resources to users when sound lenses are enabled.
In addition, Snapchat is not a new partner in the music industry, such as Universal Music Group, Warner Music Group, NMPA, Warner Chappell, Kobalt, BMG.
Sound lenses provide other functions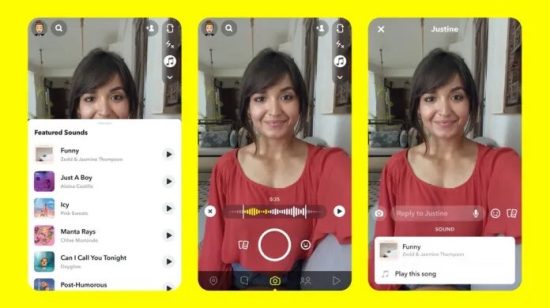 As explained above, sound lenses are a feature created to compete with TikTok. According to Snapchat, the competitive advantage lies in the fact that the library of audio resources is immense and that Snapchat filters are much more developed than on other social networks.
Last year, Snap launched the Sounds tool to add music to their content and thanks to this, 521 million videos were created with Sound in one year.
With the launch of audio and music features, Snapchat wants to encourage users to send more Snaps and share spotlights. In this way, it will be able to increase its number of active users as well as its engagement rate.
For now Snapchat has not released a date, but the new Lenses sound feature will be available worldwide on iOS and Android.
Augmented reality: Snapchat's DNA
Snapchat has positioned itself on the use of reality for a long time and continues to improve the features that use this new technology every year. 
For Snap, augmented reality is the technology of the future and is useful for everyone, especially brands. 
Indeed, the little ghost offers, for example, the try-on of a branded 3D product with a direct link to the product page on the merchant site.
For brands, this is a real advantage as social networks have become a large and influential market place to sell their products to consumers in a fast and more direct way.
Lenses are also an easier way for companies to communicate with users and get closer to them without appearing intrusive with ads.