Snapchat: you can now cook with the app's scanner
Using augmented reality for brand development has become an important and interesting lever of action. Indeed, AR makes it possible to create a direct link with Internet users, to generate commitment and a feeling of belonging among its customers. SnapchatSnapchat, a real forerunner in augmented reality, is the ideal network for offering the ultimate immersive experience. Here are a few tips on how to integrate AR into your digital strategy using the Snapchat scanner.
A new category in the Snapchat Scanner
Initially launched to recognise users' Snapcodes to allow people to be added more quickly, the Snapchat scanner quickly expanded to other categories. Since Snapchat launched its scanner, we can see that its performance continues to improve. You can find music, a breed of dog, the name of a plant, the solution to an equation, the make of a car and many other things that allow you to analyse your environment. Since a few days you can also find recipes by simply scanning ingredients. This is possible thanks to a partnership with Allrecipes which is an online recipe platform.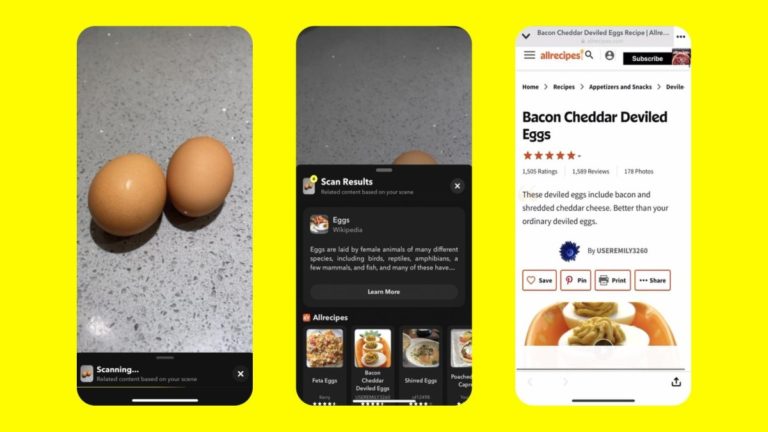 The way it works is very simple. The user can scan ingredients on the Snapchat app, which in turn will suggest different recipes from Allrecipes. After selecting a recipe, the user is redirected to the recipe's webpage. All the user has to do is follow the instructions and prepare the dish.
Snapchat wants to make its social network versatile
As you may have guessed, by developing the Scan feature, Snapchat aims to provide an application where users can find everything they are looking for. This ensures daily use of the social network. 
Augmented reality allows Snapchat to achieve this goal since everything is possible with this technology. Indeed, the yellow ghost being based on the sending of photos and videos, it was normal to continue in this direction and develop features that correspond to this principle. Thus, you can find the scan that uses augmented reality and AR filters. In addition, for some time, Snapchat has wanted to develop the try-on feature to emphasise the possibility for brands to sell their products directly on the application. The try-on is simply the fact of trying products (clothes, accessories, make-up) on oneself thanks to augmented reality and the different trackers that exist on Snapchat. 
This allows users to purchase products with confidence, reduce product returns and increase conversion to purchase. 
This is how Snapchat has proposed an augmented reality shop where clothes are projected in augmented reality. This filter is not yet perfect because AR does not yet allow for exact body tracking, but with the evolution of smartphones, it will soon be possible to enjoy augmented reality in its entirety.