Drive to store: 3 reasons to include augmented reality in your strategy
With the covid-19 pandemic, shops have had to close or restrict access to their premises. What's more, consumers have changed their shopping habits and buy much more online. To encourage customers to return to physical shops, brands need to rethink their drive-to-store strategy.
A drive to store strategy is simply the act of encouraging a targeted audience to visit your physical shop in order to purchase a product. There are several ways to implement a drive to store strategy but they are all already heavily exploited by most brands and are becoming less and less effective.
This is why, in order to stand out from the competition, you have to think outside the box and opt for a unique and original strategy, and this is exactly what augmented reality offers.
AR meets different objectives that you want to achieve with your drive to store strategy.
1. Promote your products with augmented reality
Augmented reality makes it possible to project objects in 3D directly into the user's environment. Thanks to this, offering a product in 3D in an Instagram filter, for example, allows a person to imagine the product in their daily life and in their environment. It is as if they have already passed the purchase stage and own your product. This technology is very useful for companies selling quite large and bulky products.
Let's take the example of a furniture shop. If this shop offers its furniture in augmented reality, the future customer will be able to visualise the furniture in question in his living room. All they have to do is come into the shop and buy it directly without hesitation. The drive to store strategy will have worked, as the customer will have come to the shop with the sole purpose of buying.
2. Encourage your audience to visit a shop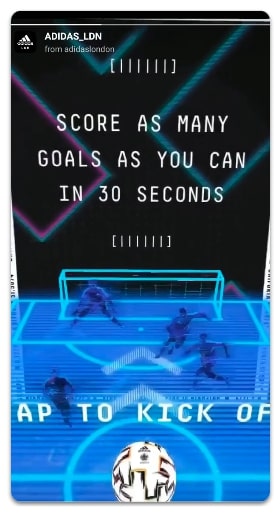 For a drive to store strategy to be implemented, consumers must first want to come to your shop. Indeed, several techniques can be implemented such as a competition or a mini through an AR filter.
This is what the shop Adidas London implemented last year. When you went into the shop, you could scan a poster and access the Instagram filter. The principle was simple, score the most goals as defenders moved in front of the goal in less than 30 seconds. In addition to this game, the participation of influencers such as David Beckham helped to arouse the curiosity of a large number of people.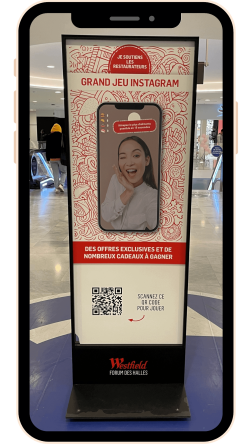 Finally, here is an example of a drive to store strategy that shopping centres have implemented to invite consumers to come to the shop. We made an AR game available on the shopping centres' Instagram accounts and players could win a voucher directly in the centre.
3. Augmented reality to support sales advisors
It is sometimes difficult for a sales advisor to conclude a purchase when the product in question is not available in the shop. This is why augmented reality can accompany and help advisers to ensure that the purchase is completed.
Imagine a car dealer trying to close a sale. The customer cannot really see all the possibilities and accessories that the car may have and will therefore be hesitant to buy. They may hesitate about the colour of their new car or the type of rims they want to get. This is where augmented reality will be an effective asset to advise him. Indeed, thanks to this technology, he will be able to personalise the car according to the preferences of the potential customer and show the car in 3D. This way, the customer will be able to really see how the car looks and will no longer have any doubts.