All about Tik Tok's Effect House. 
Effect House is a creation tool that allows users to create AR effects for Tik Tok. Comparable to Spark AR for Meta or Lens Studio for Snapchat, this tool allows the community to easily create, publish and share high quality effects to other Tik Tok users. 
The creation of augmented reality effects is highly appreciated by Internet users both for the immersive and innovative experience it offers and for its fun aspect. With Effect House, designers can let their creativity, imagination and inspiration flow while enhancing their knowledge and skills. The effects can then be shared with hundreds of millions of users around the world. 
Creating an AR effect can sometimes seem complex and requires knowledge of the tool. Effect House helps creators to create their effects by providing advice and templates. This tool is currently only supported on the Mac as an application. The tool is expected to be extended to other operating systems via future updates.
This creation tool is accessible worldwide for all Tik Tok content creators. All you need to do is download the application on your Mac and have a Tik Tok account to create your AR filter.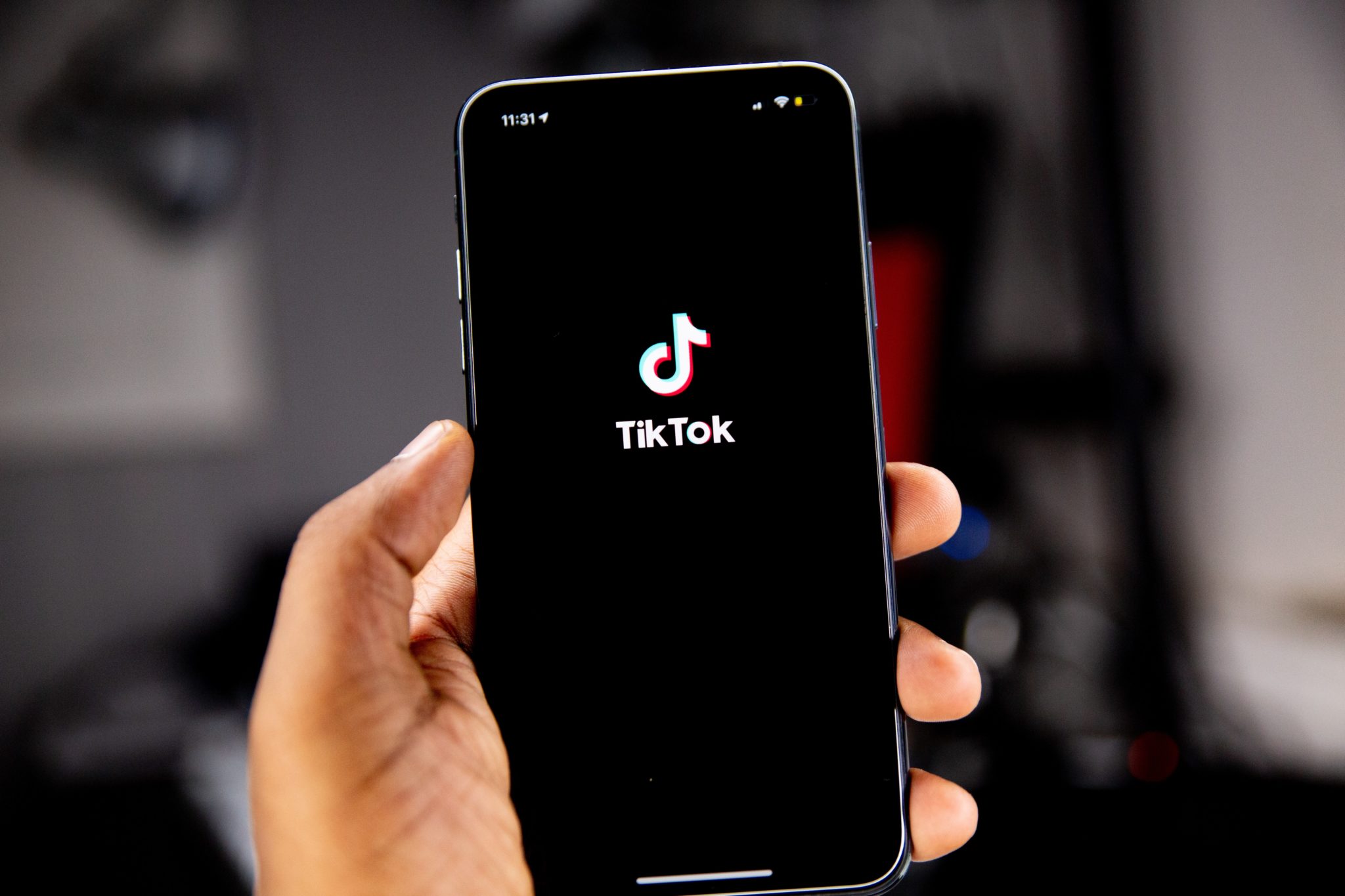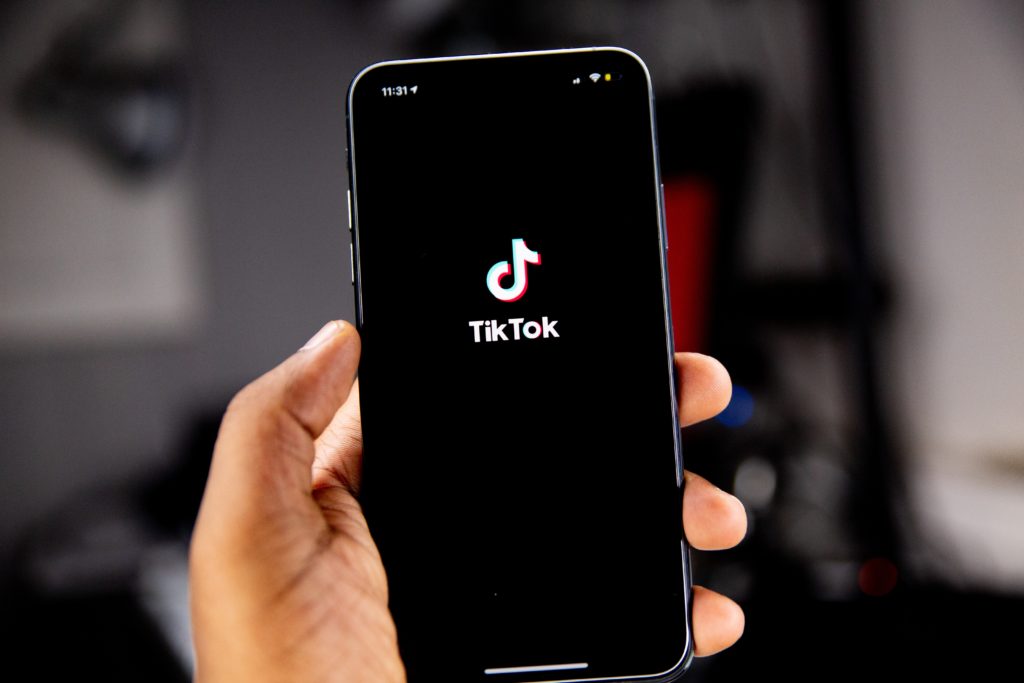 HOW TO CREATE AN AR EFFECT ON EFFECT HOUSE?
What are the steps to follow to create your AR effect on Tik Tok? Follow our tutorial!
1. Download Effect House, currently only on Mac
2. Login to the tool with your Tik Tok account
You can now go ahead and create your project!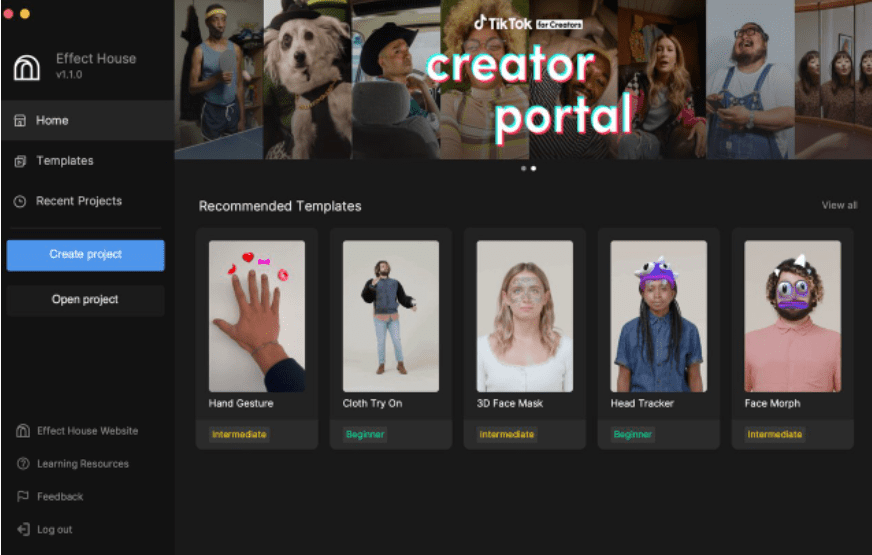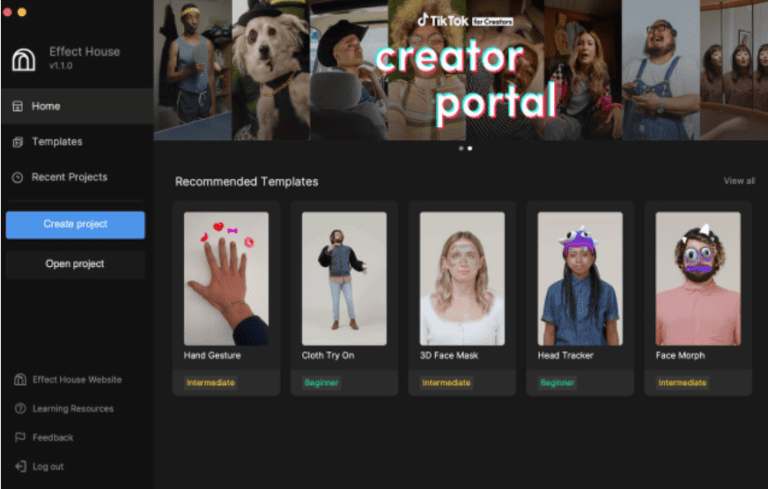 3. Create your effect 
For this step, you have access to detailed learning resources such as guides and even templates to help you develop your AR effect.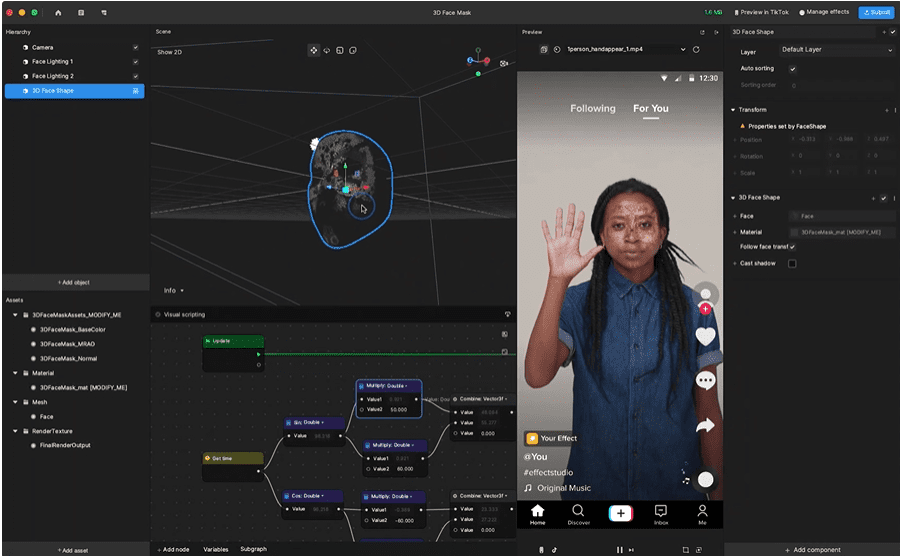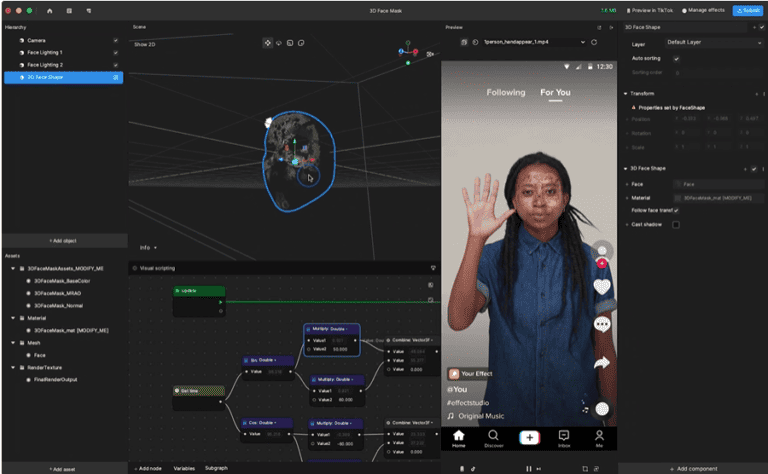 4. Preview your effect 
You can do this preview directly in Effect House or on Tik Tok with the "Preview in Tik Tok" button to generate a QR Code to scan in the application. 
5. Record your demonstration video 
In order to submit an effect, it is necessary to provide a demonstration video. It is important that the effect is true to life and complies with the Tik Tok guidelines for effects. This demo video is for the use of the Tik Tok teams and will not be displayed publicly. The most important thing is to demonstrate the functionality of the effect. It will be possible to create a new, more fun and entertaining video for users later on. 
Here are the rules to follow for this famous demonstration video: 
👉🏻 Portrait 9:16 
👉🏻 MOV or MP4 file format 
👉🏻 Max file size 32 MB
👉🏻 Video length max 15 seconds 
👉🏻 Tip: stand in a well-lit space with no cluttered background
👉🏻 Record video via Effect House or Tik Tok preview
6. Create a thumbnail to present your effect 
You will now submit your effect and publish it. It is then necessary to create your thumbnail in order to present your effect to Tik Tok users in the best possible way. 
You can simply use a still image or create a special vignette: do as you wish, it's your effect! The most important thing is to focus on the effect so that you understand the purpose of the effect clearly and quickly. So there is no point in adding details but focus on the key features, 1 to 3.
These illustrations are based on a flat vector graphic approach using solid shapes, gradients for the background and drop shadows to highlight an image. There is no need to include photographic details or to mix different illustration styles.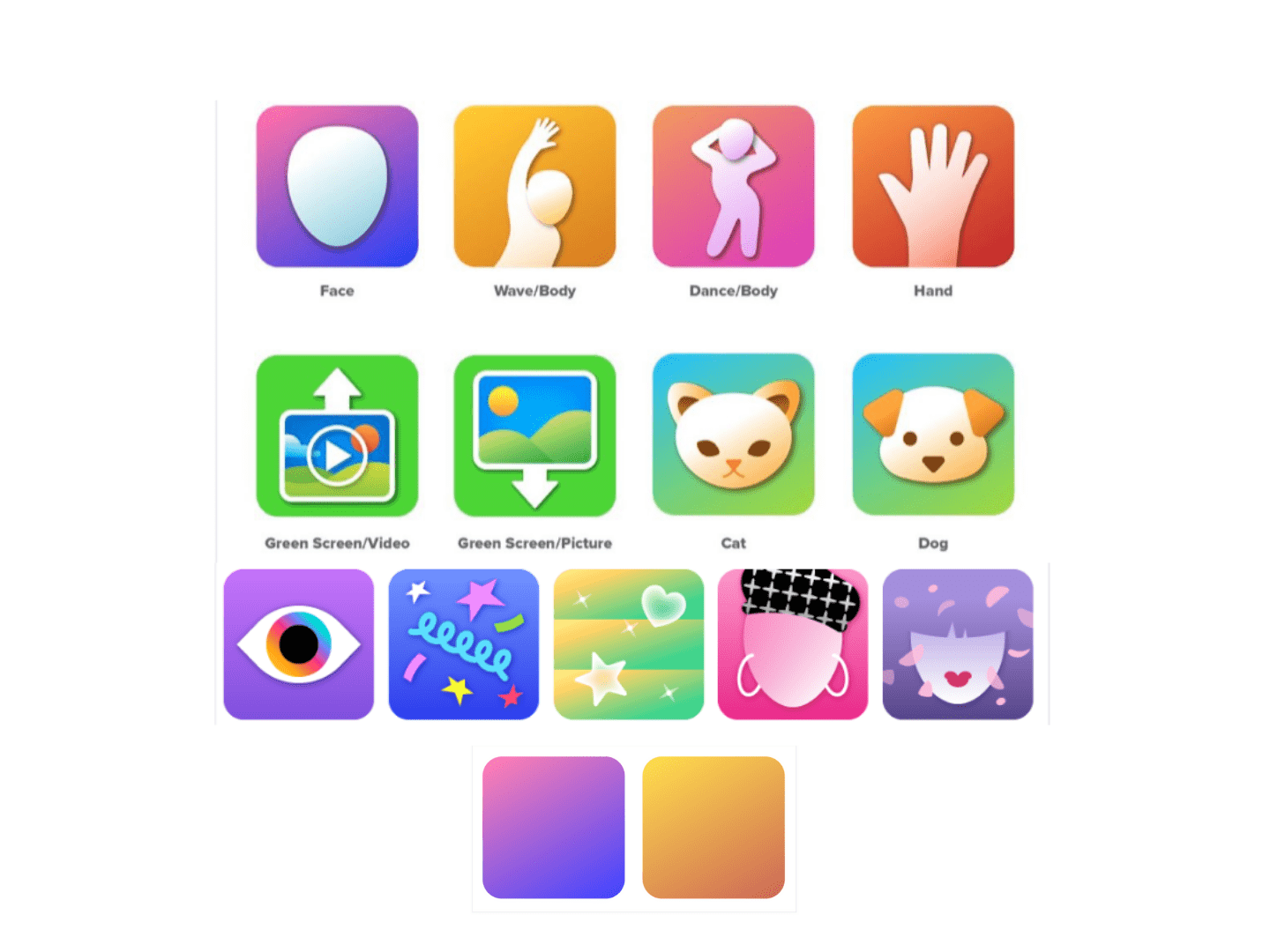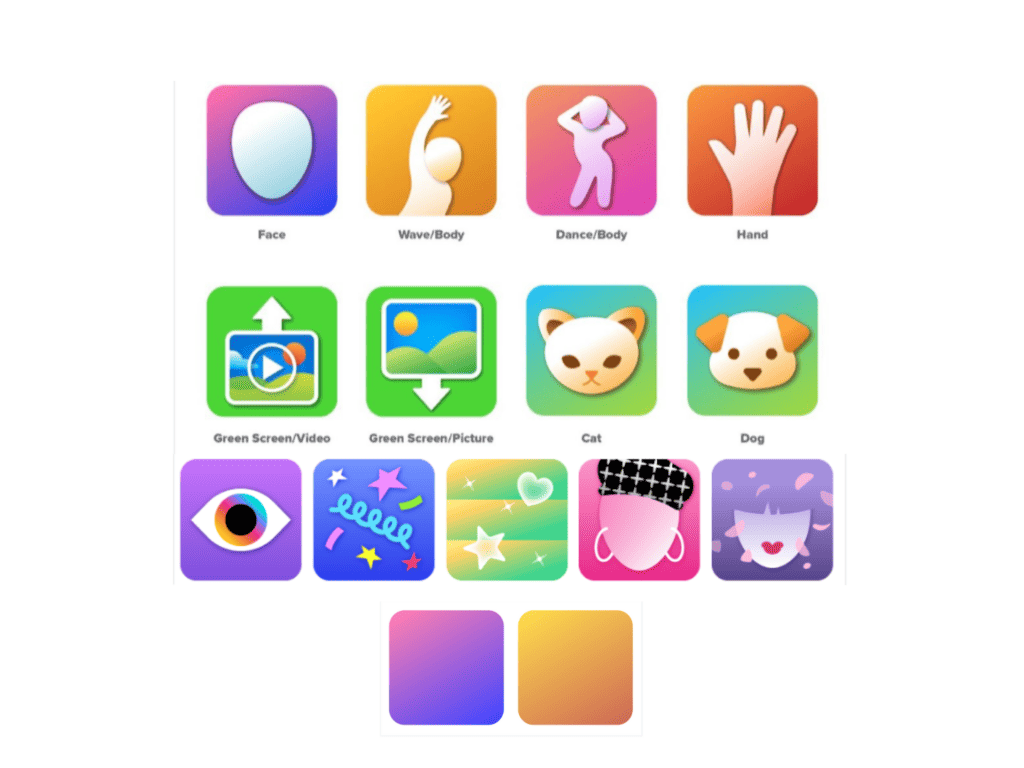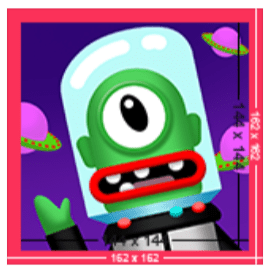 Here are some good practices to follow: 
👉🏻 Export size (design canvas): 162 x 162 px 
👉🏻 Security zone: 144 x 144 px 
👉🏻 File format: PNG
👉🏻 Adapted shadow settings: opacity of 70%, X and Y offset of 2px, blur of 2px 
7. Examine your effect 
Your effect will pass two reviews: a technical review and a content review for moderation. These exams take about 2 to 3 days but can vary depending on the effect. You can follow the progress of the exam on your side via the effect management portal ("manage effects" on Effect House or "manage" on the beta website).
It is always possible to modify your effect after submission. Simply remove it, via the "plus" drop-down menu, and then resubmit your effect after modification. 
8. Activate your effect 
If your bill of exchange is rejected, it will appear as "in need of revision". Details are filled in so that you can make changes to resubmit it via Effect House. If your effect has been validated, it will appear under the status of active and will therefore be put directly on Tik Tok.
9. Create your own Tik Tok video
To finalize the creation of your effect, you can now create a Tik Tok video. Simply go to your Tik Tok profile, click on the effect tab and then on the thumbnail to access the effect details page. Using the effect you simply create a video and submit it. When approved, the video will be added to the effect. 
10. Share and visualise your effect 
To share your effect, click on "more" in the drop-down menu and then "share". A QR code will then be generated or a link. Simply scan the QR code or URL to go directly to the effect. It is also possible to search for it via its name, in the effect tab of your profile, via the anchor indicated on a video using the effect or on the effect tray. 
WHAT RESOURCES ARE OFFERED BY EFFECT HOUSE?
Effect House supports content creators in the development of their AR effect with guides and tutorials. In addition, additional resources are made available to evaluate the performance of the effect afterwards. 
So, once your effect has been uploaded and is active, you have access to the performance via the "Manage" page of the Effect House website. 
 Different analyses are then proposed to you: 
👉🏻 Global: access data from all your effects whether they are active or deactivated
Individuals: focus on a particular active effect via the "statistics" tab to get access to precise data
The analysis part of your effects also allows users to see the metrics available for each effect, the number of views, posts, likes, shares or plays, i.e. the number of times the effect has been opened in the effects tray. All of this allows for a full analysis of the filter, comparing it with others and seeing what works best for example.