Xiaomi displays an augmented reality ad at the Paris Opera
Until the end of November, Xiaomi is displaying an augmented reality advertisement on one of the walls of the Paris Opera building.
An immersive experience that showcases the new Xiaomi smartphone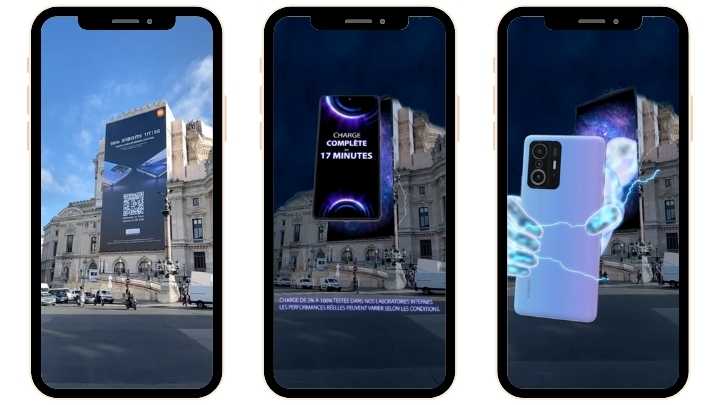 Using a QR code, passers-by are redirected to the Snapchat app to activate the lens. When the filter is launched, the sky around the Opera House will darken and the new Xiaomi 11T Pro smartphone will pop out of the poster with a list of its features laid out around it. Later a giant hand will come and pick it up and bring it closer to you to make theimmersive experience.
How did Xiaomi make this ad?
As you know, augmented reality is starting to become an important part of brand marketing. 
For this purpose, there are several key players that enable brands to offer augmented reality content. Snapchat, Instagram and Facebook are the main pillars of this trend and each of these social networks is doing everything possible to attract brands. In this example, Xiaomi chose Snapchat for a variety of reasons, not least because it is the social network that offers the best immersive augmented reality experience for users.
To make this ad, the Paris Opera building and each element of the animation had to be modelled in 3D. Then, it was possible to discover the Snapchat filter in two different ways. The first was image recognition and the second was the QR code. By choosing the second option, Xiaomi chose safety because the image recognition technology can sometimes last or not be done because the brightness is not good enough or the smartphone is not powerful enough.
The immersive experience is then launched through coding and Lens Studio software that Snapchat offers to the public to create their own filter.
Augmented reality for traditional advertising
Xiaomi has shown the potential of this technology for marketing. We can see that display advertising can be revamped and offer immersive content to reach more users. Today, most people have a smartphone that allows them to use augmented reality. This allows brands to expand their content possibilities and offer more immersive and vibrant experiences to consumers.