AR web would make e-commerce more fun for 34% of Americans
YouGov released a study on February 18, 2022 on the opinion of Americans about the AR web in e-commerce. Even if this study only concerns Americans, it allows us to imagine the evolution of the global augmented reality market in the years to come.
Augmented reality a tool for brands
This technology has been around for some time, but it has been used in brand marketing for a decade. Indeed, there are many ways to integrate augmented reality into your marketing strategy such as filters on social networks, web AR or in video conferences. 
However, the term augmented reality is not well known and users sometimes don't even know that they are visualising things through augmented reality. Worldwide, 810 million people used AR on their smartphones last year and this number will turn into one billion by the end of 2022. 
As you can see, augmented reality is becoming a major lever for brands to get closer to their customers.
What do consumers think of the AR web?
First, before talking about augmented reality, YouGov explains that 73% of Americans want a better shopping experience when they are on their smartphone. 
This is where web AR comes into play and helps brands. Indeed, thanks to augmented reality, users can project 3D objects in their real environment. This brings many advantages for traders and consumers alike. 
This is what this study proves, 34% of Americans agree that augmented reality would make their shopping experience more enjoyable and fun.
In addition, 72 % also said that augmented reality would help them recommend products to their friends and family. Indeed, according to the respondents, it would allow them to give a very accurate representation of what using a product would actually look like.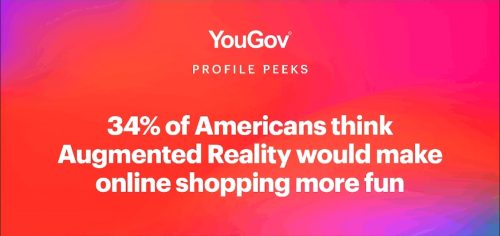 In addition, there is a statistic that shows that augmented reality is very popular with Americans. Indeed, 22% of them share content on the internet and this increases to 37% if we focus on people who like augmented reality. So if a brand offers augmented reality content, its content will be shared more by users.
The AR web: a lever already used by many companies
The integration of augmented reality can be done through many channels such as social networks or web AR. 
Web AR allows you to offer website visitors to project 3D products in their environment in augmented reality. There are many advantages to doing this which you will find in this article: 5 reasons to include augmented reality on your e-commerce site (article link). 
In short, it offers a better shopping experience for customers but on top of that it allows companies to lower their product return rate, optimise their SEO and stand out from competitors by offering an immersive experience.
How to integrate web AR on your website?
To offer this augmented reality experience, it is first essential to integrate a 3D modeler on your website with the product you wish to offer in 3D. 
Then, you need to integrate a piece of HTML code on your web page to offer augmented reality on smartphones.
We will get back to you in few minutes ✔