Art is in the spotlight on The Sandbox
The Sandbox, the famous metaverse featuring universes in the form of 3D pixels, honours art with different collaborations, we explain it all to you!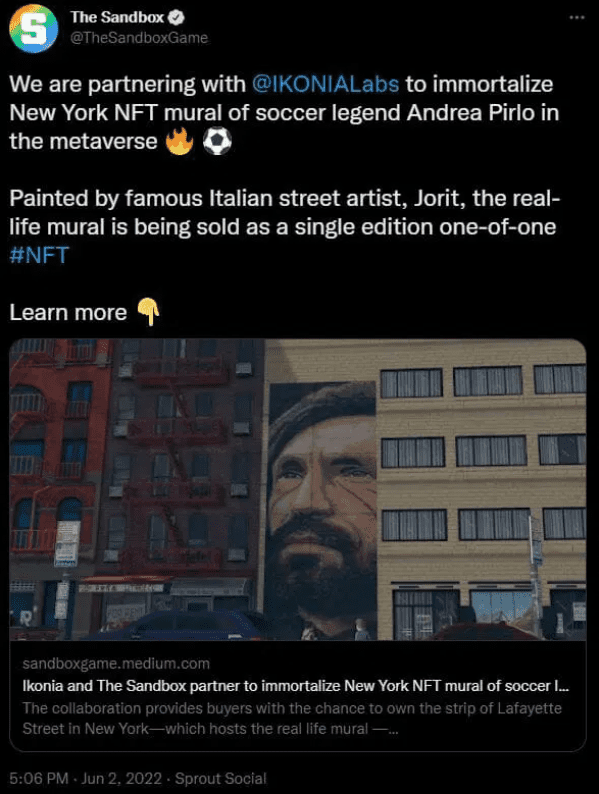 The group The Sandbox has entered into a partnership with the English music group Jamiroquai. By combining the virtual with the funk of the famous band, this partnership marks the will of the music group to look to the future. The Jamiroquai x Sandbox collaboration is an opportunity to evolve with new technologies and therefore to offer unique experiences combining metaverse and music to Internet users. Music projects in the metaverse are therefore multiplying with many artists such as Snoop Dogg, Deadmau5 or Jamiroquai. This is a real opportunity for Internet users and artists to live an original and innovative experience, a way of discovering music and the experience in a new way. To mark the occasion, the famous music "Traveling Without Moving which won the Best Video Award at the MTV Video Awards 20 years ago, has been integrated into The Sandbox. The music world is therefore adapting and taking into account the importance of these new technologies, the metaverse and NFTs, by integrating them into their development strategy. This new virtual world offers new links and new experiences for fans, who are always on the lookout for new musical offerings.
Continuing the artistic theme, The Sandbox has featured visual art with a mural of Andrea Pirlo, the famous Italian football player, represented in this virtual world. In relation with Ikoniaan NFT platform, and MetaLabs This mural, which can be found on Lafayette Street in New York, has been adapted virtually in the metaverse The Sandbox. This mural is therefore for sale as an NFT under the name The Hero NFT. The buyer will therefore be the owner of the virtual mural, but also of the real mural for 1 year. The Sandbox offers a unique experience combining the metaverse and the physical world thanks to these dual ownership rights. 
Art thus appears to be an ideal universe and is increasingly explored in the virtual world. By combining the virtual and the real, immersive, unique and original experiences are now easily accessible to Internet users.