Snapchat launches augmented reality certification
Snap Focus is an educational portal. It aims to help agencies and marketers with the implementation of advertising products and in general with the general functionality of the application. For example, Snapchat has introduced its first augmented reality certification.
The benefits of augmented reality certification
The network offers a training course divided into 5 parts:
1. The right RA for the right purpose
Using AR to follow current trends is one thing, but understanding that this technology is part of a global strategy is another. So, this second module really helps to understand how AR helps to increase customer engagement, and how to achieve this (getting it right, choosing the right format...). The objective of companies is to encourage snapchatters to interact in order to transform leads into customers. 
2. Amplify objectives with paid media
Practical exercises are proposed. In the end, the situation will enable the participants to know the best investment to buy or the distribution of Lens to select in order to achieve their campaign objectives.
3. Measuring and optimising AR campaigns
Since all actions have an impact, it is also important to be aware of and follow the Ads Manager reports, the A/B tests and the different improvement levers offered by Snapchat. 
4. Create large-scale objectives
With this last part, Snapchat wants to offer professionals development perspectives by showing them that many things can be put in place. The final objective is to bring the campaign to life in order to give users a unique experience. 
5. Introduction to AR for businesses 
This part allows us to discover the world of augmented reality and see the positive impact it can have. Through this introduction, Snap AR wants to demonstrate its expertise and its status as a leader in the field of augmented reality.
Thus, Snap Focus bases its certification on practice and case studies in order to make the best use of augmented reality. Using Lens allows brands to engage audiences, gain visibility and continue to grow.
Snapchat and augmented reality
Snapchat is therefore continuing to develop its field of action in the field of augmented reality. For example, the brand already offers AR Shopping. For example, since January, brand catalogues have been available as "Try-On" filters. Brands simply connect their product catalogues to the AR Lens experience on Snapchat to see several products from the same catalogue appear in a single Lens. The proposal of an immersive catalogue is very important for a brand. Indeed, it is a foundation of the digital presence, especially in order to make the experience dynamic, scalable and above all personalized.
Still in this perspective of development and integration of augmented reality to the application, Snapchat has just released a new option: the "Custom Landmarkers". It allows you to create AR filters on monuments in a neighbourhood, statues, shop windows, shops, etc. Thus, creators can create AR experiences themselves via Lens Studio. Simply take landmarks to create an AR experience focused on local monuments that the creators want to highlight. "This will allow the 250,000 filter creators to place Lenses on local places they love to tell richer stories to their community via augmented reality," Snapchat explains.
Social networks moving towards augmented reality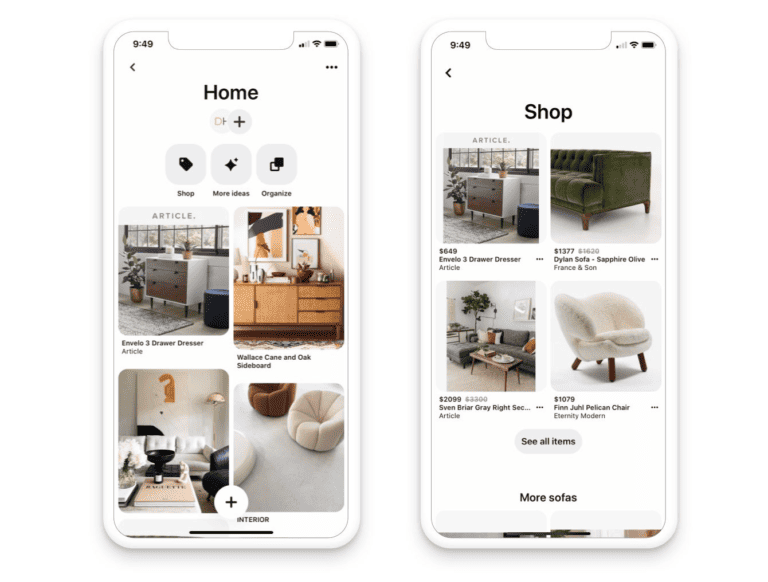 The networks are investing and developing their augmented reality experience one after another. This is notably the case for Pinterest, which launched its augmented reality experience in February. Very popular for interior design ideas, the network has deployed the "Try On for Home Decor. Internet users can virtually place furniture and decorative items in their home: the ideal way to visualize the final result in advance and to make a purchase!
Facebook offers with Spark AR the possibility to create free augmented reality filters such as face animation, AR game, 3D products or immersive packaging. These filters can then be broadcast on Facebook and Instagram. Spark AR is a very complete tool that is freely available. Augmented reality has thus become a real development axis for Meta's social networks, and also a major asset for brands. 
Tik Tok has also embarked on the adventure of augmented reality with the opening of TikTok Effect Studio in 2021. The network is beta testing this new tool. The "Effect House" site offers creators and developers a multitude of tools to create augmented reality filters. This project is currently still an "early experiment" according to the platform, but it would allow brands to add a dose of augmented reality, while boosting the creativity of their content.