Two new advertising tools are available on Instagram
Ads with reminders for events on Instagram
This new tool will allow brands and influencers to offer users reminders of upcoming events. Instagram explains that "Reminder ads, which are offered to all advertisers as an option in the feed, help advertisers build awareness, anticipation and consideration for upcoming moments."
Reminder ads will be an advantage for advertisers who offer online and live events as they will be able to share their events to a specific audience and ensure that those interested will receive a notification when the time comes.
This type of advertising may seem invasive, but it is the opposite. In fact, users choose whether or not to receive reminder notifications for an event. If the user is not interested, they will skip it and the reminder ad will be just another piece of content in their news feed.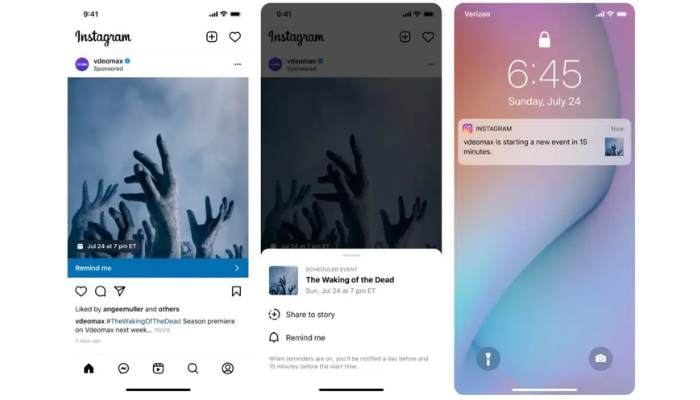 The way it works is very simple, when a user sees this type of advertisement, they can click on "Remind me". At that moment, they will receive a maximum of 3 notifications to remind them of the event, all spread out in time. The reminder ads are also adapted to the time zone of the user who will receive the schedules according to his location.
For advertisers, alerts can be created up to 3 months in advance with the possibility of creating several alerts afterwards in order to continue promoting their event.
Ads in search results on Instagram
Like TikTok, Instagram has started to display advertisements in search results. Indeed, recent studies (including one by Google) show that the younger generation mostly searches for information on social networks. For example, most young people search for their next bar on social networks.
This is why Instagram has decided to offer advertising in search results. Brands can choose to invest in specific keywords to appear in the results. The ad will appear in the same format as other content with the word "Sponsored" below the brand name.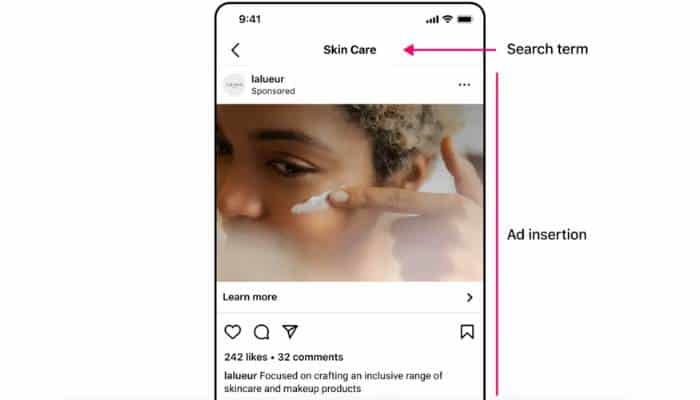 For example, a brand can invest in the keyword "Skin Care" and its advertisement will appear in the user's search results. This type of advertising will allow brands to appear when users are actually searching for information or with a purchase intention.
By offering these two ad formats, Instagram has expanded its range of advertising which now allows brands to choose a format that suits their goals. For example, it is possible to create an ad with an Instagram filter which will appear in the story. This format makes it possible to offer fun and interesting content for users that has become unreachable by more traditional advertising formats.
97% of Instagram's turnover is based on advertising revenue. This is why it is important for the social network to expand their ad serving locations to encourage brands to invest in advertising on their app.