Halloween is a holiday that many people look forward to. Synonymous with thrills and spills, anything is possible during this period. 
It is also an opportunity for brands to stand out from their competitors by choosing a unique and interactive digital strategy. This is made possible by the augmented reality filters available on Snapchat, Instagram and Facebook. 
To help you imagine what you can do, here are 5 filters specially designed for Halloween that will give users the creeps. 
To start with, here is a filter offered by Snapchat that makes a zombie appear on your body. This is possible thanks to the full body recognition and tracking available only on this social network. 
With this, you can cover the entire body of an animation to make your 3D effects even more realistic!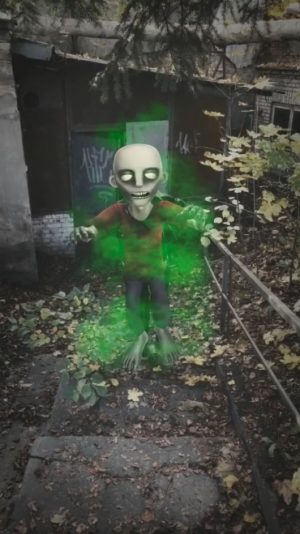 CREATE YOUR SOCIAL MEDIA FILTER
We offer two services for the creatioin of filters. Our agency Filter Maker can create custom social media filters (service dedicated to companies, these are the ones you can find on our portfolio) and via our platform Lookaar where you can choose from a range of filter templates and the platform will generate a Custom Filter for you in less than 2 hours. The Lookaar service is available to all (individuals and companies) with competitive prices.
2- The Chupachups Halloween
Chupachups also wanted to offer augmented reality content. With its game available on Instagram, both young and old can use the filter. As the target group of this candy giant is quite young, they did not want to offer an effect that was too scary and might not correspond to the expectations of their little consumers.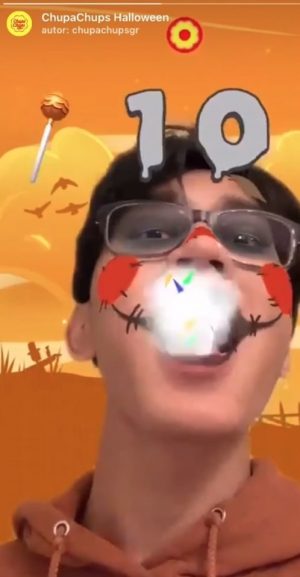 3- Haunted Dollhouse by NYX Cosmetics
Discover the imaginary atmosphere of NYX Cosmetics thanks to their filter offering various make-up for Halloween. NYX being a brand that offers a wide range of products for artistic makeup, it was not to miss the opportunity to seduce its target with a filter like this one!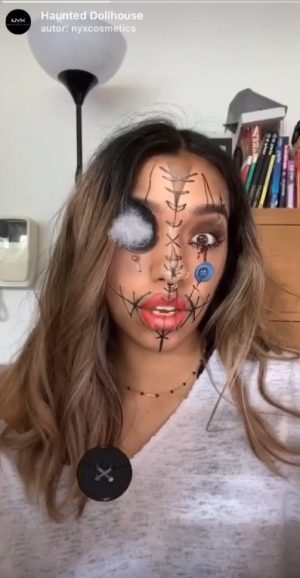 Halloween is one of the most important events for make-up brands. Maybelline Ukraine decided to offer a Halloween filter to promote one of its new products. It is a very good way to communicate a product with a filter that marks such a significant event.
Indeed, many users are looking for filters to celebrate Halloween and if this one is a beauty filter and at the same time quite original, it will be even more used by the community.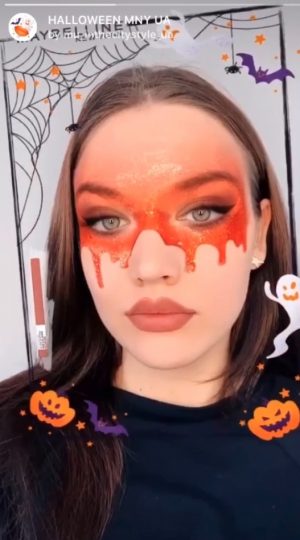 To finish this top 5, we wanted to present you a filter proposed by an artist of augmented reality. This effect is very artistic and shows the high technology behind augmented reality filters. Ideal for Halloween, it can also be used for other occasions!