Google announces the launch of its new augmented reality glasses
At the summit Google I/O 2022Google has unveiled its brand new augmented reality glasses that make it easy to talk to someone in another language.
Augmented reality glasses that translate discussions into other languages
Google wants to reduce the language barriers that sometimes prevent people from chatting with others. To do this, it has combined augmented reality and artificial intelligence. So when you put on the glasses and a person speaks to you in another language, the translation of the dialogue is automatically displayed in augmented reality.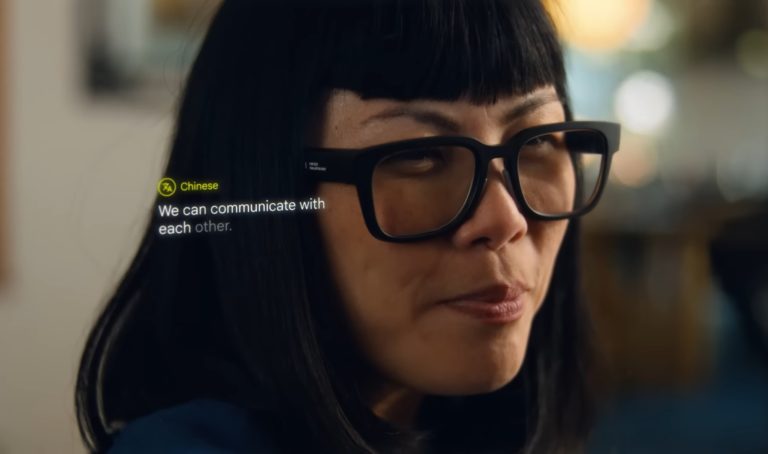 The augmented reality glasses are equipped with a microphone to record the person's words and will translate them almost immediately through the glasses' windows.
In addition, the glasses will also have the ability to translate sign language to help the deaf and hard of hearing to communicate with people who do not speak sign language. They will therefore be able to translate gestures into words.
Google Glass: finally a powerful pair of glasses?
In 2011, Google announced its first AR glasses, but its technology was not yet adapted and in the era of time. Indeed, despite a very attractive technical sheet (camera, wi-fi, microphone, touchpad on a temple), the applications were not yet powerful enough to be integrated into these glasses. In addition, there was a privacy issue as people could take photos and videos of anyone without their knowledge. When Google Glass was released, the American giant realised that this project was not yet ready and efficient and the public was not there because of the price and the lack of interest. In January 2015, Google decided to stop production and sales of its augmented reality glasses without giving a relaunch date.
Despite this failure, two years later, Google announced that its teams were working on new augmented reality glasses that would be aimed at businesses but did not yet want to launch into the consumer market.
So today Google is announcing the release of its augmented reality glasses. At the moment it is very difficult to know if this project will work, but it is certain that with the evolution of AR and other technologies, Google is on the right path to compete in this market.
The market for augmented reality glasses is growing rapidly
Google is not the only one to invest in this market and believe in this technology. Indeed, several large groups have already positioned themselves on this subject and have announced their glasses for several years. 
Among them is Snapchat with its Spectacles which has already released several versions. However, it was not a great success as its performance was not very good. Indeed, the principle of these glasses was to project Snapchat filters directly into the glasses in order to record photos and videos. But the battery and storage were limited and did not really allow for an immersive experience.
Microsoft has also released glasses called Hololens but they are only for the professional market. They are used to enhance the performance of employees in the industrial world but also for professionals who want to project their work in augmented reality.