Messenger and Cosmopolitan team up to offer a filter to celebrate the new year
In the wake of the pandemic, New Year's Eve parties and family dinners are being held in smaller groups, sometimes even by videoconference, to protect the most vulnerable members of the family. This is why Messenger and Cosmopolitan have decided to offer features and a filter on Instagram and Messenger.
A Messenger nuggets filter to celebrate the new year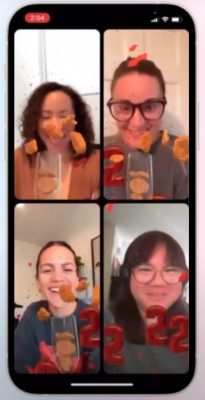 To bring joy and humour, the filter consists of inflatable balloons that form 2022 and a champagne glass filled with nuggets. When the user taps on the screen, it starts an animation that makes the glasses clink together. 
To activate this filter, simply start a video conversation with others on Messenger or Instagram and tap the smiley face to open the filter library.
A Messenger filter library to attract young people
Currently, Messenger offers 150 filters in its library for taking photos and videos as well as for video calls. Users can try several types of filters such as animations around people as well as face distortion or augmented reality games. 
This possibility of integrating a Messenger filter is a strategy on the part of the group to attract younger people to Messenger, which is struggling to increase the use of the application by the younger generations. Indeed, the younger generations are more often on Snapchat or Instagram and rarely use Messenger to communicate. Thus, with the integration of Messenger filters, the network wishes to rejuvenate itself and give back visibility and fun to its use. We can therefore better understand why Cosmopolitan and Messenger have chosen to launch a Messenger filter that is quite original and less conventional to match young people.
The future of Messenger at Meta
With the announcement of the future metaversThe question arises as to the future of Messenger in the Meta group. Indeed, with its difficulty in attracting young people to the application, Messenger is neither in great shape nor useful for metavers. That's why the rejuvenation of the communications application is important for its future development. At present, we have no further information about the Meta group's ambitions for Messenger. But the fact that it is offering filters in partnership with brands suggests that the changes to the social network are only just beginning.