AI and augmented reality: the new features of Google maps
Last year Google Maps announced big changes in its applications, and since February 8th 2023, it's done. Indeed, 4 new features have been released on Google Maps and are based on AI and augmented reality. All of these new features are intended to make it easier to get around and find places. For the time being, these features are not yet deployed worldwide but are focused on certain locations.
Immersive view from Google Maps
The most important and impactful of the new features is calledImmersive View". Using billions of images directly from Street View, an artificial intelligence transformed the buildings in the photos into 3D views.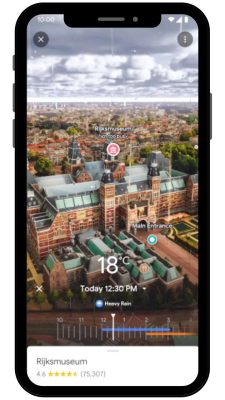 This way, the user can see directly from his application what the place looks like without having to go there. But it doesn't stop there. Immersive View replicates the 3D view according to the weather, the position of the sun and the time of day when places are busy. This means that users can immediately see which times are most convenient for them to visit. In addition, for some shops and restaurants, it is possible to go inside and discover the atmosphere and the decorations to know if the place is suitable.
For now, Immersive View is available for the cities of London, Los Angeles, New York, San Francisco and Tokyo. The feature will soon be available for Amsterdam, Dublin, Florence, Venice and other cities.
Search for the right business in the streets with augmented reality
Augmented reality is also highlighted on Google Maps. Indeed, it is now possible to use an immersive version of Live View. So when a user wants to use this new feature, they just need to activate the immersive version and activate their camera. Then they will see every business next to them from their camera. When he clicks on a merchant's icon, he will see the business' details with reviews and name directly in his environment.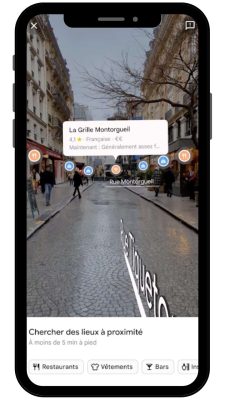 To illustrate this, imagine a group of friends walking through a city and wanting to have a drink in a bar. They are faced with several bars but don't know which one to choose. By activating Live View Immersive, they will be able to see the ratings and reviews of every bar on the street and choose the best one accordingly.
This feature is already available in London, Los Angeles, Paris, New York, San Francisco and Tokyo. It is being launched in Barcelona, Dublin and Madrid and will be available soon.
Move around airports with augmented reality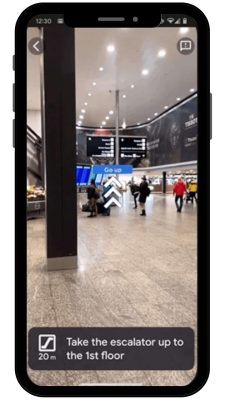 Live View Immersive is also available for airports. Indeed, it is sometimes difficult to know where to go in an unfamiliar and very large airport. Thanks to Google Live Immersive, travellers will be able to get from point A to point B easily by following the arrows and directions that will appear on their screen. For example, you will be able to get to a car rental stand or lounges without looking for all the signs in the airport.
This feature has already been launched in some airports since last year, such as Zurich and Tokyo. The aim of Google Maps is to extend the locations to shopping centres and other airports. In the coming months, travellers will be able to benefit from it in Barcelona, Berlin, Frankfurt, London, Madrid, Melbourne, Paris, Prague, São Paulo, Singapore, Sydney, and Taipei.
Adapting Google Maps to electric vehicles
Google Maps also wanted to adapt their functionalities to electric cars that can integrate Google Car. Thus, 3 new options are present on Google Maps to facilitate drivers' travel.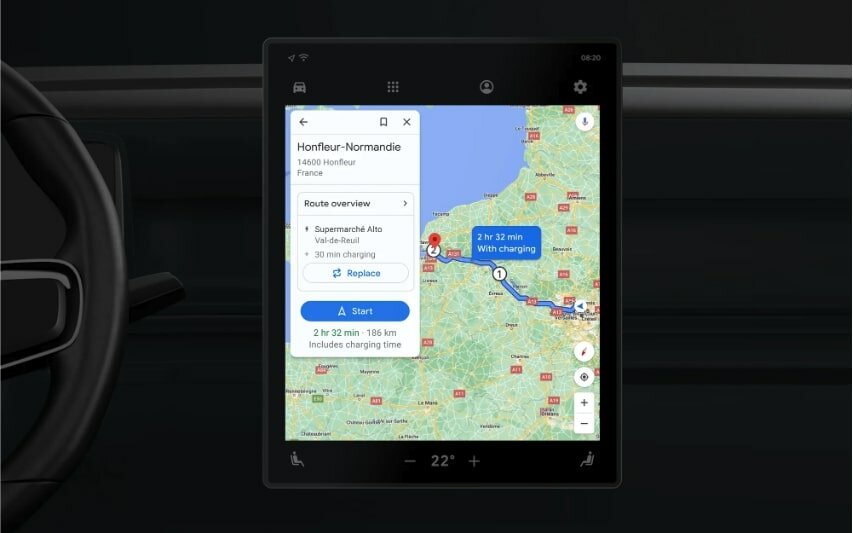 The first option allows you to simply add stops to recharge for short trips. Maps will automatically add the stop based on estimates of the amount of energy needed to arrive. It will then take into account traffic jams, for example, and determine possible stopping points.
On the map, drivers will also be able to see stations that offer very fast charging on the way. These fast charges allow you to leave with a full battery in about 40 minutes.
The last option added concerns shops that have charging stations. Indeed, when a driver wants to go shopping at the supermarket, he will see an additional information that indicates which supermarkets have recharging stations. This means that they can go to the shop of their choice and at the same time charge their car there without having to make another diversions.