Create your own filters with Spark AR GO
At the Connect 2021 conference on 28 October, Meta announced the launch of a simplified and intuitive augmented reality mobile application for IOS. The application originally announced as Polar was recently renamed to align with Meta's already developed brand image around augmented reality.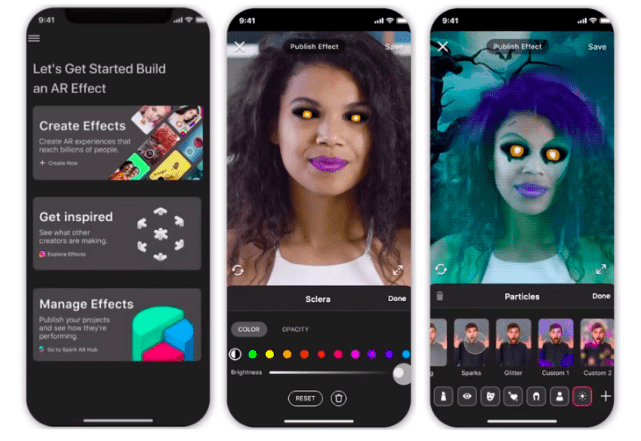 This new augmented reality creation tool will be an intuitive platform more accessible to the general public with facilitated and streamlined functionality. In particular, the application will offer templates that have already been created in advance. For example, it will be possible to to place various backgrounds, quizzes, or apply make-up on his face. 
So you can create your own filter, to promote your talent, creativity and much more! 
Once the filter is created and shared it will be directly visible on the profile of its creator.
An application only in beta version for the moment
Although the application is not yet available for download, last week Mark Zuckerberg announced on his Instagram the launch of the beta version with a video of him using his own filter, a random quiz, which he would have created on the application. So it is already possible to register for early access to the beta version of the application.
The aim is to reconnect with a young audience and give way to creativity
The application represents a new opportunity for users of Meta applications (Facebook, Instagram) to showcase their creativity and express their perspective through augmented reality. 
With the launch of this new toolMeta hopes to engage as many people as possible and thus enable them to host the next big trends and reconnect with a younger audience. 
Meta is thus clearly showing its willingness to adapt to a new audience on social networks and thus create a strong connection with the young public.
A fun tool, but not as good as Spark AR STUDIO
Although this new application offers new possibilities in terms of creation, its functionalities remain limited and are not adapted to professional use, unlike Spark AR studio which offers more precise and in-depth functionality. 
The possibilities remain limited and the use of the application will mainly be a fun way to showcase personal creativity and not that of a brand or company. 
For the latter, it is advisable to go through a filter creation agency. If you have a project in mind or the desire to launch a communication campaign with a filter, contact one of our experts !