Ambassadors for cryptocurrency platform Binance and NFT Sorare
The NFT and cryptocurrency platforms have chosen to work with public figures to represent their group. The objective? To democratise web 3 by working with well-known people through whom young internet users will easily find themselves. This is notably the choice made by the platform Binance and SorareLet's do a recap!
Gaining visibility and notoriety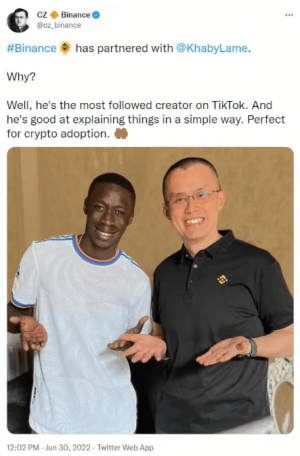 Cryptocurrency and NFT platforms are interfaces where internet users can securely exchange digital assets. Through the creation of a digital currency wallet, users can trade the cryptocurrencies and NFTs of their choice at will. These new and rapidly developing technologies are now seen as the future of technology. The blockchain, for example, has become a key and major component of all new digital trading systems. To continue their development while gaining visibility, these platforms call on well-known ambassadors such as Kylian Mbappé or the very popular TikTokeur Khaby Lame.
Binance, securely trading cryptocurrencies
Binance is one of the world's best known cryptocurrency platforms. With more than 600 crypto-currencies to buy, sell and store, it is a secure platform of reference. The group is particularly keen to democratise its technology and the web 3 in general. To do this, Binance decided to go through the world of influence and in particular the most followed TikTokeur in the world, Khaby Lame. The group's credentials are as follows, "demystifying web 3". and "educating in crypto"A great challenge to take up! An exclusive NFT collection with the TikTokeur is also launched to offer a complete content and to discover all the technologies that exist.
Sorare, the NFTs dedicated to football
Sorare est a French start-up specialised in NFT and more precisely in football. The objective is to build the best team by buying, selling and trading NFT cards. To do this, auctions are set up during which players can acquire new cards and build the team of their dreams. During the matches, the players meet each other and then make changes in order to have the most successful team. On the technical side, player cards are based on blockchain technology. Points are assigned to each card as well as rarity levels. There are 4 levels and they are directly linked to the players' performance. 
To continue its development and attract new players, Sorare is in partnership with Kylian Mbappé, the PSG striker appreciated by many. In connection with his association and his educational projects, a special card of the player has been created thanks to which profits will be donated to his association Inspired by KM. In addition to this engagement, the player is also the ambassador of the game, a good way to capture the attention of users who are fans of the player. 
Binance and Sorare, two well-known and popular platforms in the world of crypto-currencies and NFTs, are therefore developing their field of action, particularly in terms of partnerships. The objective is to gain visibility and notoriety. 
We will get back to you in few minutes ✔