Amazon and augmented reality: a project in development
Apple, Meta, Google... The biggest companies have all taken up augmented reality. One after the other, they are working on the creation of new products linked to augmented reality and virtual reality. In particular, they have developed AR/VR headsets, a direct gateway to a parallel virtual world.
With $470 billion in sales by 2021, Amazon is one of the giants of the web, the so-called GAFAM. Specialising in e-commerce, the company dominates the sector thanks to its experience and its infallible operation. With its multiple offers, the reactivity of its services and customer assistance, particularly concerning tracking, returns and parcel exchanges, the group continues to innovate and renew itself while remaining attentive to its customers. 
The group already has many products at the cutting edge of technology, voice assistant, connected objects, screens to interact ... Always looking for novelties, the deployment of Amazon in this new technology is not a surprise.
Amazon is in the process of setting up a team totally dedicated to augmented reality and virtual reality. Indeed, according to the website ProtocolIn the context of the "Virtual Reality" project, several job advertisements have been put online, notably for computer vision specialists, project managers, designers, researchers... a complete and competent team, said to be "substantial" according to the media. These job offers concern the whole creation of an augmented/virtual reality device. 
They also detail the main tasks of the posts to be filled. The common objective is to contribute to the design of a "Europeannew magical and useful consumer product". This project requires, among other things, the development of code for prototypes that will then be sold to the general public. This new concept should be "a unique connected home system"This is a great project to come! Still under construction, this project will probably become a reality in the coming months/years: a great project to come! 
Augmented reality at Amazon
The e-commerce giant had already set foot in the world of augmented reality. Indeed, in 2017 the group launched its augmented reality application, Amazon AR View. The aim is to view products posted online on the site in augmented reality. This technology consists of superimposing 2D/3D elements onto reality. It's a very useful function for web users, enabling them to see for themselves whether the product matches their expectations. So this application is a real help when it comes to buying.
In particular, a partnership was established in 2018 with L'Oréal. Users can then directly try on make-up on themselves thanks to the Try-On function. The aim is clearly to improve the customer experience by optimising and helping users to project themselves. This option is interesting for make-up, particularly to see how the different shades look and to be sure when making a purchase. Augmented reality has therefore become a fully-fledged element in the retailer's purchasing process.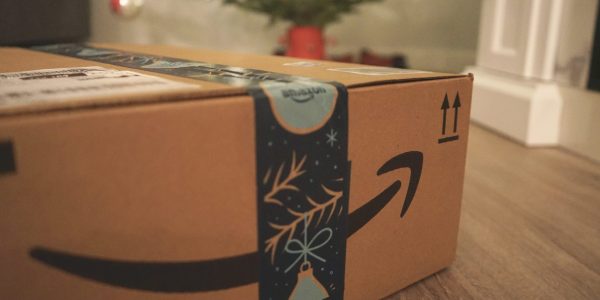 In 2020, Amazon continues to build on its success with the release of its application to integrate augmented reality into its packages. This function allows an AR animation to be displayed when a customer receives a package. Characters can appear or the Amazon logo with a smile for example. This Amazon Augmented Reality application was primarily created for entertainment purposes, but already announced the desire to develop this technology.
The usefulness of augmented reality for businesses
All the major companies are therefore moving into augmented reality. From Google to Apple to Meta, all have integrated this development axis into their strategy. As the technology of the future, it allows brands to stand out thanks to the proposal of immersive, interactive content that is totally adapted to consumer expectations. Indeed, everything can now be found on the internet, so it is necessary to stand out thanks to a more engaging content. Augmented reality allows you to really project yourself thanks to try-on filters, to visualise an object with 3D visualisation or to have fun content with AR games for example.