4 steps to create an NFT in Photoshop
In the new update of PhotoshopA new feature allows you to create your own NFT directly on the software. It is called Content Credentials (Beta) and it allows you to include an Ethereum wallet ID to your content credentials.
Before starting the tutorial, please make sure you are able to log in to your Metamask account to prove that the wallet address is yours.
Now that this is done, let's move on to the different steps that will allow you to create your NFTs on Photoshop.
Activate the Content credentials (Beta) in Photoshop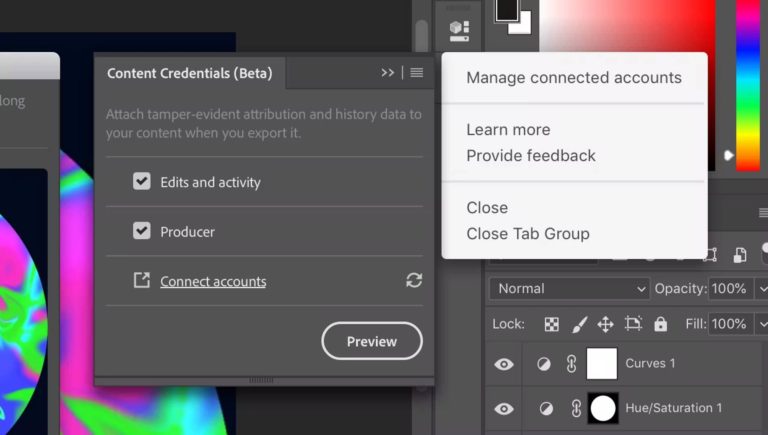 As you may have noticed from the name, this feature is still in Beta and the teams are still optimising the functionality. 
To activate it, you need to go to "Preferences" then "Technology overviews" and select "Enable Content Credential (Beta)".

To update this feature properly, restart Photoshop.
Connect your crypto-currency wallet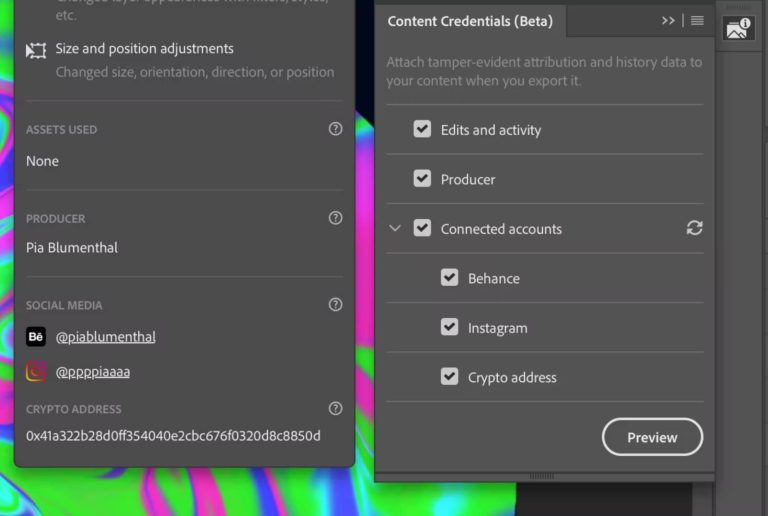 To access the panel, go to "Window" and open the "Content Credentials (Beta)" panel

Click on Connected Account and select "Manage Connected Accounts" which will take you to a page on the Adobe website.

Login to your MetaMask account and add your crypto address.

Refresh the "Connected Accounts" section on Photoshop and make sure the "Crypto Address" box is selected.
Create your NFTs on Photoshop and export the by joining the content credentials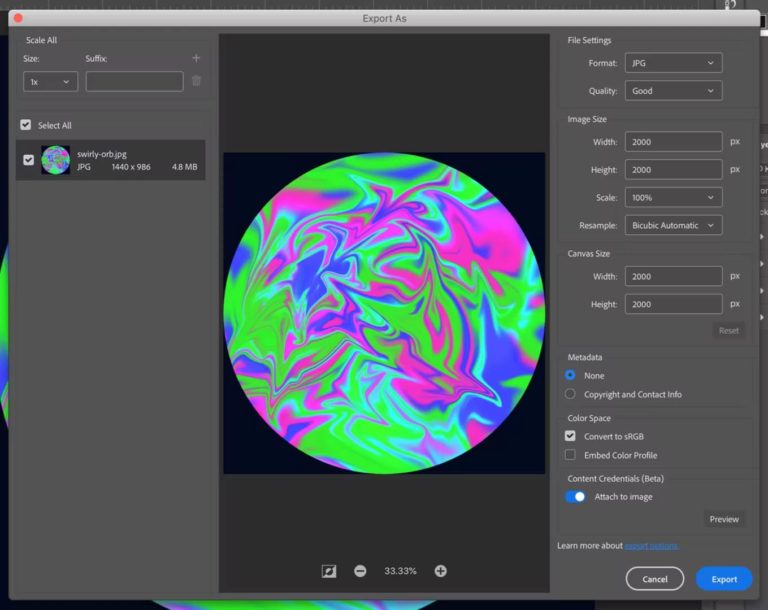 Get inspired and create your NFT! We can't give you any advice on this subject

When you have finished creating, go to "File" then "Export" and click on "Export as".

On the right hand side of the file settings, at the very bottom appears the heading "Content Credentials (Beta)", simply activate "Attach to image". A preview is also available to see what other people will see about the content credentials.

Export your content as JPEG or PNG

Your NFT is ready!
On which platform should I sell my NFT made on Photoshop ?
At the moment, 4 marketplaces allow and recognise NFTs created on Photoshop. 

These 4 platforms have the ability to read the content credentials edited on Photoshop and associate your crypto address with the wallet ID used to sell the NFT.
Everything you needed to know about creating NFTs on Photoshop is in this article! Now that you have all the keys in hand, all you need to do is go to Photoshop.
We will get back to you in few minutes ✔