Augmented reality is becoming a real revenue-generating asset for brands
Most people who use augmented reality see it only as a fun new technology. But augmented reality will become a revenue-generating tool for the brands that use it.
State of play and statistics on augmented reality advertising in 2023
Of the $18.67 billion in global mobile augmented reality market revenues forecast by ARtillery Intelligence for 2023, $18.8 %, or $3.50 billion, will come from augmented reality advertising revenues. This figure is expected to triple to around $10.74 billion by 2027. 
However, this 2023 revenue represents only 0.7 % of global mobile advertising revenue, according to our forecasts. This can be explained by marketers' lack of awareness of AR. In fact, augmented reality is not yet used by all brands, since this new technology has not yet been democratised and marketing professionals are not all yet aware of the subject.
QR codes have accelerated the growth of augmented reality
With the covid-19 pandemic, the QR code has been a widespread tool throughout the world for facilitating access to information and keeping distance from other people. For example, bars and restaurants used QR codes so that customers could access menus without standing up or picking up paper menus.
The QR code has also made it possible to develop "Out of Home" advertising that combines outdoor advertising spaces and new technologies. Thanks to a QR code, it is easy to create an "Out of Home" advertisement. immersive experience in augmented reality that comes to life around your billboard in the street.
Insider Intelligence currently predicts that 94.1 million users will scan QR codes in the US this year. So it's a good time to launch OOH advertising campaigns with augmented reality experiences.
New augmented reality advertising formats will emerge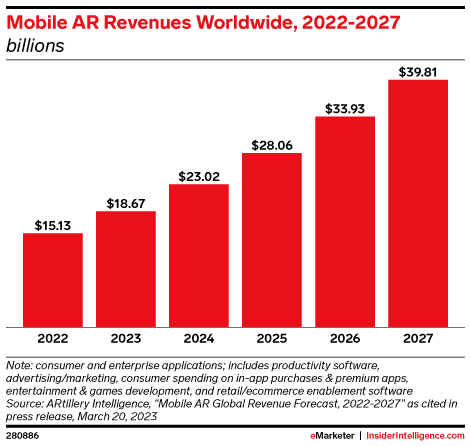 Although Snapchat, Instagram and TikTok filters are already good formats for displaying augmented reality ads, other formats will emerge in the future. With the arrival of AR goggles, ski masks and AR windscreens, ads integrated into these devices should also become commonplace. 
That's why the revenues generated by augmented reality should start to take off in the next few years, and could reach 40 billion dollars by 2027.