The advantages of virtual fitting in a shop window
Virtual fitting is a powerful new tool for brands looking to expand in the digital world, but it's not the only one. In addition to filters on social networks and mobile applications specialising in augmented reality, it is also possible to incorporate this technology into virtual mirrors in shop windows and shops. Find out more about these advantages and the case of Coach, which has used this method in New York.
The advantages of virtual fitting mirrors
Virtual fitting in a shop window: an original tool
Virtual fitting uses augmented reality technology, which enables virtual elements to be superimposed on the real world. This makes it possible to create any kind of immersive experience that matches the image and world of the brand by adding a set and animations on top of the virtual fitting. In this way, people trying on a virtual mirror can travel to your world in a matter of seconds and try on your products while projecting themselves into a virtual world.
This will arouse the curiosity of passers-by who are walking down the street with something original. They'll be more likely to stop in front of the shop to try on the virtual fitting your brand is offering. The fun and immersive aspect of this experience will ensure that more people stop in front of your shop window.
Virtual fitting in a shop window: an effective tool for the drive to store
Virtual fitting is a good way of encouraging consumers to visit your shop. As well as increasing the conversion rate, the virtual mirror can be used to promote new product ranges or collections on sale in the shop. Passers-by will be more inclined to go inside the shop to buy the products or discover all your products on sale. However, it is very difficult to analyse the impact of this virtual mirror because this is a physical experience and we have no digital tracking to follow the consumer.
What's more, even if the conversion rate isn't tracked, the virtual fitting also makes a lasting impression and improves brand awareness. So even if not all passers-by who notice the virtual mirror buy, they will still have a memory of your brand. This is because the experience is immersive and original, leaving a good image of what they experienced when they tried your products virtually.
The example of Coach, which has integrated virtual fitting into its New York shop window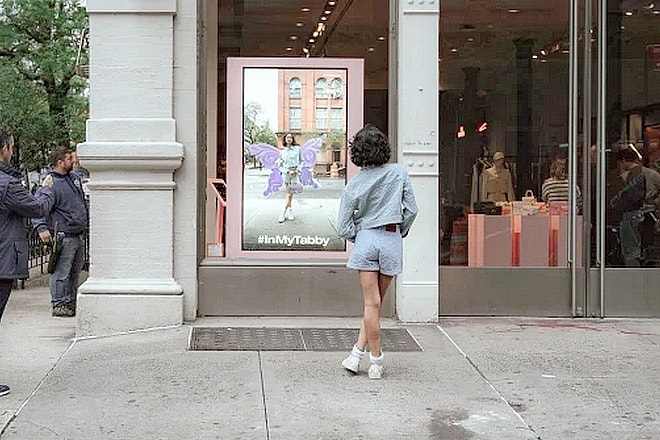 Coach set up an immersive virtual fitting experience in the window of its Manhattan shop. Passers-by were invited to try on a handbag with animations that projected them into a different world. Another virtual mirror was available inside the shop to continue the experience and try on several other bags using a tablet. This technique is a stroke of genius, as it encourages people to enter the shop without realising it to continue playing with the virtual mirror.
Consumers were totally absorbed by the experience and played along, as the tracking was very effective and the universe created was very well realised.
As explained above, the conversion rate is impossible to determine in this type of campaign, but according to Zero10, the number of people stopping in front of the window doubled and traffic in the shop increased by 50% during the campaign.