Snapchat continues to expand into augmented reality with its shopping experiences
Snapchat offers augmented reality filters, a content that is highly appreciated by Internet users for its entertaining and fun aspect. To complete these features, the network continues to develop new options that integrate augmented reality, notably with online shopping. Here's a recap of all the Snapchat features on offer!
Augmented reality is a real asset for highlighting products. Virtual shopping allows Internet users to virtually try on the products of their choice and to project themselves with them. Highly coveted by snapchatters, more than 250 million snapchatters have used the virtual shopping module more than 5 billion times since January 2021. It is therefore a real success. Building on this success and positive experience, Snapchat continues to enrich its offer, notably with the Dress Up function announced at the annual event Creator Summit 2022 of the group. These new features should make the experience simple, fast and fluid for both users and brands. The group continues its advance in online commerce by enriching its AR experience. It is now possible to try on clothes with the help of augmented reality.
Valuing the experience of snapchatters
The new live shopping features are designed to provide an even simpler and more comprehensive experience for users. Central information related to the products is shown during the fitting, such as the price, the product description or the URLs to buy the product directly. The new Dress Up aims to bring together all the products on offer in one place to create a space similar to a virtual shopping mall, "Dress Up brings together the best AR fashion and fitting experiences from designers, retailers and fashion brands in one place." Filters then allow you to see how the selected products look when worn: ideal! In this way, Snapchat really wants to bring products into focus while simplifying the customer journey with simplified product discovery, sharing of looks or even the ability to set favourite products. This is possible thanks to AR shopping technology to offer "immersive and personalised shopping possibilities". To move forward with brands, the network has recently developed image processing technology adapted to its partners. In particular, the group has partnered with Puma.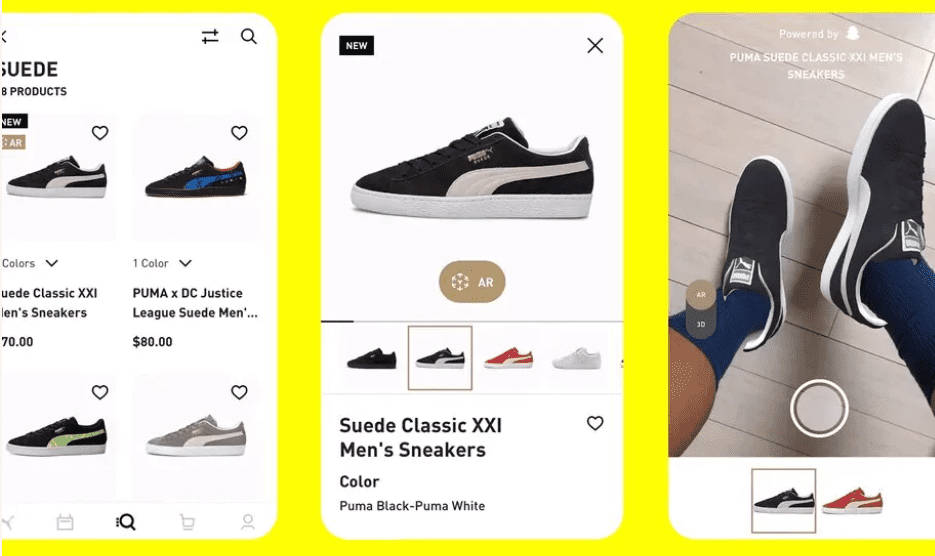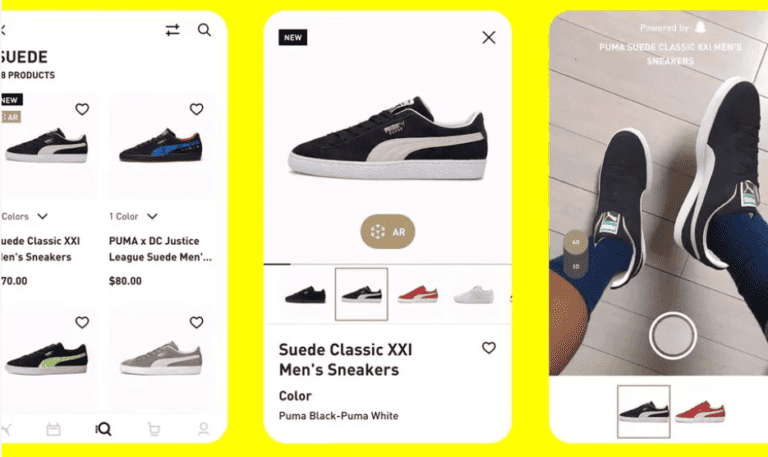 These new features are very useful for brands as Snapchat shopping lenses are directly linked to their product catalogue. In addition, the creation of lenses has been simplified, especially when using the Lens Web Builder used to create shopping lenses. On the other hand, to gain visibility and boost product try-ons on Snapchat, brands can call on influencers. By choosing influencers in line with the brand's universe, companies will gain visibility and notoriety more quickly among the community that already adheres to the content proposed by the influencers. Augmented reality and online virtual shopping are becoming more and more present on the different social networks used daily by Internet users.
We will get back to you in few minutes ✔