Instagram releases its first Trendreport on 2022 trends
To help better understand and analyse upcoming trends on Instagram, the social network has released its first TrendReport edition to highlight the topics of interest to Generation Z in 2022. The report is based on a survey of 1,200 social media users, aged 13-24, in the US, conducted by YPulse in October 2021.
You have a project in mind or you want to create an Instagram filter for your brand? Filter Maker is an agency specialised in the creation of Instagram effects. We work with over 100 international brands to create filters for social networks.
We will get back to you in few minutes ✔
10 key trends of interest to Generation Z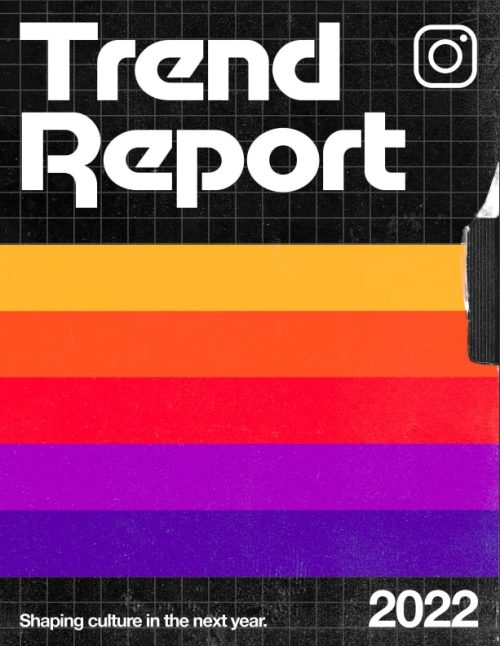 To make this report effective, Instagram has separated its report into 10 themes to make it easier to understand all the trends.
1 - Fashion and beauty trends
GenZ are no longer looking for mass-produced products but are now looking for alternative fashion and beauty products. Indeed, this generation is increasingly careful about the composition of the products they put on their skin, and tends to use lighter and more natural products. 
According to Trendreport, 1 in 3 young people want to know more about cosmetics and their composition, and will favour creams with a natural composition, vegan make-up and use fewer products in general for their beauty routine.
In 2022, young adults want to take responsibility for their clothing purchases. For most, online shopping is still important, but they want to move towards more environmentally friendly products and second-hand clothes, and also to resell their clothes on specialised websites. 
Thus, almost one in four young people want to continue shopping on the Internet via second-hand clothing sales sites and take advantage of the opportunity to resell their own clothes on dedicated platforms.
In the top # in this category, we can find : 
#shopsmall
#shoplocal
#shopsmallbusinesses
#shopsmallfirst
#sustainablefashion
3 - Trends in music and dance
Young people between 13 and 24 are very fond of the short videos available on Instagram. These videos allow them to discover new challenges and entertainment, but also to discover new artists and music as well as new dances. 
Thus, 70% of young Instagram users hope to discover new music through the social network. Note also that dance challenges are also very inspiring for young people as they allow them to learn different dance styles. According to Instagram, 1 in 3 young people are looking forward to discovering new dance challenges in 2022.
4 - Trends about celebrities and designers
The most important thing to note in this category is that 83% of Generation Z believe that creators have more influence than big influencers. For them, traditional celebrities (actors, singers) have less influence on culture than the creators of social networks.
5 - Career and educational trends
With the pandemic affecting the whole world, Generation Z has seen their whole world change. More than 90% of these young people believe that the best education comes from life experiences and 71% want to do something they enjoy even if they earn less money. This does not mean that they do not want to work as 68% agree that "work is something you should have" but "not the most important thing to do in your life".
The characteristic of this trend is home-made food and culinary experimentation. Indeed, 1 in 4 young people try out new recipes by following designers specialising in this theme.
Mental health is a very important issue for Gen Z. Young adults want to make choices about their future that take into account their mental health and ensure a healthy quality of life. 
According to Instagram's Trendreport, 2 in 5 young people are part of a tight-knit community to build healthy connections with others. In addition, 1 in 3 young people will continue to participate in relaxation guides and classes.
For the young people of Generation Z, gaming is both a way to escape and to socialise with others. Livestreaming is also a key trend for this generation, with 3 out of 10 young people enjoying watching other people play video games via streaming. 
Virtual reality is also a topic that is starting to emerge among young people who hope to be able to experience more VR and virtual reality concerts.
Memes have become a popular piece of content for young people. With a world that is only changing and many issues surfacing, Generation Z has taken refuge in the salient and honest humour that represents much of the daily life of the generation's youth. 29 % of those surveyed expect to see more absurd humour in 2022.
10 - Trends in social justice
According to the Instagram report, social justice is a trend that will only grow. For young people, social networks have become a space for engagement with many social causes. In fact, 52% of young people follow accounts that talk about social justice on social networks. 
Moreover, this commitment does not stop at online engagement as 37 % of respondents are considering donating some of their savings to causes that are important to them.