Spotify enters the Roblox metaverse with its Spotify Island world
The music streaming platform takes a step into the metaverse to connect with Generation Z. For this purpose, Spotify has chosen Roblox, a metaverse made up of several islands where users will be able to discover new content and buy virtual products in the colours of their favourite artists that can be used in the Roblox game.
A specific environment with new surprises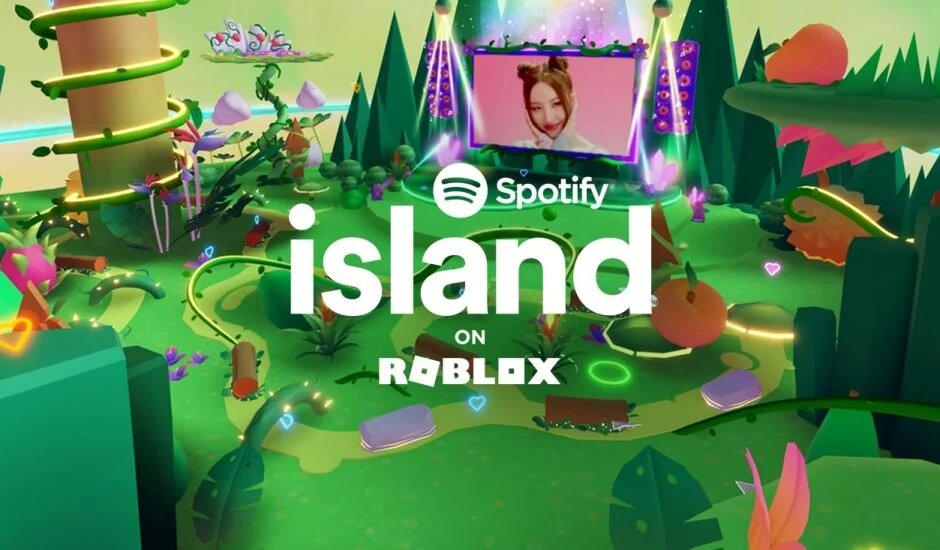 To mark the occasion and offer a more than qualitative experience, Spotify has gone to great lengths. First of all, the environment is based on Spotify's graphic charter, more precisely a rather green decor.
To encourage users to explore, a quest to collect items and complete missions is organised with the possibility of unlocking virtual goodies that can be used anywhere in Roblox.
In addition, an online shop will be integrated into the Spotify world where players can purchase items and accessories to dress up their avatars. All items will be related to a particular artist (e.g. a guitar) and a portion of the revenue generated will be donated to the artist in question. Today it is possible to buy accessories related to the Kpop artist Sunmi and later on, the group Stray Kids will have its own collection of items.
Finally, Spotify is also offering to develop its musical creativity on Roblox as the music giant has introduced a music creation tool called Soundtrap. Users will be able to create their own music by moving around the map and interacting with the scenery which produces different sounds and notes.
Spotify and Roblox are both winners
Roblox wants to be the pioneer and gateway to the metaverse, but this is difficult in the face of Meta, which has made a name for itself. By integrating Spotify into its metaverse, it can attract all the fans of artists on the Spotify platform. These fans may be a target that would never have been reached before. Furthermore, it is quite possible that Spotify will organise virtual concerts of certain artists. This will bring many more people and visitors to Roblox.
For Spotify, the objective is completely different. Indeed, entering the metaverse allows the music platform to get a foothold in the world of video games and the metaverse in order to reach a younger target. However, this is a new opportunity as it will allow Spotify to enter the world of video games, which has been a major focus for the past few years. Indeed, on Spotify, you can already find over 2.2 million playlists featuring video game and gaming soundtracks. Video game music and soundtracks are very important and every note and sound is studied to make the video game more immersive and captivating for the gamers.
Brands take over the metaverse
Spotify is not the only brand to enter the metaverse. Indeed, it is a great strategic opportunity and offers a new means of communication and revenue for companies. Users of the metaverse are entering this new universe in order to escape the overly traditional and invasive content on Web 2 such as social networks and streaming platforms. Find examples of brands that are present in the metaverse on our dedicated page !