The world of sneakers goes NFT
NikeThe big American sportswear brand recently released CyptoKicks, its digital trainers. Other sports brands are also investing in NFT and the metaverse. But what are the stakes and why are brands investing more and more in this universe? Let's decipher together!
The question was whether branded augmented reality influences consumers to buy more quickly than another marketing action.
NFTs and the metaverse at Nike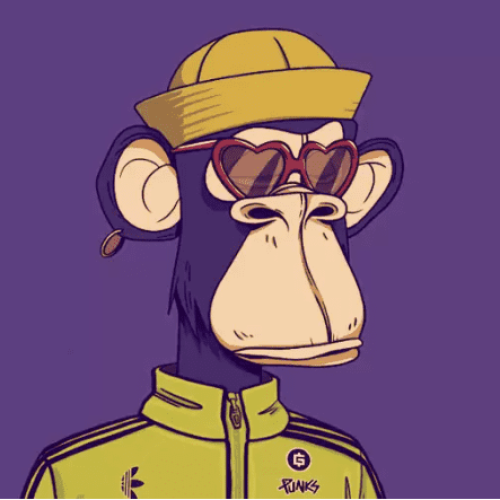 Another star sportswear brand, Adidas, is also present in this new shared virtual ecosystem. The brand has chosen to showcase the lifestyle branch Adidas Originals. The collection named "Into the Metaverse is composed of a limited series of digital products offered in the metaverse The Sandbox. The purchase of these NFTs gives owners access to many benefits such as unique virtual experiences, products or accessories. In this way, Adidas wants to communicate with its members through new and innovative technologies in order to provide new development opportunities.
NFTs and the metaverse continue to seduce sports players, as Decathlon has recently put the spotlight on football with a collection of trainers on blockchain Tezos (XTZ). Named "Kipsta Barrio", this project focuses on a range of trainers dedicated to Street Football. This NFT collection was made in collaboration with the French footballer Séan Garnier, a big name in freestyle football. The objective was to link each pair to an NFT presented in the form of a "golden ticket" that can be collected on Tezos. In addition, these NFTs are accompanied by "personalised and exclusive experiences": ideal for fans of football, NFTs and people who like new experiences. The French sports retailer thus marks its entry into the world of blockchain and NFTs, while continuing its momentum in combining digital and physical experiences. In addition, the group remains true to its commitments by choosing Tezos as a blockchain, notably for its environmental commitment. We can't wait to see the brand's next projects!
NFTs and the metaverse at Nike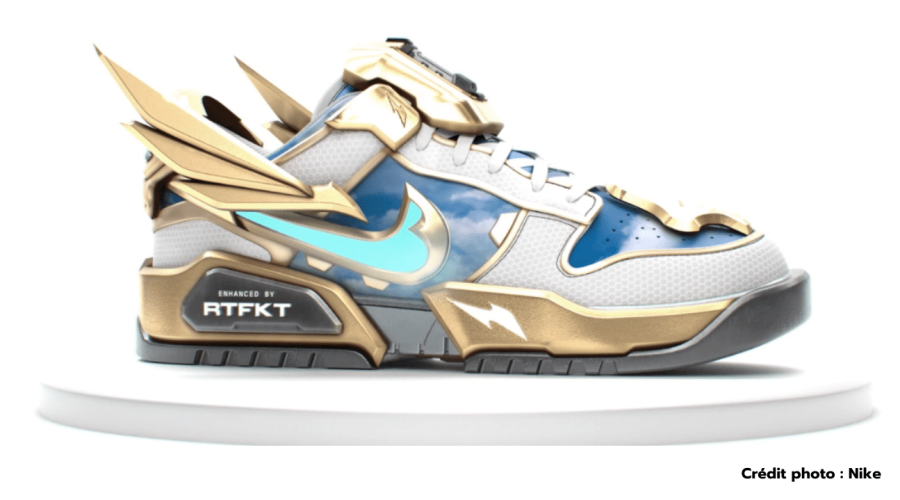 Since their explosion in 2021, NFTs have become very popular in many fields. In the world of art, video games and fashion, NFTs are becoming increasingly popular. Nike has just bought RTFKTpronounced "Artefact", a young studio creating numerous NFT collections. This studio has notably made various partnerships creating various 3D avatars, each one more innovative than the last. The acquisition of this digital fashion brand shows Nike's willingness to invest in this new universe and make its place.
NFTs work hand in hand with authenticity and rarity, which fits perfectly with the world of trainers. Indeed, being collectible virtual assets, it is common to buy, trade and sell NFTs in the same way as sneaker collectors do. Indeed, being locked on the blockchain, these property titles are available in small quantities in order to create excitement around the pair and a feeling of exclusivity when acquiring it.
Released in April 2022, the CryptoKicks are the famous digital trainers created by the brand. These limited editions are customisable and can be styled according to individual taste. Sold at more than 10,000 $, these pairs of virtual sneakers have found their audience. The brand has also developed its own metaverse within Roblox, NikelandThis platform is a free and totally open source video game space where players can participate in mini-games and have the opportunity to try out their CryptoKicks. This platform is a free and totally open video game space where players can participate in mini-games. The avatars can be dressed as each user wishes via the shop. Clothes and shoes can then be purchased, including a pair of Nike shoes. The brand wanted to offer a complete quality package. Thus, when purchasing an NFT, a box named "Cryptokick" is linked to an avatar created by RTFKT, avatars developed in the "Clone-X" programme, to accompany the box. Nike is therefore continuing to develop its digital strategy, particularly via NFTs and the metaverse, by creating fun and attractive virtual entertainment.