Meta pay the new DM payment method on Instagram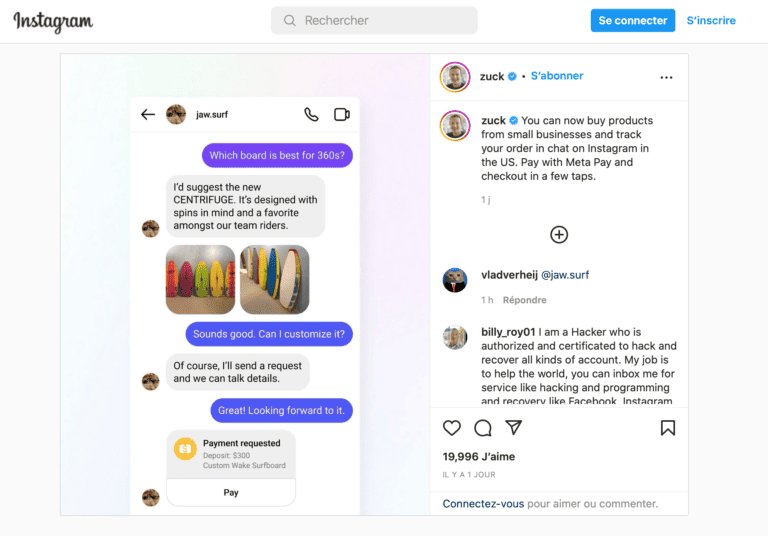 Meta wants to introduce conversational commerce through Meta Pay
In an effort to make commerce accessible on Instagram, Meta Pay is a feature that will allow people to buy and sell products directly on the app without visiting the merchant account. 
To do this, simply send a DM to the merchant's account and the seller will be able to cash out using Meta Pay in a secure and simplified manner. By offering this, users will then be able to order from many shops on Instagram without having to visit all the merchant sites. 
By installing conversational commerce, Instagram encourages users and brands to spend more time on the app as they will be able to find many features (entertainment, media, e-commerce etc...) in one place.
For the moment, only users in the United States can access Meta Pay in their thread, but there is no doubt that this payment method will soon arrive in France.
Meta Pay an advantage for small traders
Of course, Meta Pay is a feature that is available to all brands that wish to use it, but it is still a very interesting feature for small businesses. Indeed, it is sometimes difficult and expensive to create an e-commerce site and some brands can't create a powerful and well referenced site on search engines. So, as we all know, it is much easier to be visible on social networks than on Google and Meta Pay is the end of the process for small brands that stand out on Instagram.
Thanks to a simple discussion between a potential customer and a brand, a conversion can be quickly achieved with a simple click. The digital buying process does not have to be completed on the website, but can be done on Instagram. 
"You can now buy products from small businesses and track your order directly in the Instagram feed in the US. Payment with Meta Pay and order tracking in a few clicks"says the group's CEO.
Today, this feature is only available on Instagram, but the Meta group wants to spread Meta Pay to the group's other social networks. Of course, it is also eagerly awaited on Whatsapp, as this application has become a very popular conversation space for brands wishing to establish a place of exchange with their community via instant messaging.
Instagram filters: a lever to increase its conversion rate
With the arrival of Meta Pay, Instagram filters will become very important for brands. Indeed, it is possible to try out products virtually thanks to augmented reality. For example, you can try different shades of lipstick on yourself or even pairs of glasses. 
Filter Maker is an agency that specialises in Instagram filter creation and has already worked with brands such as Yves Saint Laurent and Castorama to provide filters to try out products through Instagram filters. Do not hesitate to an online quote requestOne of our experts will get back to you shortly!
We will get back to you in few minutes ✔