Kikikicks uses virtual fitting to improve customer experience
Kikikicks is a French brand offering pairs of sneakers unique. Followed by trainer lovers and enthusiasts, she wants to offer her customers unique genuine productsand a quality service. In order to offer a unique experience for the week of Black Friday and Cyber Monday, the brand used augmented reality of virtual fitting. But how? And why? We'll explain it all to you!
A Snapchat virtual fitting filter for your future trainers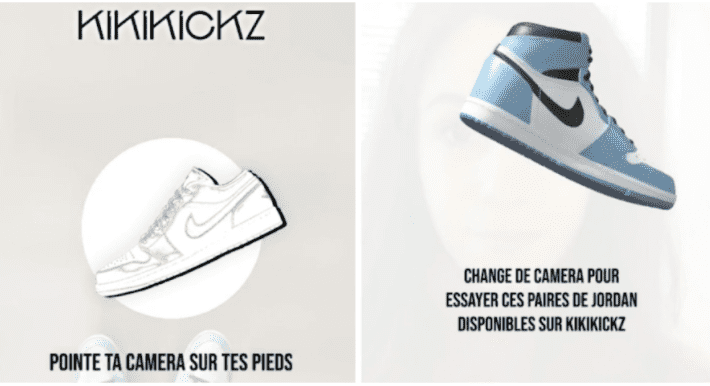 The Lens Studio is a Snapchat tool for create, publish and share filters. Kikikicks is already using Lens in its strategy, particularly for storytelling purposes. 
The brand aimed to increase the engagement of potential buyers. This is why they used augmented reality. The use of a filter immediately makes the user experience more dynamic and immersive. Indeed, the provision of a virtual fitting will allow customers to project themselves further.
How to find the filter? It is very simple. When you open the Snapchat applicationAll you have to do is go to the camera and try on the brand's filter. You point the camera at your feet, to try on the pair of your choice.
An optimised customer experience
The brand has therefore chosen to integrate theAR in its overall strategy. Through the use of different channels, and taking into account the new technological issuesThe brand has seen a 14-fold increase in the return on its advertising investment. 
As far as the Lens is concerned, this campaign generated a return on investment multiplied by 10: a great success!
An example from Filter Maker
Virtual fitting  is becoming increasingly popular, and many brands are adopting it.tent. This is particularly the case for Galeries Lafayettea brand the agency has worked with. 
The user simply scans the foot above so that he or she can try on the trainers virtually. On this filter, the user can choose the colour he or she wants, and therefore potentially make a choice in advance.