Instagram launches its own Twitter application
Seizing the opportunity of Twitter's decline
Since Elon Musk bought Twitter, the social network has suffered a decline and a loss of users. Many users have abandoned the application to join the Mastodon community to show their disagreement with Elon Musk's takeover of Twitter. So it's only logical that competitors should jump at the chance to dethrone Twitter and gain market share. This is what Instagram intends to do by launching a new application that will be a carbon copy of Twitter.
Text publications are on the rise
What's more, Instagram has noticed that users of its application are no longer using Insta in the same way. Instagram is now mainly used for private messages and the feed is only used to discover new things. Users (apart from creators, influencers and brands) no longer really publish content on their profiles. What's more, more and more people are switching their accounts to private mode and no longer sharing anything on the social network. 
That's why, back in March, Instagram announced " study the possibility of creating an autonomous decentralised social network for sharing text updates ". A new function was recently launched, enabling Instagram to assess how well this new trend is being received by users. The feature is called "Notes" and allows users to express themselves in text form on the application. These notes work in a similar way to stories, since they are deleted after 24 hours. What's more, the text doesn't have to contain many characters. This test is a good way of finding out whether text posts work in the long term, and so far many users are using them regularly.
What we know about the application: a carbon copy of Twitter
For the moment, Twitter's carbon copy does not have an official name, but it is called P92 or Barcelona internally by the people who are developing it.
The application will be decentralised from the Instagram application, but users will be able to connect using their Instagram IDs. This will make it possible to link their Instagram profile and thus keep their followers, username, bio and certification on the new social network.
Instagram assures that the application will also be compatible with Mastodon to allow users of other applications to interact with external profiles if the content and profiles are public.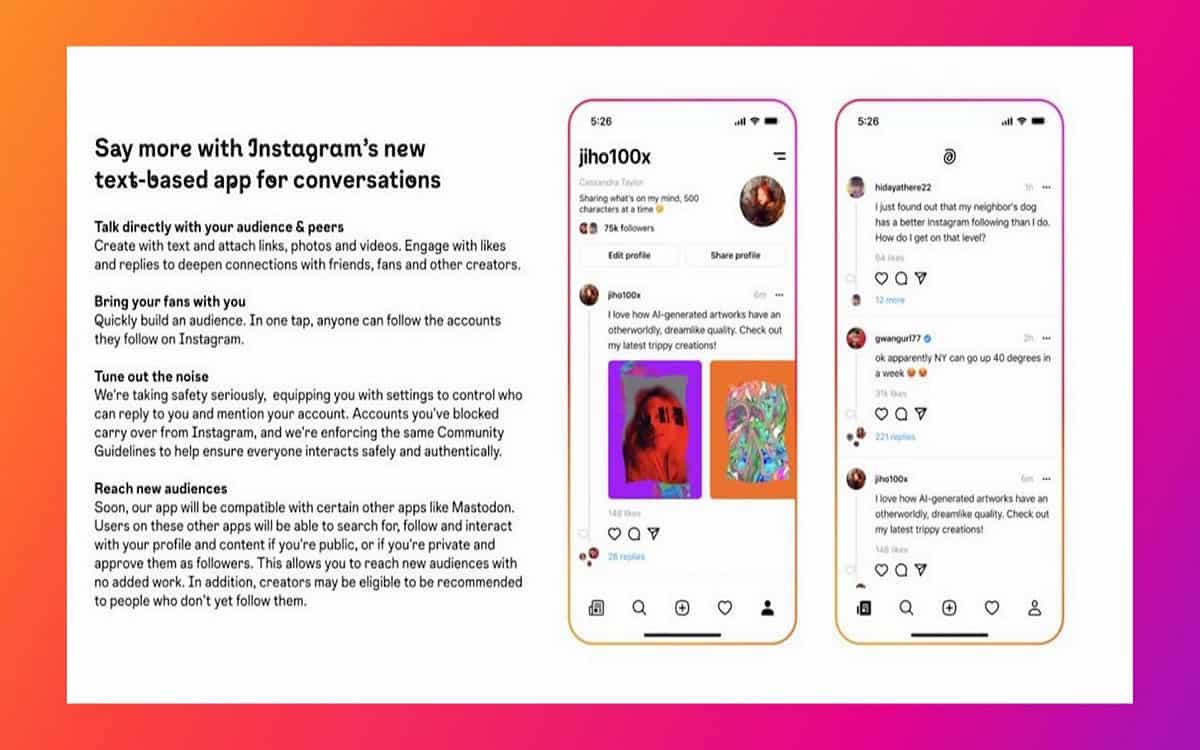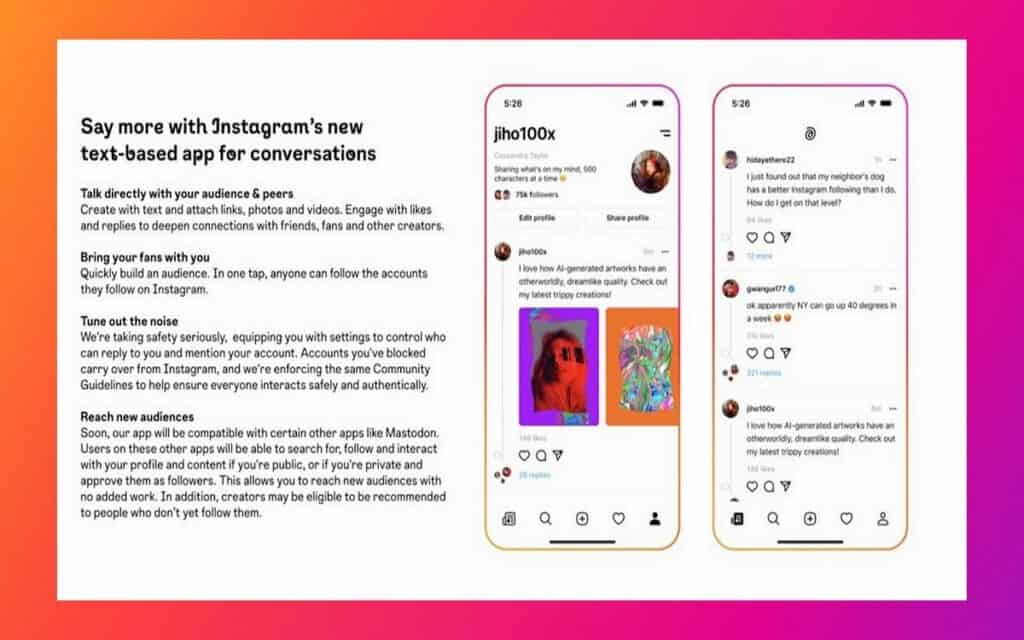 As far as features are concerned, users will be able to find all those of Twitter (but revisited by Instagram) such as likes, replies and retweets. It will also be possible to post a 500-character text accompanied by videos (maximum 5 minutes), photos and links.
Several rumours say that the new Twitter could be officially launched worldwide at the end of June 2023. For some time now, celebrities and top sportsmen and women have been invited to use Instagram's new application before its official release in order to encourage users to join the platform.
Linking users' Instagram profiles could also make it easier for the less optimistic to sign up, and would make it possible to create a huge stream of users quickly, bearing in mind that Instagram now has over 1 billion subscribers.