Apple updates its Maps application to rival Google Maps
Used very frequently for our daily journeys, applications to help internet users find their way around on their mobiles are multiplying. Moovit, Waze, Mappy, Google Maps or Apple Maps, there is plenty to do. To differentiate yourself, Apple has announced some new features that will help users in their daily lives, we tell you more!
Google Maps, the popular application
Google Maps is the ultimate mapping tool. Simple and quick to use, users can find their way around easily and quickly. Available on Apple smartphones and tablets, users simply open the application, indicate the point of departure and arrival and then select the mode of transport.
Different routes are proposed so that users can visualise the different possible journeys. Features to enhance the application are also available to assist users in their journeys. For example, it is possible to see the price of petrol according to the petrol stations, to see the timetables, the telephone number or the website of shops. On the fun side, it is even possible to listen to music directly on the interface, a very practical option, especially during car journeys. The application offers a wide range of functions, which are very useful when driving, travelling or using public transport.
What's new in Apple's proposed plan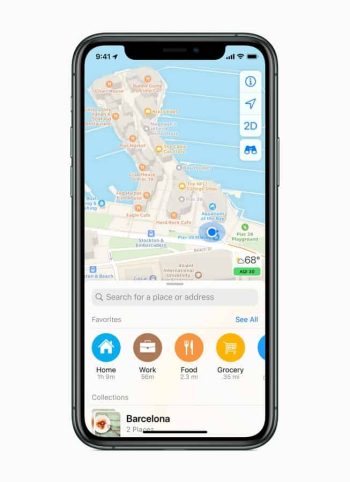 With the new iOS 16 update, Apple offers dedicated routes for electric bikes. The routes are then adapted compared to classic bicycles with steeper roads or even routes that are more economical in terms of energy consumption. This is a very practical option that corresponds to the new expectations of Internet users. Indeed, we now travel more by bike or by public transport to find alternatives to the price of fuel. Another new feature is the ability to put stops on a route. This is a very useful option, especially for planning your trips and the different stages. The estimated travel time also allows you to get organised, which is ideal!
The augmented reality has proven itself and is increasingly used in our daily lives. Google has developed theARCore Geospatial APIThis is an option that allows users to discover the places of their choice in a realistic and optimal way. Available for free on Android and iOS, the major groups are now keen to offer unique immersive experiences that immerse users directly in reality. Today's users are looking for experiences that go beyond what we know and augmented reality seems to be the ideal! 
Apple continues to develop its Maps application with new features. In particular, the group wants to catch up with Google and its famous Google Maps application. Mapping applications are now used on a daily basis and are therefore very important for Internet users. Augmented reality is also an interesting lever to offer a totally immersive and unique alternative experience. This is what Google has recently proposed with the ARCore Geospatial API. New features should therefore arrive little by little and enrich the experience!
We will get back to you in few minutes ✔