Augmented reality revolutionises the way you buy jewellery
In recent years, many jewellery brands have begun to incorporate augmented reality into their marketing and sales strategies. It helps brands stand out from the competition while offering innovative services to customers.
1. Cartier brings its jewellery to life
To celebrate the launch of the new Tank Française watch, the Cartier jewellery house has teamed up with Snapchat and opted for an augmented reality filter retracing the evolution of the timeless Tank watch. Based on a portal Lens concept, the user is transported onto the Alexandre III bridge in various eras from 1917 to 2023. The virtual journey is a great success, with passers-by dressed in the fashions of each era. Go to Snapchat and try out the augmented reality filter now!
2. Boucheron launches into augmented reality
It is now possible to virtually try on Boucheron jewellery on the website using augmented reality. While this technology is already used by major haute couture brands, it is a first in the world of jewellery. Boucheron has risen to the challenge by presenting this brand new concept to its customers. How do you go about it? It's quite simple: the customer simply prints out the drawing corresponding to the piece of jewellery they want to try on virtually, places it on their finger or wrist and shows it to the camera. The technology then recognises the graduated drawing and displays the jewellery in augmented reality on the customer's skin. 
In this way, Boucheron is offering a virtual and interactive shopping experience, allowing customers to view the jewellery from home but in the most real way possible.
3. An augmented reality shop for Lucky One
NFT, metaverse, augmented reality, Lucky One is not shying away from the big picture and is making its mark in the 21st century. web 3.0. Founded in 2019, Lucky One is a digital jeweller offering jewellery for sale exclusively online. It is helping to modernise the luxury jewellery sector and is going one step further by introducing the concept of a virtual boutique.
The principle is simple: customers create their own avatar and walk around the brand's virtual shop. They can try on jewellery, take part in online events, chat with an advisor, buy jewellery or take photos. Everything that can be done in a real boutique can also be done in Lucky One's virtual boutique. The customer experience is at the heart of Lucky One's virtual world.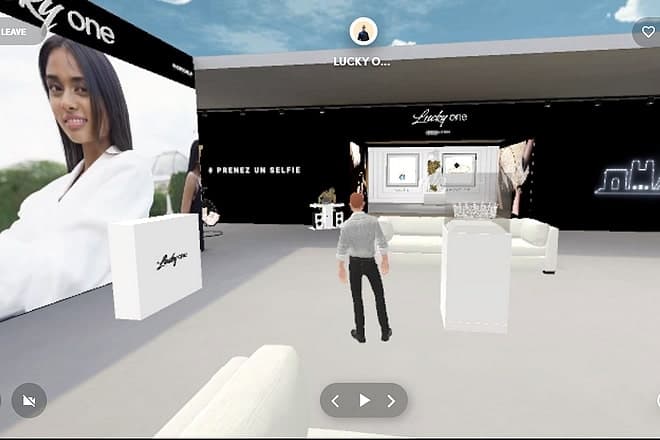 4. Diamond sparkles in augmented reality for Tiffany
Like many luxury brands before it, Tiffany is collaborating with Snapchat to offer its customers an augmented reality shopping experience. Simply by using their smartphone, users will be able to try on the luxury brand's jewellery through four augmented reality Lenses.
We will get back to you in few minutes ✔