The first ever Apple store in augmented reality
In May 2001, Apple opened its first two Apple Stores in California and Virginia. To celebrate their 20th anniversary, the brand wanted to highlight the Tysons Corners shop in Virginia using augmented reality.
A very realistic immersive experience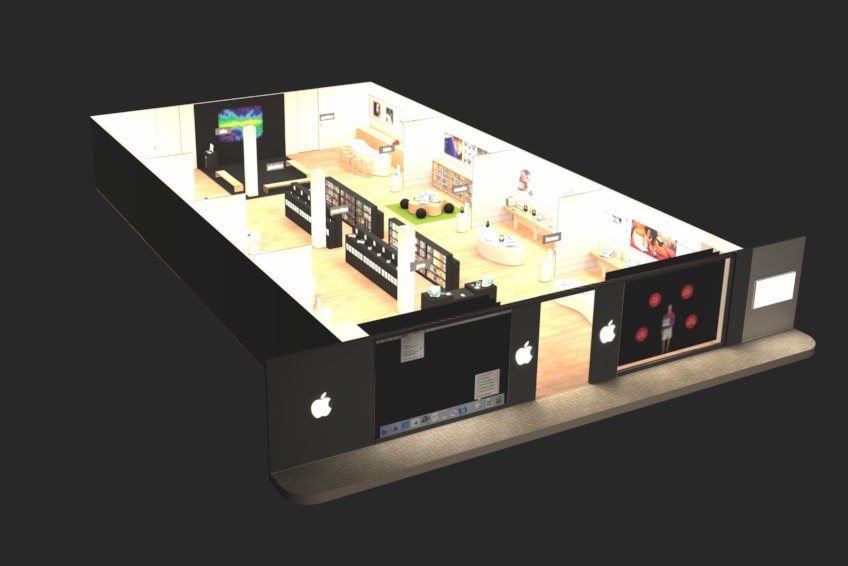 Available on the 9 to 5 Mac website, the experience is breathtakingly good. The team behind this model wanted to present the shop exactly as it was when it opened in 2001. Indeed, the entire shop is in 3D and every detail counts. You can find the very first Mac or third-party software such as Adobe Photoshop or Final Cut Pro 2 on the shelves. On another shelf, you can also find games available on the Mac from that time, such as The Sims or Falcon.
You can test this experience from Safari by click on this link from your Iphone or Ipad. The 3D model is also available for download from your computer, allowing everyone to access the shop.
Apple wants augmented reality to be at the forefront of its strategy.
For Tim Cook, this technology is one of the most widespread and valued means of action in our society. That is whyApple chooses to focus on augmented reality and create recurring innovations to democratise AR.
This is not the first time the giant has used this technology. Indeed, augmented reality glasses are still in development and could be released in a few years to complement iPhone accessories.
In addition, the new IPhone 12 Pro features the LiDARa camera technology that optimises all possible immersive experiences through augmented reality.