Top 5 best filters for the Mother's Day
A traditional and valuable day, the Mother's Day is an opportunity to show how much we love our beloved mothers. For children and adults alike, there is no age limit for pampering mothers with gifts, poems or just spending time with them.
This festival is also a great opportunity to use the augmented reality filters and send creative messages full of love to our mothers.
CoachThe luxury handbag brand is showcasing its brand through an augmented reality filter specially dedicated to Mother's Day. This filter offers the possibility to take unique photos and videos and share them on the social network Instagram.
2. Mother's Day by Armani Beauty
Cosmetics brand Armani Beauty has created an augmented reality beauty filter available on the social network Instagram. With pretty flowers in the background and a flawless complexion, every mum will be delighted with this video.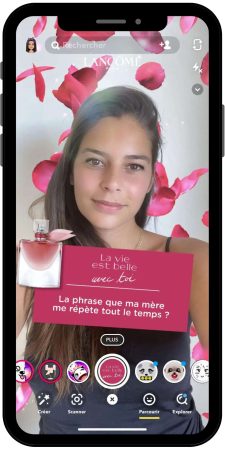 3. La Vie est Belle avec Toi by Lancôme
French brand Lancôme is making a name for itself on the social network Snapchat by offering a filter wheel in augmented reality. The Lens entitled "Life is Beautiful with YouThe purpose of the "Mother's Day" is to show the user's love for their mother by answering a simple question.
4. Augmented reality filter by Lens Lab for Mother's Day
Always in a floral and feminine theme, Lens Lab has developed an augmented reality filter for the special Mother's Day. Like a Polaroid photo, you will appear in a heart-shaped flower scene.
5. Happy mother's day by Mark & Spencer
British chain M&S has released its augmented reality filter on Instagram. Get caught up in the game with this roulette filter that will only make your mum happy to see which compliment best describes her.
Need a filter for social networks? We come back to you in a few minutes ✔