Snapchat offers unique AR experiences with Camera Kit
Snapchat is a network very involved and developed in augmented reality. Filter, shopping module, immersive experience, snapchat focus... It offers many features highlighting AR. Camera Kit is a solution that allows developers to use cutting-edge AR technology to create unique and compelling user experiences: we tell you more!
Snapchat continues to develop AR and e.commerce in its application, notably with the release in January of "Catalog-powered Shopping Lenses". It is now possible to shop in augmented reality and to have optimised fitting experiences, particularly thanks to Try-On. Make-up, shoes, watches, glasses, clothes... Many items can be tried on by snapchatters which is very interesting to better visualize the products and project oneself more easily.
Camera Kit for developers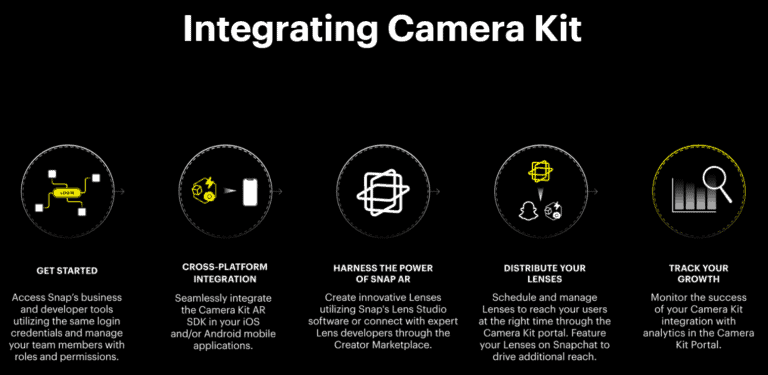 The Camera Kit is a Software Development Kit (SDK) solution that can be leveraged by developers. They can exploit Snapchat's augmented reality technology for their own mobile applications. There are a number of quick and easy steps to do this.
To begin with, you need to import the Camera Kit into your mobile application. It is then possible to create your own AR experience using the Lens Studio development software. This application allows developers to create AR experiences and then share them on Snapchat. The many features and resources available allow creators to build optimised immersive experiences. Developers can also tap into the Snap network to create their experiences. 
Once you have created your AR experience, exploited all the resources and used the features you needed, you can schedule and manage your AR Lenses. It's important to deliver them at the right time and directly to your target audience. 
Different projects using the Camera Kit
Smule : 
This American music application allows you to sing alone, with your family, with friends... The songs of your favourite artists. The brand wants to connect the world through music. To enrich its experiences, Smule has added effects thanks to the Camera Kit. The additional animations allow users to create unique experiences that are even more fun and entertaining. This content is highly appreciated by users, as Smule has added 50% views since the integration of effects to its application.
DressX : 
DressX is a fashion brand that allows users to try on clothes virtually, wear them on a platform or even add them to 3D avatars. Valuing unique experiences and immersive fashion, the app notably used the Camera Kit to create AR effects for users to try on. The use of Lens and augmented reality has helped to attract and generate more interest in digital fashion among internet users.
Zoog  : 
Zoog is a video application that allows families to enjoy shared experiences of reading, learning and playing. Using effects, sounds and animations, family members who cannot be together physically can be together virtually through the application. Stories in the form of videos can then be created, ideal for stimulating everyone's imagination. The app has used the Snapchat Camera Kit to create a series of character filters that families can use as they wish. The experiment is a success. Users are much more engaged and seduced by the content offered. Zoog has built user loyalty and even won over new users.