Snapchat wants to boost the use of Snap Spotlight
Snap Spotlight is a part of Snapchat that copies the way TikTok works. Although this feature is already three years old, it has not managed to attract a large number of users. Indeed, only 95 million users would go on Spotlight while the social network has more than 350 million users.
So to boost its usage, Snapchat has developed two new features that will help create relevant content quickly for Spotlight to attract creators.
The recommendation of popular music for Snapchat filters
As you might expect, music recommendation is not added by accident. But to fully understand Snapchat's strategy, you first need to understand why targeting only Snapchat filters.
Snapchat filters allow for the creation of dynamic and original videos and are massively used on the application. Snapchat wants to encourage creators to publish content on Snap Spotlight (a copy of TikTok), and for this, lenses are very useful. By offering a list of popular music used with the filter, Snapchat wants to create trends (and therefore viral content) that will encourage creators and generate content.
As you may have noticed on TikTok, the TikTok filters are regularly used in videos and make it easy to create a challenge and a trend. This is what Snapchat wants to do by highlighting the most popular music to create Spotlights. This allows creators to be sure that their video matches what users like to see and therefore ensures quick visibility of the video. In addition, we can guess that Snapchat will quickly highlight creators who use the recommended music to encourage a good number of creators to do so.
How to use the recommended music for Snapchat filters?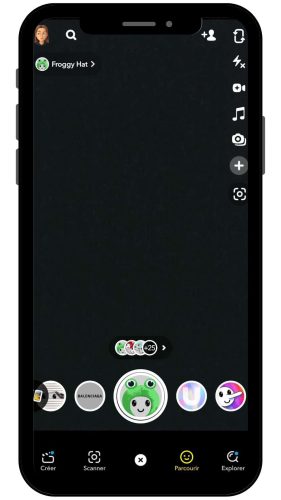 To see this new feature appear, you first need to use a Snapchat filter you want in the create feature of Spotlight. Once you have saved the video you want with the lens, click on the music tab (a music note).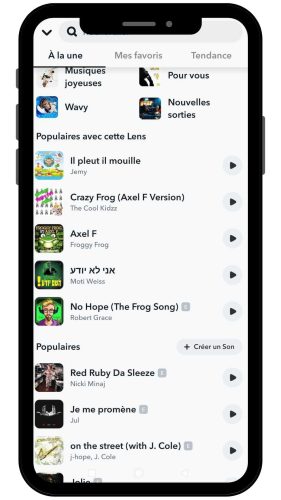 Afterwards, you will see all the available music with different tabs. But the trending music for the Snapchat filter appears directly on the first page and is called "Popular with this Lens". On the other hand, this feature does not appear for all Snapchat filters since some have never been used before.
All you have to do is choose the music you think is best and make the necessary adjustments.
Simplifying video editing for Snap Spotlight
The second feature improves video editing and allows creators to create content quickly and easily. This option automatically synchronises photos and videos to the beat of the music the creator wants to use. This makes it easy to create a video quickly by following the trends on Spotlight without the hassle. You can import 4 to 20 photos and videos that the application will sync directly to the tempo of the music.