An Instagram filter to combat food waste in a fun way
In May 2023, SuperMax launched a Instagram filter to combat food waste in a fun way. SuperMax is a supermarket chain in Puerto Rico that wanted to raise awareness of food waste on a mass scale via social networks by offering alternatives for out-of-date products. The campaign's guideline is to replace the phrase "use before" with "use by" on perishable products.
Description of the SuperMax Instagram filter
This type of Instagram filter is one of the immersive packaging effects made possible by image recognition. Image recognition enables augmented reality to superimpose virtual elements onto packaging using image tracking. So when Instagram detects an image it recognises, animations are triggered on and around the packaging to bring it to life.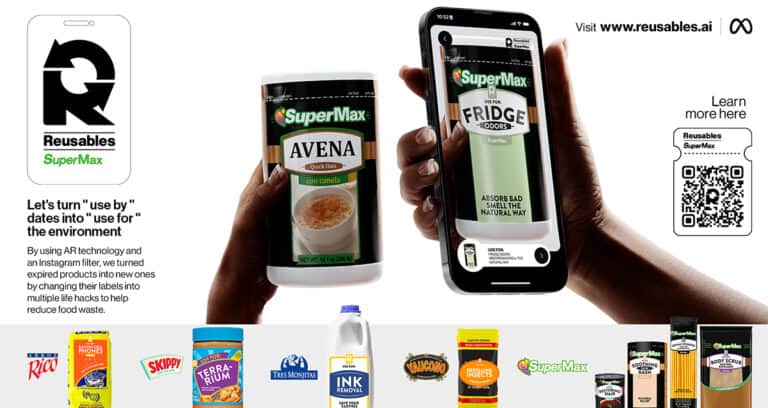 When a consumer places a product in front of the camera, the application will detect the product label and launch a dedicated animation. A virtual label will then be placed on the product with alternative indications on how to use it when it has expired.
However, this Instagram filter to combat food waste does not scan all SuperMax products. The Instagram application is limited in file size (less than 5 MB), which means that it is not possible to list all the products on the shelves.
The benefits of using an Instagram filter in a campaign to combat waste
By creating an Instagram filter to combat food waste, you can reach a wide audience and offer content that is fun and accessible to everyone. Instagram filters are content that fall into the category of immersive experiences. In other words, this type of content is effective and highly relevant for users, who will remember the experience more easily.
What's more, an Instagram filter allows you to reach an audience that you wouldn't have been able to reach without publishing the effect. When a user posts a story with your Instagram filter, their entire audience will also see your content. This is known as UGC, which means that users become ambassadors for your brand without necessarily realising it. So, in the case of SuperMax, as well as making the filter fun, it also helps to broaden the supermarket chain's audience and reach users it wouldn't have been able to reach without the filter.
Want to create an Instagram filter for your brand? Filter Maker is an agency specialising in the creation of augmented reality Instagram filters. Please fill in this form so that one of our experts can contact you quickly.
We will get back to you in few minutes ✔
The great thing about this filter is that it can be used anywhere. Whether consumers are at home, in the shop or on holiday, they will always have access to this filter to help them find alternatives to food waste.
What's more, to accompany the SuperMax Instagram filter, a website dedicated to this campaign has been launched. This site gives consumers who don't have Instagram access to ideas and tips on how to combat food waste. On this landing page, users can also find figures warning of food waste and a list of alternatives for different products.