eSight 4: augmented reality glasses for the visually impaired
Like a magnifying glass, the eSight 4 glasses can improve the vision of visually impaired people by up to 10/10. Its high-definition screen will project augmented reality images so that users can see the space around them more clearly and in greater detail. Its images will stimulate the remaining synaptic activity in the eyes to deliver visual information to users' brains.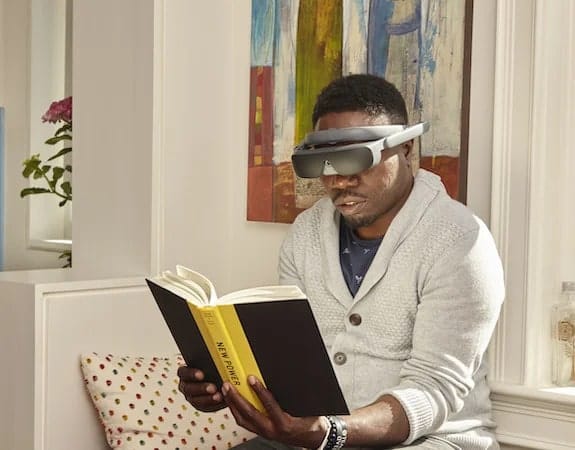 The device allows you to wear the glasses for long periods of time while cooking, cleaning, watching TV, reading, working and many other everyday tasks. The battery lasts up to 3 hours and is easy to recharge. It is located on the back of the device and does not weigh down the system. The foam integrated into the front of the glasses gives users unlimited comfort, enabling them to wear the eSight 4 glasses for as long as possible during the day. The glasses also provide wireless, tactile controls to support users in all their activities.
Who are the eSight 4 augmented reality glasses designed for?
Electronic glasses are designed for people with moderate to severe visual impairment, i.e. from 4/10 to 1/20. Anyone who is not at ease with computers or who has motor impairments such as tetraplegia or neurodegenerative diseases is not recommended to use the glasses. However, they are strongly recommended for people suffering from Stargardt's disease, ocular albinism, glaucoma, optic atrophy and more than 25 other eye conditions.
Choosing and buying eSight 4
Choosing the right glasses
Depending on the level of visual impairment, it is important for visually impaired people to consult a qualified practitioner before making a purchase. The activities performed, mobility and needs of future users will also determine whether or not eSight 4 glasses are a good idea.
Prices start at €7995, although some sites are offering attractive discounts of up to €2000. The prices may seem excessive, but that's partly due to the state-of-the-art electronics used to provide users with a level of comfort worthy of the name.
We will get back to you in few minutes ✔