AR Reels Ads: new immersive advertising content
Instagram filters filters are very popular content on the social network and are one of the tools used by brands in their social media strategy. That's why the Meta group has put in place solutions to boost the use of Instagram filters. It was already possible to run ads in stories to highlight an Instagram filter. Now it is also possible to publish AR Reels Ads to promote the effect in the video feed.
AR Reels Ads: Explanation
As with Instagram filter stories, AR Reels Ads will take the form of a short video with a call to action to encourage users to try the filter directly. When users press the call to action, the camera is displayed with the Instagram filter already activated.
The benefits of AR Reels Ads for brands
Reels are the most popular content consumed by users on Instagram. It is therefore important for brands to increase their presence on this feature so as not to miss out on their target audiences. Meta understands this and has started to add advertising formats available for Reels, such as short sponsored videos. AR Reels Ads will make it possible to offer a different advertising format, with the possibility of highlighting an Instagram filter. 
Consumers are no longer receptive to traditional advertising, and companies need to respond by offering less intrusive and more original sponsored content. AR Reels Ads will make this possible, as Instagram filters offer users the possibility of an immersive experience. Immersive experiences are very popular with consumers and allow brands to immerse users in the world of the brand. AR Reels Ads are therefore more effective and deliver a higher ROI for brands that invest in them. 
What's more, AR Reels Ads open up a whole host of possibilities for brands. For example, the brand can create an Instagram filter to encourage users to post a video with the effect in order to enter a competition. This strategy makes it possible to promote the Instagram filter quickly and expand its audience simply by posting an AR Reels Ads.
Examples of AR Reels Ads : Sephora and Tiffany & Co.
Sephora and Tiffany & Co. were the first two brands to pioneer the launch of AR Reels Ads on Instagram.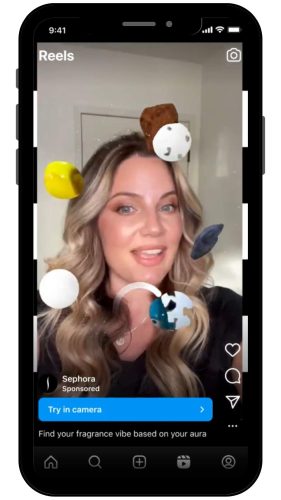 For Sephora, the Instagram filter in question allowed users to project themselves into the world of the new fragrance collection. After trying out the filter, consumers were invited to visit the perfumes' product page and purchase them. The feedback was very positive, with more than half the audience being Gen Z and a high level of engagement on the use of the Instagram filter.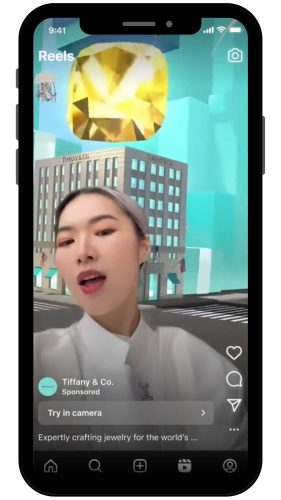 The Tiffany & Co. advertising campaign was designed to celebrate the reopening of their popular brand shop. In this filter, users were transported in front of the shop's building with immersive animations that took them on a magical journey.
Augmented reality is a tool that can be used to a wide range of content options and allows you to reach your audience quickly and without frustrating users. As a result, Instagram filters have become highly sought-after content for brands who see the benefits for their digital strategies.
We will get back to you in few minutes ✔