Augmented reality, a lever for marketing
Today, augmented reality has become a real marketing lever and this trend will continue to grow considerably. This tool has become a must in advertising campaigns and gives dynamism to marketing operations. Augmented reality allows consumers to live a complete, interactive experience, which makes it unique and accelerates the sales cycle.
5 companies that have used augmented reality for original campaigns
Pepsi Cola and its interactive bus stop
Already in 2013 Pepsi cola understood the added value of augmented reality and launched an innovative advertising campaign. Pepsi Cola had created an immersive bus stop. This stop was equipped with a camera that filmed the street live. Beforehand, the Pepsi Cola team had prepared three-dimensional animations that came to life in the London setting. Once installed, the bus stop made a great impression, with passers-by filming the screen which brought alien invasions, tigers and more to life in the street.
Netflix's Stranger Things campaign
To mark the announcement of season two of Stranger Things, Netflix has launched a Snapchat filter. The In augmented reality, you can see a door leading directly into a room modelled entirely in three dimensions. You can step inside this room to discover an immersive setting in honour of the series. An original campaign that draws parallels with the different dimensions present in the hit series.
Pizza Hut launched an interactive pizza box with a QR code printed on it. Once scanned, this QR code takes us directly to an arcade page. A Pacman game is then modelled directly on the pizza box, offering consumers a unique, fun experience.
Burger King, seeing the competing ads multiplying, decided to launch a more original campaign. The fast food king has set up completely pixelated and unreadable advertising panels. If at first glance this decision is questionable, it is in fact a genius campaign that lies behind it. Indeed, by owning the Burger King app, it was possible to scan these panels and see them theatrically ignite to reveal a discount or even a free burger for users of the app.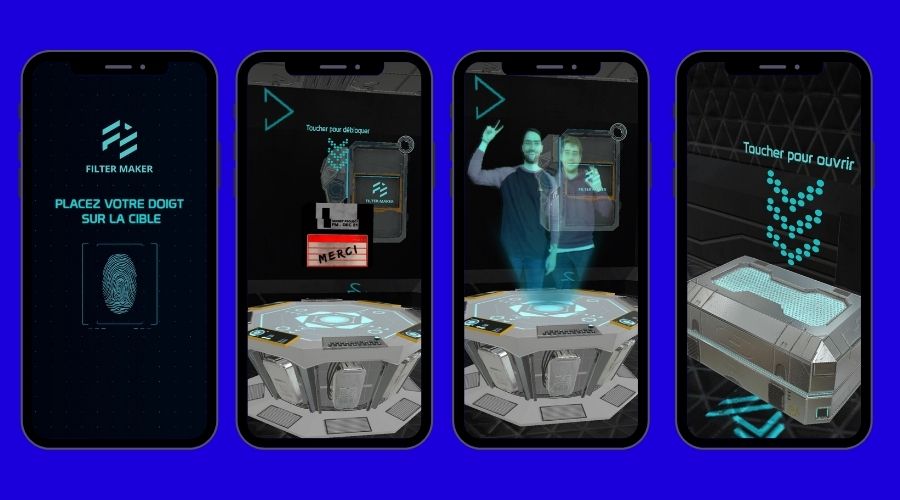 In the same spirit and desire to innovate, our company Filter Maker has produced a unique greetings card this year. As a way of thanking our customers, Filter Maker this year sent out a greetings card bearing the company's image. As well as the handwritten thank you notes on the card, we also printed a QR code giving access to an exclusive augmented reality animation. Once we scan the QR code, our phone redirects us directly to Instagram, where a unique filter appears. This filter transports us to a fictional world. A futuristic room in which it is possible to interact with certain objects.