AI filters available on TikTok
TikTok, generation Z's favourite social network, is a video-sharing platform launched in 2016. Based on speed and creativity, TikTok is constantly renewing itself by creating and offering augmented reality filters to its users. These filters, often generated by artificial intelligence, are the talk of the town and have become essential features that users can't live without.
What are the TikTok AI filters ?
I. What are TikTok's AI filters for?
By transforming the photos of users and their loved ones into animated characters or fantastic creatures, Artificial Intelligence filters have become popular and much sought-after on platforms. These filters are created using algorithms that can easily detect and analyse the faces in photos. This information is then used to design augmented reality filters on TikTok. Facial recognition and transformation into animated characters require the use of machine learning techniques.
II. Watch out for Deep Fake
Since they use thousands of images of users' faces, it is easy to reuse them for purposes quite different from what the filters can achieve. It is therefore important to be wary of Deep Fakes, which are nothing more than malicious techniques aimed at damaging and discrediting a person. Politicians are often the first victims of these practices, but legal action is being taken to reduce the impact of this fraudulent technique.
How use TikTok's AI filters ?
In the same way as for all the filters on TikTok, all you have to do is :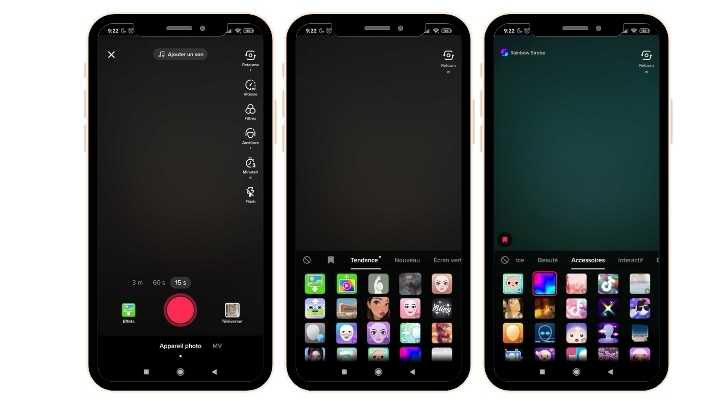 Step 1 Go to the application and press the Plus (+) button at the bottom centre of the screen.
Step 2 click on "Effects" at the bottom left of the screen and select the filters you want
Step 3 Clicking on the "magnifying glass" icon to perform a keyword search will bring you directly to the IA filter you are looking for. PS: we advise you to write "AI" to have as many AI filters as possible.
Step 4 Start filming and stop once the final result is satisfactory.
TikTok offers a wide range of filters, with important features and benefits for businesses and users. Read our article on everything you need to know about TikTok filters.
TikTok filters can also be created in AI by specialist agencies such as ours. To find out more, visit our home page and see all our creations.  
TikTok's Manga AI filter will transform the user into a more-than-realistic animated character. Since manga is very popular on the platforms at the moment, this filter will enter the TikTok trends algorithm and be reused by a large number of users.
Available on the TikTok social network, this IA Portrait filter will slip the user into an imaginary but very realistic character. You can appear as a warrior, a businessman or even a swimming costume in the Maldives!
In the same way as the previous AI filters, this one will use the user's face to place it on their favourite avatar. A completely successful and satisfying immersive experience!
We will get back to you in few minutes ✔